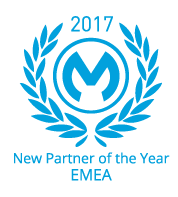 ​
SAN FRANCISCO, CALIF. APRIL 20, 2017 - Appnovation today announced it has been named Top New Partner, EMEA by MuleSoft, a provider of the leading platform for building application networks. The winners of the annual global MuleSoft Partner Awards were recognized at CONNECT 2017, the premier integration conference for CIOs, IT leaders and developers to come together to discuss how application networks are enabling businesses agility and driving innovation.
Appnovation, a global company headquartered in Vancouver, Canada, is a Premier MuleSoft consulting partner, providing API and digital strategy expertise as well as implementation and integration services for customers looking to build out their application networks.
"We're incredibly honoured to be recognized as the 2017 Top New Partner of the Year, EMEA by MuleSoft," said Arnold Leung, Appnovation CEO. "Appnovation continues to make considerable investments in the EMEA region including the recent acquisitions of Wunderkraut Belgium and Wunderkraut Netherlands, growing our European operations. We continue to grow our team of MuleSoft experts, enabling us to provide an even higher level of service to our mutual MuleSoft customers around API strategy and developing application networks."
Leading organizations in the MuleSoft Partner Program provide consulting and services for MuleSoft's Anypoint Platform™, a leading solution for API-led connectivity that creates an application network of apps, data, and devices, both on-premises and in the cloud. With Anypoint Platform, organizations can unlock new revenue channels, improve customer experiences and drive innovation.
"Partners play an integral role in helping organizations rethink their IT strategy and implement an API-led approach that gives them the agility and speed to achieve their business goals faster. Appnovation has gone above and beyond to deliver exceptional results to our mutual customers," said Brent Hayward, senior vice president of global channels and alliances, MuleSoft. "We're pleased to recognize Appnovation for Top New Partner, EMEA and we look forward to continuing our work together to make digital transformation a reality."
To learn more about Appnovation and the MuleSoft Partner Program visit: http://www.appnovation.com/
About Anypoint Platform 
MuleSoft's Anypoint Platform™ is a leading solution for API-led connectivity that creates an application network of apps, data, and devices, both on-premises and in the cloud. This hybrid integration platform includes iPaaS, ESB, and a unified solution for API management, design and publishing.
MuleSoft is a registered trademark of MuleSoft, Inc. All other marks are those of respective owners.
About Appnovation 
Appnovation is a global Digital Solutions and Managed Services provider, delivering strategy, application development and enterprise integration on leading open technologies. Appnovation's in-house experts strategize, build, and deploy high-performing, secure digital experiences across many industries, while also offering a wide range of creative capabilities, with 24/7 support and maintenance. The firm boasts an impressive, cross-industry client roster ranging from Start-Ups to Fortune 500, government entities, nonprofit organizations and beyond. Since its inception in 2007, Appnovation has worked with hundreds of clients, delivering thousands of projects, achieving international recognition for development, innovations, and business success.
Open Digital Delivered. Visit appnovation.com today.
###
Media Contact:
Vanessa Burley
Appnovation
vanessa@appnovation.com
+1 506 799 1017
www.appnovation.com