Keeping customers happy, keeping employees happy, both critical factors in successful businesses. When it comes to customer AND employee satisfaction, Appnovation has chosen to use Net Promoter Score (NPS) as a key performance indicator.
Most businesses use Net Promoter Scores to measure customer loyalty, but here at Appnovation we use NPS to measure employee engagement, in addition to traditional standards. We also distinguish internal, employee NPS from external, customer NPS by labelling it "eNPS", an important distinction.
Put simply, using eNPS helps increase employee loyalty. To Appnovation, this is of paramount importance, as dedicated employees are known to care more about the organization and, due to that, they tend to work harder. In turn, this translates to individual and company success, and creates stronger (and higher) employee retention scores.
Appnovation uses two decisive questions to measure our NPS scores:
NPS: "How likely is it that you would recommend Appnovation services to a friend, colleague or other organization?"
eNPS: "How likely is it that you would recommend Appnovation as a place to work?"
Historically, we have only surveyed staff using the internal eNPS question. This fall, however, we'll be changing our usual evaluation to include the external NPS question as well. This will enable us to assess overall quality and satisfaction, with all layers of the business being considered.
For instance, although we may have an amazing place to work, including amenities like a games room, free lunches, and beer club, there could still be outlying issues and policies that need to be addressed.
Regardless, if it is a NPS or eNPS question to either improve customer or employee loyalty, both questions group answers into three buckets, sharing the same formula:
Promoters – Answer of 9 or 10 to the question, and are "extremely likely" to recommend.
Passively Satisfied – Answer of 7 or 8, and are neutral. They are not likely to recommend, but they are happy with their service.
Detractors – Answer of 0 – 6 and are "not at all likely" to recommend.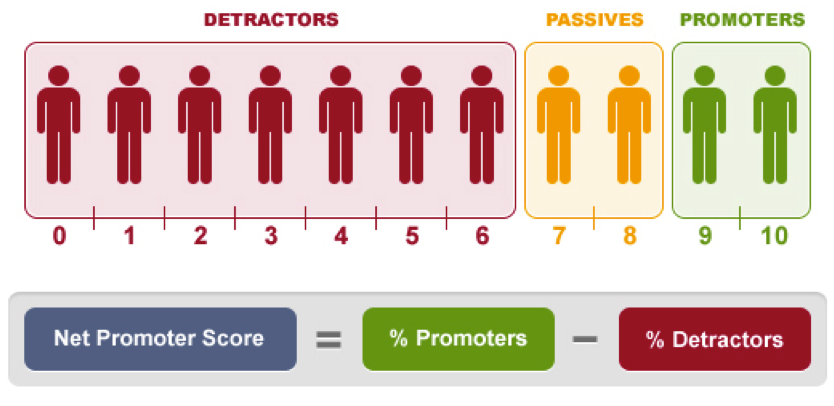 For example, if we have 100 employees, and the results we get from an eNPS survey are:
30 Detractors
30 Passives
40 Promoters
The formula used to calculate our eNPS score would be: 40% (Promoters) – 30% (Detractors) = +10%
(Passively satisfied responses are not included in the calculation, as they are viewed as neutral)
These responses are not likely to fluctuate and thus, do not impact the overall score. NPS scores can vary anywhere from -100 to +100, but we do not focus too much on the score. Rather, and more importantly, Appnovation pays closer attention to the written feedback, with particular interest in suggested areas in need of improvement. This is where we believe the real value is.
Having discussed the range in scores, typical 'positive' scores range between -10 and +20. Scores lower than -10 should be of concern to a company, while, those above 40 or 50 are considered very strong.
Appnovation's current target customer NPS and eNPS are 25% and 30%, respectively.
There is often a tendency to compare performance with other companies and competitors. Appnovation, however, is in a unique industry, where there are very few companies with whom to compare, making comparisons a dangerous game. Instead, our senior management team asks what we can improve internally, so that our employees are willing to go the extra mile for our customers.
Ultimately, the most useful benchmark is our own progress, or NPS, over time.