This December, Appnovation is delighted to feature an executive spotlight interview with Warren H. Wong, our Senior Vice President of Talent & Culture.
As the SVP of Talent and Culture at Appnovation, Warren creates and delivers Appnovation's human capital strategy. Drawing from his experience and passion of transforming local and international hyper growth companies, Warren facilitates Appnovation's strategic business planning. As a passionate community leader, Warren is the executive sponsor of Appnovation's Corporate Citizenship program, and sits on a number of community boards, including the Greater Vancouver Food Bank Society.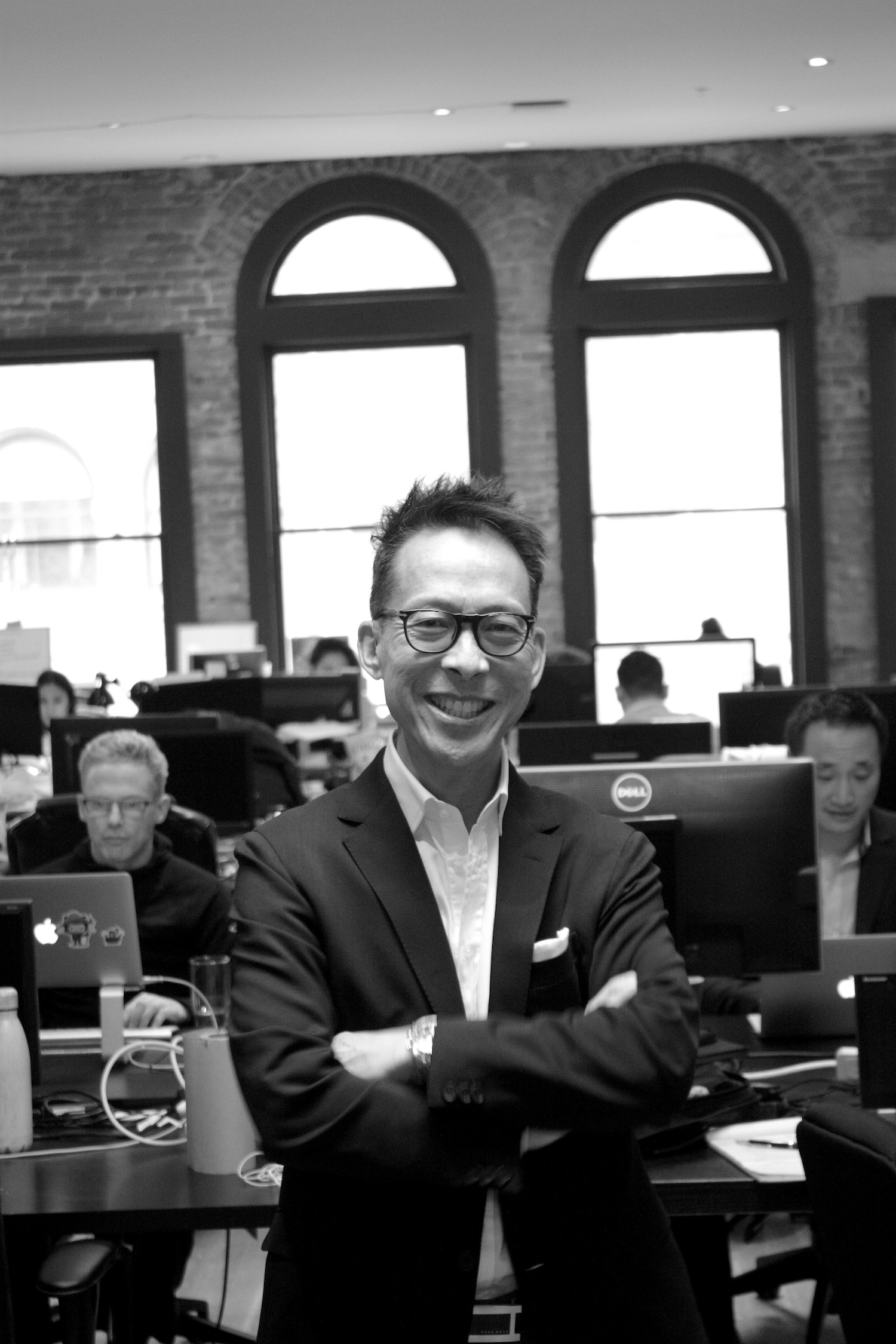 Warren at our Vancouver headquarters
We had a chance to sit down with Warren to learn a little more about what fuels his drive at Appnovation.
What does being an Appnovator mean to you?
The term Appnovator came from the word aviator; I coined this branded phrase to reinforce our belief that Appnovators can chart the skies to wherever they want to go - that at our company the sky's the limit.
Ultimately Appnovators live our core values (growth, openness, teamwork, customer satisfaction, and innovation), and are passionate about wanting to make a difference, whether it be technologically or not.
I believe Appnovators are genuine and authentic; people should be who they are, and not be afraid to live their personal principles and values, because strengths come in many forms. A personal value of mine is to abide by the two Fs: fun and finance - for me, there should always be a balance between fun and finance. It's important to remember to infuse the workplace with fun, and make it a place you want to be.
What do you look for in prospective Appnovators?
I look for people who are creative, responsive, possess technical breadth, relationship-focused, hard working, and have a Get Sh*t Done (GSD) attitude. These people are hungry, and want to compete to be the best they can be. I also look for people who are personally staying relevant, whether on topical issues or current trends, these people understand the importance of staying present and bringing creativity into the workplace. Prospective Appnovators are all architects of their own destiny; they don't let the job market dictate who they are, but take control.
What are the most important milestones by which you evaluate success at Appnovation?
As the lead of the T&C team, we care about people indicators. These include our company eNPS, employee retention, and employee growth. Each member of the executive team is responsible for reporting on their department's Key Performance Indicators (KPIs). For me, I firmly believe that if you meet the 'people' KPIs listed above, it will enable the company to be successful overall.
What other initiatives do you contribute to at Appnovation?
One of the biggest internal programs that I support at Appnovation is Corporate Citizenship. This program, to us, is about building and creating a legacy of impactful technology. We also, however, go beyond donating development hours to our nonprofit partners. December is a busy and exciting time for our global team to lend their support through volunteering and fundraising for causes that matter to them.
I also enjoy supporting our Drupal community, by providing the resources to conduct and host internal training on our corporate university, AppnoU, local Drupal office Meetups, and by participating in and sponsoring a number of events, such as DrupalCon.
How do you inspire and motivate your team?
I believe in open, clear, and frequent communication, intermingled with appreciation and celebrating success. I believe appreciation, which differs from recognition in its more directed, personal nature, as it helps build relationships.
I am a strong believer in 'servant leadership', where I motivate others by serving and supporting their initiatives. I host team building sessions, interactive meetings, and take my team out for fun breakout activities; last year we attempted to break out of an escape room! I believe that people are more apt to work with you when they know you better as a human being.
Lastly, name one lesson that you hope you colleagues carry with them throughout their careers.
Spirit of mindfulness and respect; make a positive difference in the world.
Individuals should understand that they have an impact on this world, whether positive or negative. I feel fortunate to be in HR, in a position of serving and supporting our organization. I have the opportunity to influence and make an impact to our company, as I hope to instil in the rest of our Appnovation team.