Working for a high growth services company can be an exciting prospect. As many of our current employees know, the interviews are frequent but thorough. As a globally diverse team, with offices around the world, Individuals often need to converse with interviewers in different time zones.
As a Talent Acquisition Specialist, working for Appnovation within the Talent and Culture team, my job is to not only seek out and attract the best global talent to Appnovation, but to ensure that their transition into the business is as smooth as possible.
Here is what to expect when interviewing and, ultimately, joining Appnovation...
1. Initial Headhunt/Attraction/Application
a.    This is where initial contact is made – be it through our website, a referral or a direct approach.
b.    Using our experience and pre-determined benchmarks, we will assess your profile and application to determine suitability and success in the open role.
2.    Preliminary Evaluation
a.    Phone Screen - This is our first initial formal conversation, where we will discuss the role and our business while learning more about the candidate's skills, goals, and fit.
b.    Technical Proficiency Evaluation - This is where Appnovation assesses the technical capabilities, either through an online activity or set challenge. 
3.    Interviews
a.    Technical Interview - Once the evaluation has been assessed and the candidate has been deemed suitable for the role, we will arrange a competency lead in a senior or similar role to have a conversation with the candidate. Here the candidate can discuss past experiences, technical roadblocks, etc.
b.    Management Interview - Once the candidate has proved they can do the job and have passed all technical assessments, it is now time to dig into the character, culture, and team fit – do you have what it takes to be an Appnovator?
c.    References - Time to prove you've done what you say you've done! This is the part in the cycle where we will take two professional references. This is a key part of the process in understanding how we as a business can set the candidate up for success in their new role.
4.    Follow Up 
a.    Potential Offer Discussion - Once the interviews have been passed and the references checked out, to follow, there will be a call with our SVP of Talent & Culture or our Manager, Global Talent Acquisition with the objective of gaining verbal acceptance from the candidate.
b.    Paperwork Extension - Following verbal acceptance and confirmation of all candidates New Hire information, our Talent Management team prepares offer paperwork and extends to the candidate. All that's left is to sign and start!
5.    Start 
a.    Exactly that, Welcome aboard!
6.    Onboarding 
a.    Accounts Set Up
We ensure Operations/IT produces all of the candidate's accounts and required logins.
b.    Equipment Sorted
We will provide you with a nice shiny MacBook Air and additional tools to do your job, depending on your role.
c.    1st Week Orientation/Integration
This is the essential stage in becoming an Appnovator, your personal development of Appnovation Culture and integration. Plus there is a chance to get to know the team and people you'll be working with, this is normally through one to one chats with various department leads. 
d.    T&C Sip And Chat 
You're onboard & working for Appnovation. Now is a chance to meet with the recruiter who first approached you about the role, talk about your first days and provide feedback.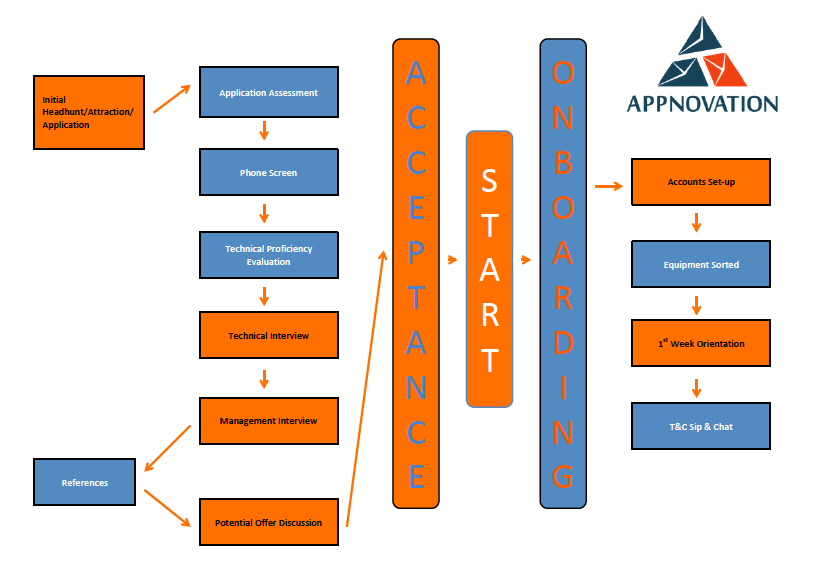 At Appnovation, our people are our business, so we always strive to ensure the recruitment process is as smooth and hassle free as it can be. Since as we are a global, rapid growth business, we need to make sure we hire the right people for our team.
The Talent & Culture department is built into the backbone of our company. We want to hire the best people that we nurture and grow with our business; they are commonly referred to as purple squirrels. 
…And that's how we grow our team at Appnovation! It may look like a number of steps are in place to source, find, interview, and offer an exceptional candidate, but we have perfected a smooth system that moves rapidly. As a global Talent Acquisition team, we partner together on a global scale, with recruiters and talent management dispersed across Canada and the UK. Our process to-date has not failed us, as we hire nearly 100 global new Appnovators per year.