Get to know Appnovation's Winter 2019 cohort of post-secondary co-op students.​
There is no better way to kick off the New Year with a fresh batch of co-op students from our post-secondary co-op programs. We've brought on a great group of seven co-op students to help bring us into an exciting 2019. I'm thrilled to share our latest group of co-op Appnovators with you:​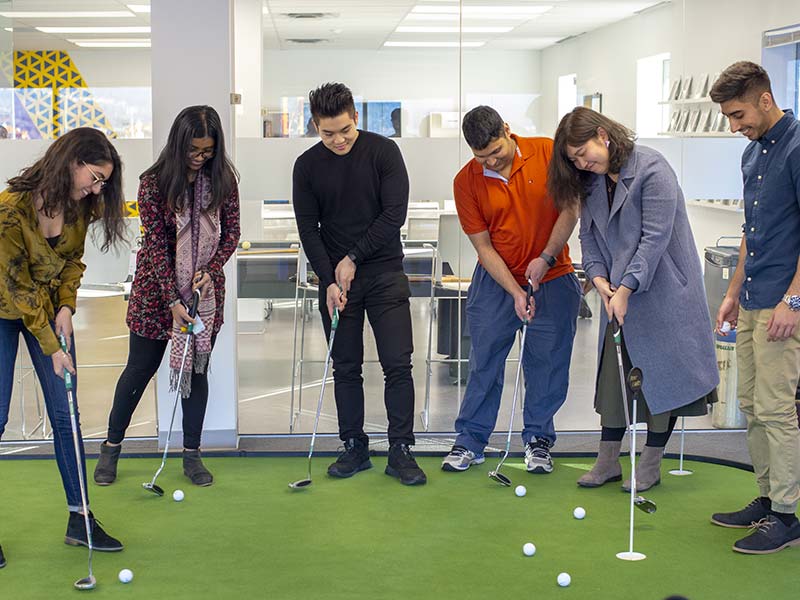 ​
Ashley Mak, Business Development & Marketing Co-op
Program: Bachelor of Business and Administration at Wilfred Laurier University
Location: Montreal
Ashey has been thoroughly enjoying her first few days at Appnovation. She's said that everyone in the office has been incredibly warm and welcoming which really adds to amazing office dynamic. Ashley is looking forward to working with her team in creating new communications, marketing pieces, and work on developing strong relationships with key partners. She also looks forward to learning more about the company and about everyone's part in contributing to its success. Ashley hopes to develop long lasting relationships with her coworkers and truly make the most of her term at Appnovation.
Fun Fact: She just came back from living in Portugal for four months.

Ryan Siu, Opportunities Coordinator, Pre-Sales Co-op
Program: Bachelor of Business Administration (BBA), concentrating in Marketing at Simon Frasier University
Location: Vancouver
Ryan is looking forward to developing technical skills and working in a team environment at Appnovation. In the long run, Ryan hopes to combine his passions for healthy living and marketing to positively influence the health of others.
Fun Fact: Ryan is a certified lifeguard.

Shafi Hoque, Front End Developer Co-op
Program: Bachelor of Applied Science (BASc) in Computer Engineering at The University of British Columbia
Location: Vancouver
Shafi is looking forward to learning new skills as well as enhancing his existing web development skills used widely in the open source community. He is also planning to grow his professional network by interacting with his awesome team members at
Appnovation. He really enjoys how helpful his new team members are and how they treat him as one of their own.
Fun Fact: He enjoys playing video games and regularly watches YouTube videos to keep himself updated about the latest gaming trends and hardware. 
Ravjot Brar, Sales Coordinator Co-op
Program: Program: Information Systems in Computer Science and Business Joint Major at Simon Fraser University
Location: Vancouver
Ravjot is looking forward to working in a fast-paced environment and overcoming new challenges and obstacles. So far he's really enjoyed being in an open space work environment and meeting all the friendly faces at Appnovation. In Ravjot's downtime he would like to learn about different roles and responsibilities throughout the company. He doesn't have specific plans in the long term, but he
wants to do another co-op that relates to software engineering.
Fun Fact: Ravjot won the AAA soccer provincial championship during his grade 12 year with the school team.
Sahba Mosaedi, Opportunities Coordinator, Pre-sales Co-op
Program: Bachelor of Business Administration (BBA), concentrating in Information
Marketing and Human Resources at Simon Fraser University
Location: Vancouver
Sahba has completed multiple co-op terms over the years in Asia and is looking forward to finally start a work term in Vancouver. She hopes to apply her previous knowledge and experience to her new workplace and learn new skills to help her in her future career in marketing. The most exciting part of this whole experience is learning more about Appnovation and about its company culture. In the long run, she doesn't have an exact company in mind where she'd like to be working but hopes that wherever it is, it has lots of room for professional and personal growth. Most importantly, it will be somewhere that allows work flexibility and incorporates
traveling as part of the job!
Fun Fact: Ever since her first visit to South Korea back in 2016, she's been back once a year, every year! Even this year she already has a trip lined up and she's super excited about it.
Nikie Zuo, Web Designer Co-op
Co-op Program: Joint major of Interactive Arts and Technology and Communications at Simon Fraser University
Location: Vancouver
Nikie is looking forward to becoming a full-fledged UX designer in her 8-months co-op, taking challenges and learning new things. She is very excited about her upcoming tasks, to jump out of her comfort zone and acquire new experiences and knowledge from this work.
Fun Fact: She's slightly obsessed with Elle Woods and Legally Blonde and can't wait for the next movie to come out!
Prithivi Kogulanathan, Quality Assurance Co-op
Program: Bachelor of Applied Sciences, concentrating in Systems Engineering at Simon Frasier University
Location: Vancouver
Prithivi is looking forward to improving her testing and communication skills. To add on to that she is excited to learn new languages and software that would better her engineering skills and knowledge.
Fun Fact: Prithivi enjoys learning about new cultures from around the world.