In Part 2 of our Technovation blog series, we would like to introduce Team Fresh, one of Appnovation's paired groups of mentees participating in this year's challenge. Team Fresh, coached by Parnaz Kashani and mentored by Appnovators Rena Yung and Bao Pham, is an energetic and creative group of four girls from Rockridge Secondary School in West Vancouver. Akcinya (grade 12), Ella (grade 10), Hanieh (grade 12), and Christina (grade 12) have been tasked to address a problem in their community by building an app with an innovative solution.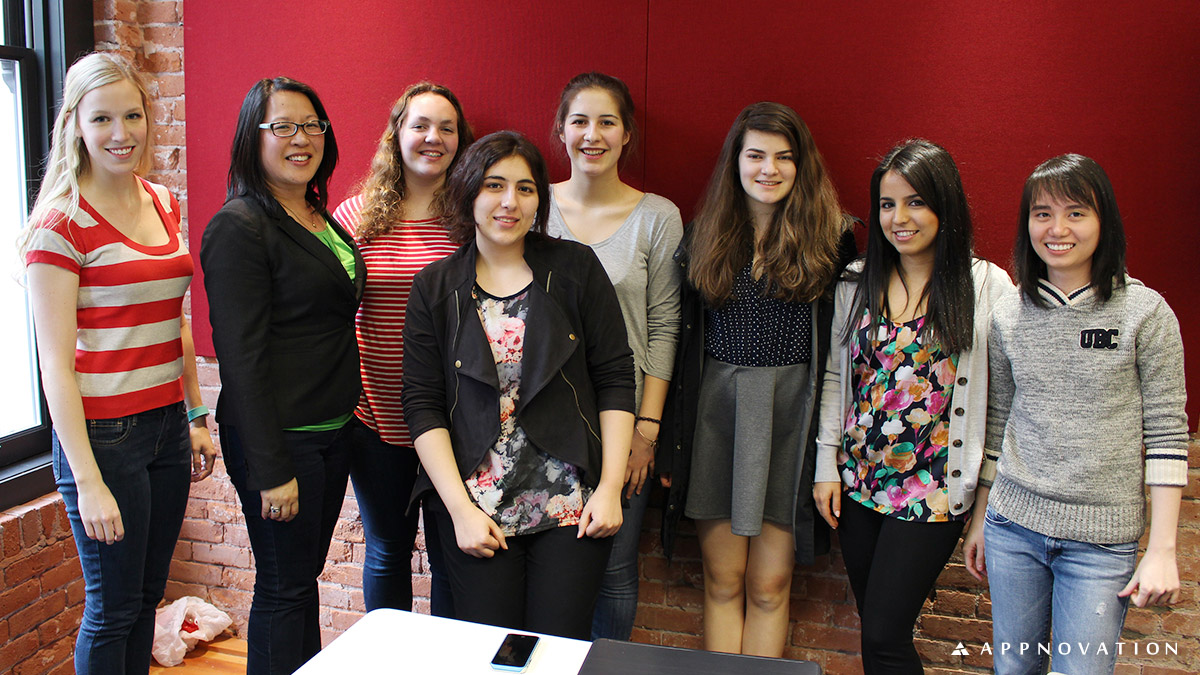 (L-R): Britt (coordinator), Rena (mentor), Ella, Hanieh, Akcinya, Christina, Parnaz (coach), and Bao (mentor)
In light of the current popularity of physical fitness tracking applications such as Nike+ and Fitbit, the girls of Team Fresh observed a lack of resources and conversation around mental health monitoring. Team Fresh initially found it hard to choose a specific problem they could address using technology, but after much deliberation the team decided to focus on mental health issues in youth, both a local and global issue.
Team Fresh's application, yet to be named, will help users channel emotions, such as anger and depression. Each identified emotion is backed with research and suggestions applicable for men and women between the ages of 12-25; for instance, if a user is feeling angry they can use the app to find ways to relax and abate these feelings through suggested activities such as meditation and listening to music. In it's essence, the app will measure mental health on the same level of importance as physical health.
The Technovation challenge requires that teams involve their members on different aspects of project planning, implementation, and delivery. Ella and Hanieh, both exemplary IT students with HTML and Javascript experience, will be responsible for writing and inputting code. Ella and Hanieh are motivated to compete as they see Technovation as a way to improve their existing skills, and have the opportunity to be competitive in the ever expanding world of technology.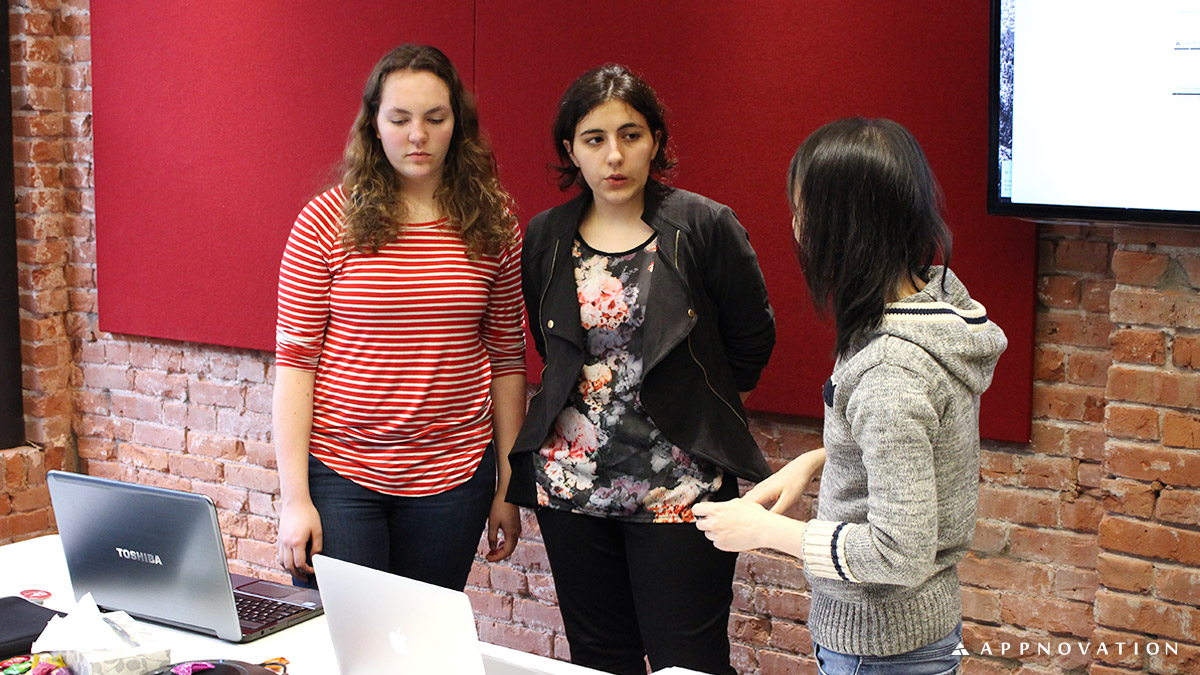 Bao discusses tech solutions with coders Ella and Hanieh
Akcinya's role in the project initially started in design, but now includes marketing to expose her to end-to-end project delivery. Akcinya hopes to be able to utilize her design and advertising skills in pursuit of a post-secondary program in the coming years. Christina will be leading the business and marketing tasks, ensuring the project is well documented and requirements are met. Christina's role is vital to the project, without these components, Team Fresh would not be able to pitch their app in the Vancouver competition in April.
Team Fresh's motivations behind participating in Technovation are vast, yet their belief in the relevance of a program such as this is unified. Akcinya, Ella, Hanieh, and Christina believe it's important for girls around the world to be key stakeholders in technology, as it's not only a vehicle, but provides lucrative skills that anyone can use to make a positive change in their community. The girls were ultimately motivated by their supportive teacher Ms. Parnaz Kashani, who saw the impact a program such as this could have for this creative group.
Technovation is an opportunity for girls to put an end to outdated stereotypes by educating themselves to facilitate a new level of accessibility in their futures. "Coding is the next language, learning it is just part of being a literate and empowered citizen," adds Akcinya.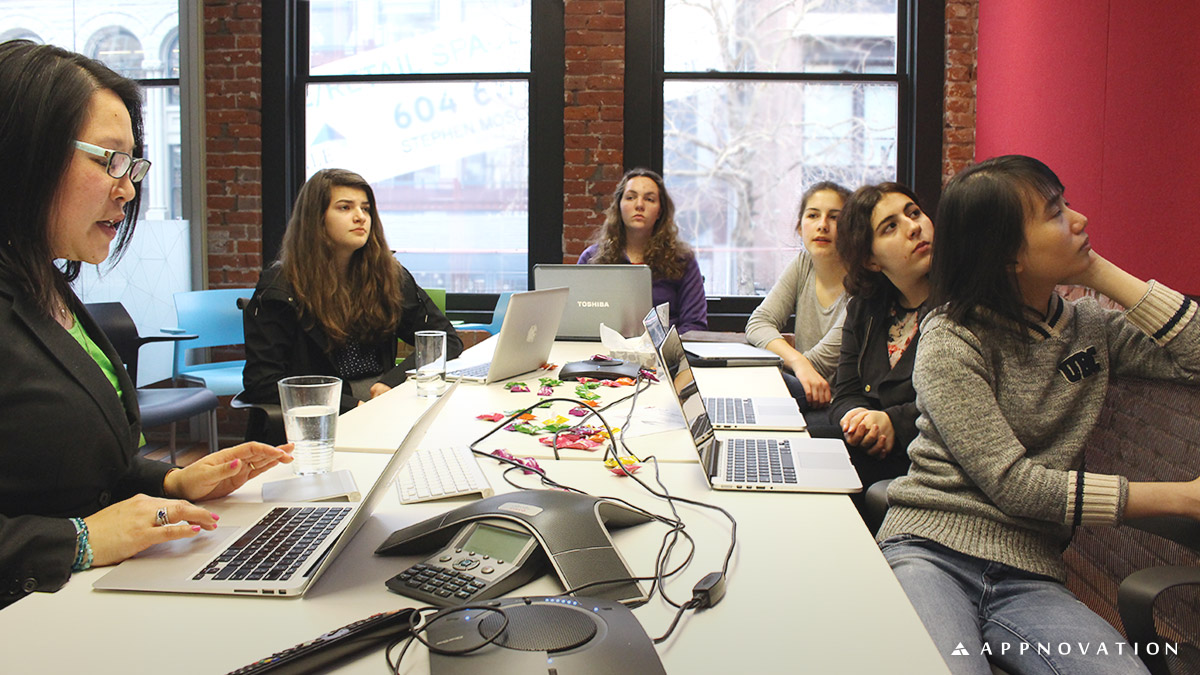 Team Fresh discusses strategy on site at Appnovation with their mentors Rena and Bao
Team Fresh is currently finalizing their plans for the backend of their application with tech mentor Bao Pham. Over the coming weeks this team will be challenged, tested, and will ultimately complete the first iteration of their mental health application. Check in with us in two weeks for another installment of the Technovation blog, where we profile our other group of mentees, Team United Utopians also from Rockridge Secondary School.