WE Day is a one day celebration of purpose and service, held in 16 cities around world throughout the school year. WE Day brings together world-renowned speakers and award-winning performers with tens of thousands of young people who actively participate in the WE Schools program.
You cannot buy a ticket to WE Day; you earn it by completing one local and one global action of impact. As a WE Company, Appnovation has also taken the WE pledge to act locally and globally, and has done so through a number of initiatives including WE Step Up and TechPong.
As a result of our actions, our Appnovation team was invited to volunteer at WE Day Vancouver, to experience first-hand the impacts that WE programming has on British Columbian youth. With approximately 20,000 students, teachers, and volunteers in attendance, the audience was graced by performances and motivational speeches by Margaret Trudeau, George Takei, Paula Abdul, and more!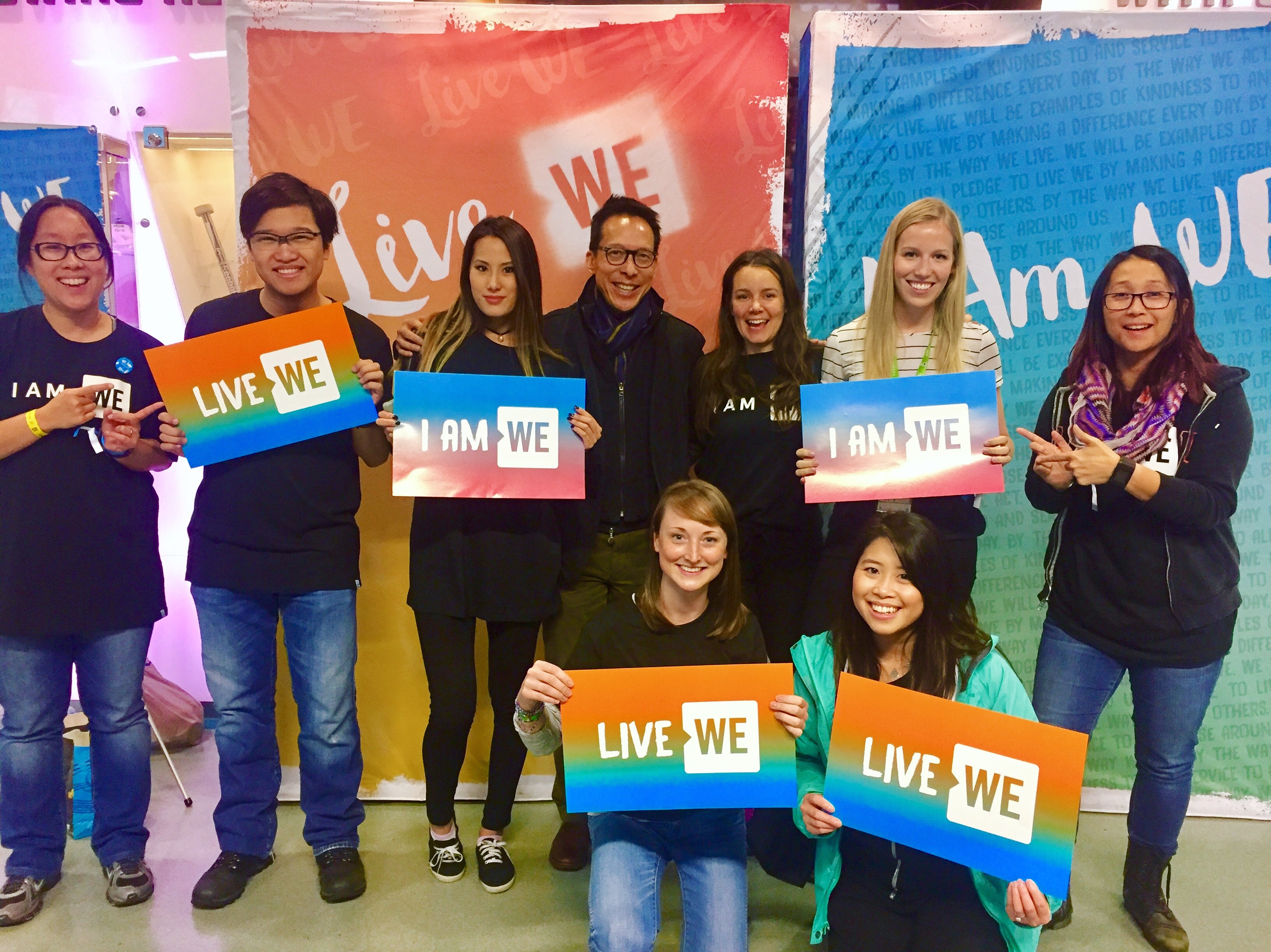 Our Appno WE Day group!
Our Appnovators volunteered in a number of different ways. Some were on the front lines registering attendees, others supporting merchandise booths, and a few pumping the crowd and hosting honoured guests.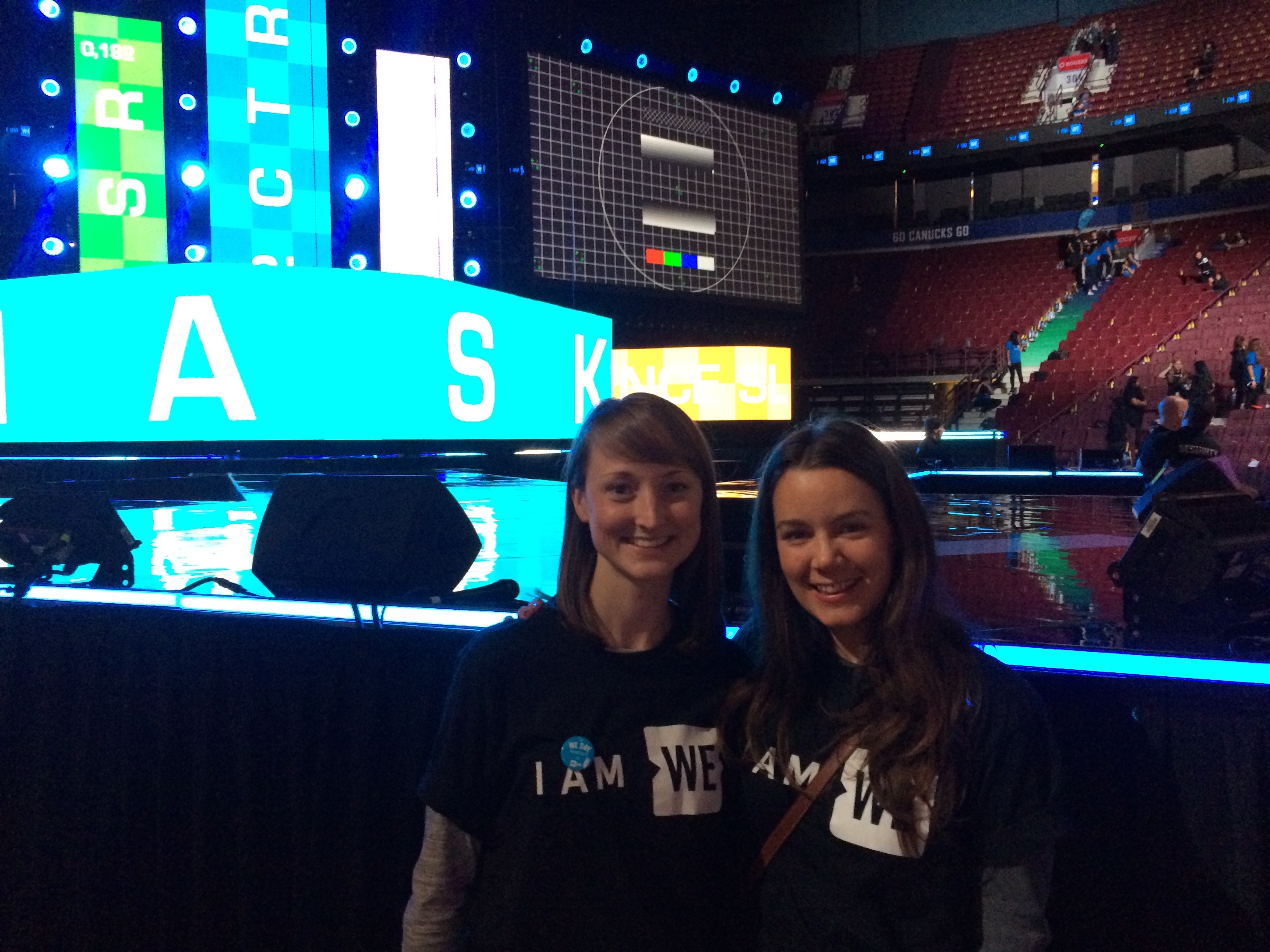 Emma and Laura checking out the WE Day stage
Gary, one of our frontend developers, reflects on his day. "Volunteering at WE Day is important to me because it allows us to pass on the importance of supporting one another to younger kids, allowing them to truly understand what it means to help out a fellow person. My volunteer day was spent merchandising the ME to WE gifts of impact, starting the day off by learning about all the different types of gifts available for purchase and getting to know the team that I would be working with at the booth. From there, we had two main rush periods when people started arriving and during the intermission where tons of kids, their teachers and their parents came to our booth, excited to make purchases that they know will make an impact on the lives of others. The highlight of my first WE Day experience would definitely have to be seeing the selflessness and excitement the kids had to give whatever they had to help make an impact."
Some of our other volunteers share their highlights:
"I have had the good opportunity to witness first hand at WE Day Seattle and Vancouver the energy, commitment, and passion of our youth and their educators to make a huge difference in our communities and to positively change the world. WE, and the the future of our young generation inspires all of us; we are fortunate that Appnovation is able to contribute to this amazing global cause and celebration." - Warren Wong, SVP Talent & Culture  
"Seeing the sheer mass of students who have contributed in some way to making the world a better place really inspires me to make a difference as well." - Michelle Quan Reid, Project Manager
"My highlight was the kids, their energy and drive was amazing. I'm use to hearing adults give their speech about what the obstacles they've gone through in life and their path to overcome it. Listening to the kids, however, is a different story. The reason is because you can see and feel how fast they have learned to develop the strength and passion to make a change and stand up for what they believe in at such an early age, it was inspiring." - Janice Cheer, Sales Coordinator
"I was inspired by seeing small children emptying out their piggy bank savings to purchase merchandise that would help change the world; some even asking before they bought the item what/where that particular item made the impact." - Michelle Yu, Accountant
"The highlight of the event was simply just being able to give back for this important cause. I think it's really easy to get caught up in everyday business but attending events like this helps reconnect us and remind us how important it is to take a step back and be grateful for how fortunate we are." - Emma MacNeill, Talent Management Specialist
"My highlight was definitely George Takei! He gave a very moving account of his time at a WWII internment camp." - Wendy Leung, New Business Operations Manager
"Engaging with the students and listening to the speakers and testimonials made me want to volunteer more with the WE organization and get more involved. I would love to do one of their global outreach volunteer opportunities if I had the chance." - Laura Campbell, Senior Talent Management Specialist
Volunteering our time is just one example of how we fuel our Corporate Citizenship program. We're hoping to bring the power of WE Day to our some of our other Appno communities in the spring - stay tuned!