Business Challenge
The National September 11 Memorial & Museum is the non-profit organization that oversees operations for the 9/11 Memorial and 9/11 Memorial Museum. Located on eight of the 16 acres of the World Trade Center site, the Memorial and Museum remember and honor the 2,983 people who were killed in the horrific attacks of September 11, 2001 and February 26, 1993.
9/11 Memorial was looking to upgrade the site with mobile in mind, to integrate new 3rd parties, to enhance the user experience, and to build a relationship with a technology partner to support them for years to come. 
Our Approach
Our role in creating a worthy digital experience was one of our most important to date, and a project close to the heart of all those involved, and we are proud of what has been achieved in memory of those lost. 
Creating a memorial is something that cannot be taken lightly, and the 9/11 project was no exception. With so many things to consider, personal stories to tell, and history to be told, our team was sensitive to, and cognisant of what was involved. In close collaboration with the 9/11 Memorial team, we set out to create a worthy online memorial, and a memorable digital experience for the millions of museum visitors from around the world. 
Appnovation worked to ensure the site would have full security support until its end of life, updated the checkout functionality to improve UX when donating money, and rewrote the entire site theme to ensure it was fully responsive.
Customer Outcome
The Museum tells the story of the events of 9/11 through authentic artifacts that range in scale from the monumental to the intimate, as well as through first-person accounts and multimedia displays. 
Appnovation upgraded the previous site, with an additional focus on responsive mobile solutions and user-centric designs critical to provide the museum's 3+ million visitors a year with an elegant and user-friendly online experience of the entire museum. A simpler, yet flexible system was implemented with advanced capabilities to increase donations, helping The Museum build a lasting place for remembrance, reflection and learning for years to come. 
 
3.1 million+
Visitors to the Museum in 2017 alone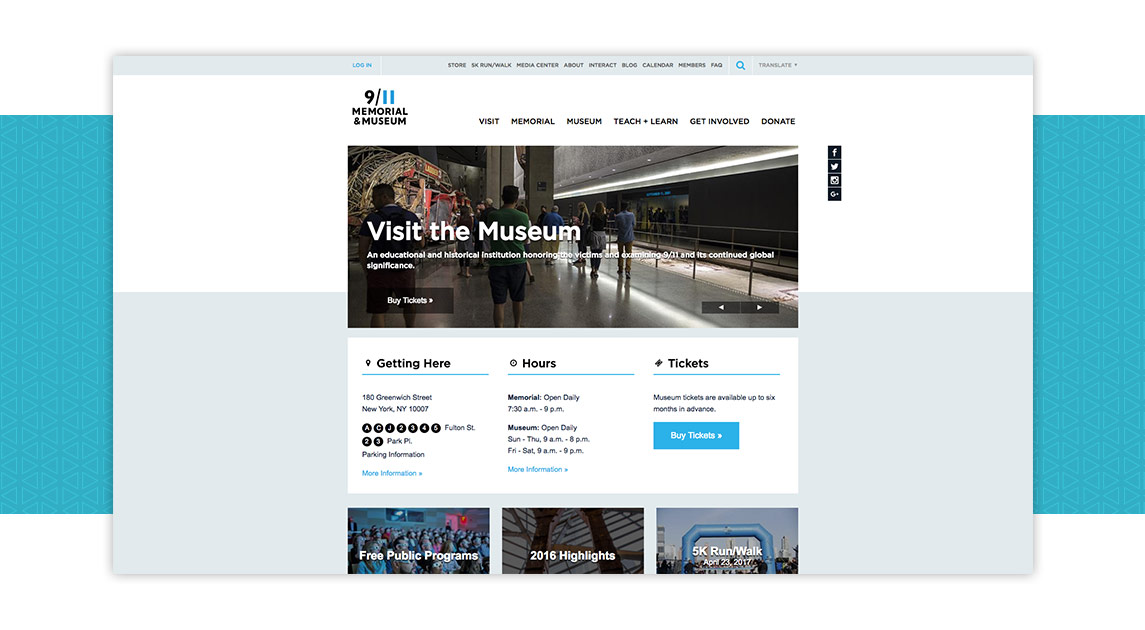 An new digital artistic experience to support the new brand for Antwerp's premier orchestra.
How one of London's largest councils helped its citizens lead healthier lifestyles.
Showcasing their brand, transforming sales, putting customers first.