Business Challenge
BMI Research is a research firm that provides macroeconomic, industry and financial market analysis. With offices in London, New York City, Pretoria, Singapore and Dubai, BMI Research offers analysis services spanning over 20 industries and 200 global markets. BMI approached Appnovation to replace their existing media publishing solution. BMI wanted an innovative solution for multi-platform media publishing to streamline their workflows and organize content. 
Our Approach
The Appnovation team delivered a newly designed, innovative, streamlined, and highly organized Media Publishing platform for BMI. An efficient functionality selection enabled the platform to accommodate the full report life cycle, in the form of a workflow, allowing  different roles (e.g. analysts, sub-editors, production) to participate and contribute. Full integration with BMI's legacy systems was achieved, with continued maintenance and support for the new site.
 
Customer Outcome
With their brand-new Media Publishing platform, BMI's analysts are able to write, build and publish complex industry and country specific reports in both web and PDF formats, covering over 20 major industries and monitoring 200 global markets, providing their clients with in-depth analysis for the markets of their choice.
50%
Reduction in article/report creation cost due to new process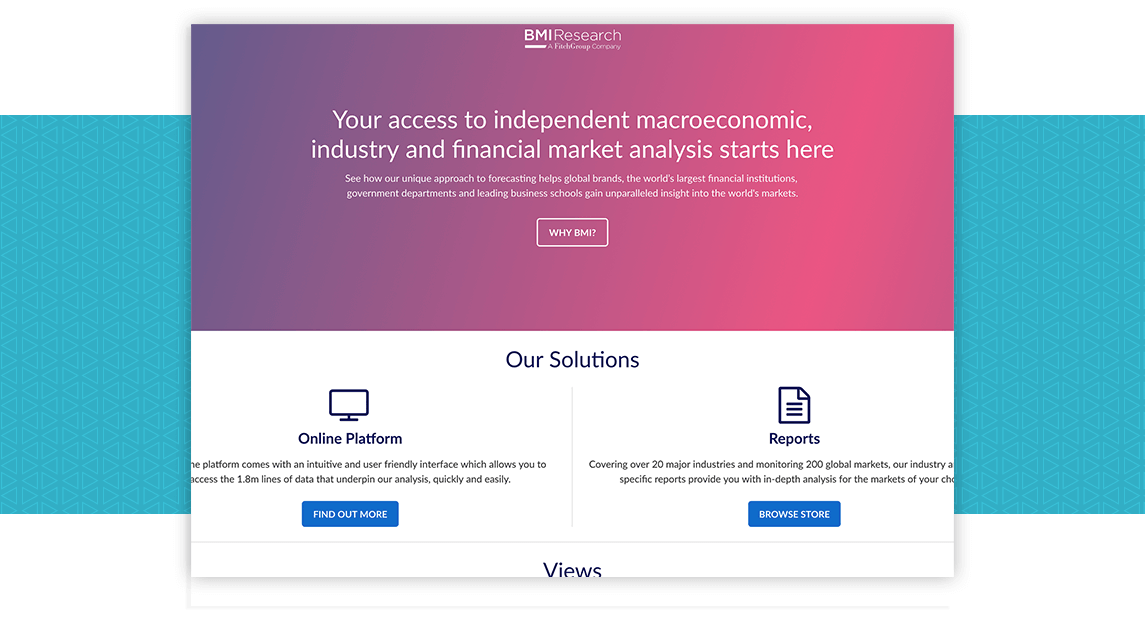 33%
Reduction time for site editors
Appnovation's approach to communication is very much that of a bespoke concierge service; concerned as much with the old school care that facilitates relationships as it is with the paperwork that enables it. A perfect marriage of flexibility and comprehensive documentation creates a very rarely enjoyed truly consultative and accommodating approach to what is a truly mutually transparent relationship.
Chris Poel
IT Director, BMI Research
An Integrating digital patient care offering makes for much healthier customer renewal rates.
Bringing a brand forward to enable digital trade on global scale.
How geo-locating an accountant near you increased business for all members of CGA Canada.