Business Challenge
Dans la rue is the only organization in Montreal which takes a multifaceted approach to respond to the needs of homeless youth and youth at risk. Donations fund the services and programs (van, emergency shelter, school, employability, psychologists, nurses, apartments, family services, etc.) adapted to the youths' needs.
Volunteerism has been the cornerstone of Dans la rue since its inception in 1988. They were in need of digital platform to help them in their mission to change even more lives, designing and developing a bilingual (French & English) Volunteer Application webform, taking the process from manual to automated. 
Our Approach
Our collaboration with Dans la rue was about development and design, crafting  a French/ English Volunteer Application webform. Our solutions? Taking Dans la rue's volunteer application process, from manual to automated. 
Our team designed and developed a webform, allowing application completion online... directly and seamlessly. 
 
Customer Outcome
With an easy to use form, Dans la rue staff and volunteers save valuable time, freeing up people up to help more youth survive the streets and get back on their feet
140+
community volunteers applied and counting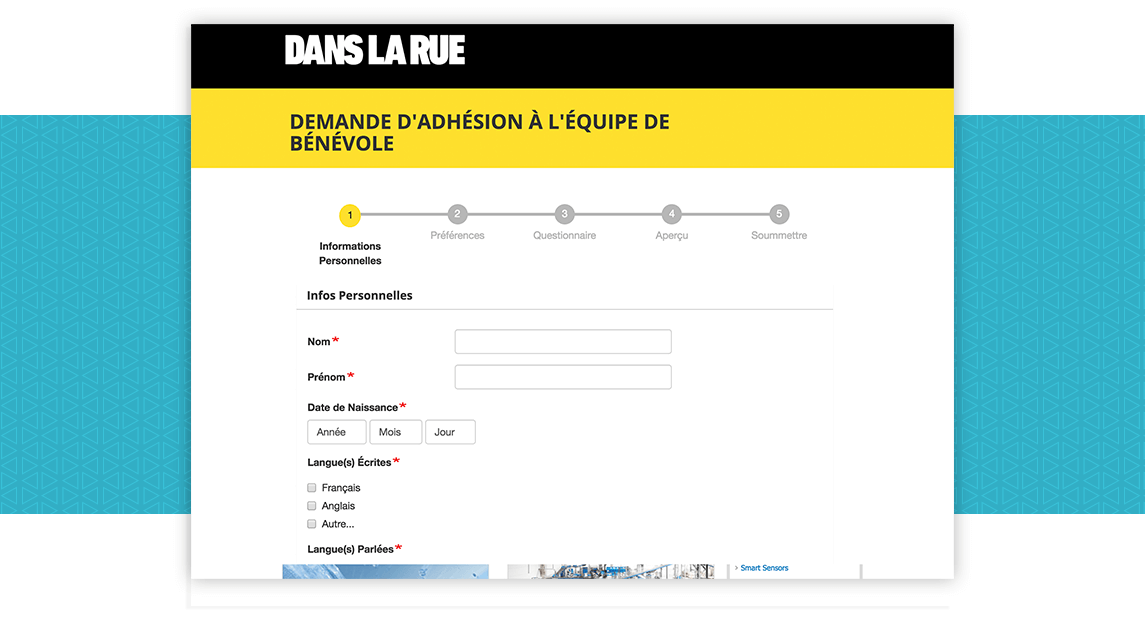 How an internal sales tool helped Rockport's outpace the competition.
Enabling the DoD to digitally help 500,000 military spouses find employment.
How connecting 100,000+ students to school services better prepared them for life after graduation.