Business Challenge
One of the world's best-selling and America's fastest-growing television brand, TCL USA delivers immersive viewing experiences for millions, so it's only right that their own online presence is equally impressive, and no less creative. 
Committed to a superior digital presence, TCL USA were looking to improve both the aesthetic, and content management elements of their website, which they considered to be of paramount importance to the success of their creative vision. 
 
Our Approach
As TCL aggressively climbs the ranks of the U.S.'s top TV brands, they needed a new site that elevates their products to consumers and brings forward the identity and energy of the brand: authoritative, credible, influential, and innovative. We conceptualized, created and delivered a sleek aesthetic showroom experience with their new website, enhanced with high fidelity visual 'eye-candy', easily adaptable and able to integrate new technologies, and designed to afford users a superb user experience in terms of navigation. 
Using Drupal 8 as the CMS, Appnovation's experts were able to create website inspired by TCL's vision. The website embodied a showroom feel with high fidelity visuals to represent TCL's branding. The Drupal CMS also provided TCL with a flexible and scalable solution, allowing TCL to plan for the future by opening the door for e-commerce functionality down the road. On top of these services, Appnovation engaged in a Managed Services agreement with TCL, with Appnovation's experts now providing support and maintenance to TCL's new site.
Customer Outcome
With their new site, TCL delivers a premium showroom experience from the comforts of home. TCL's customers can truly experience and engage with their high-quality products and design concepts, putting customers closer to their entertainment, and allowing TCL to deliver the latest technology and the highest quality product for the absolute best value. 
 
+31%
Increase in Page Views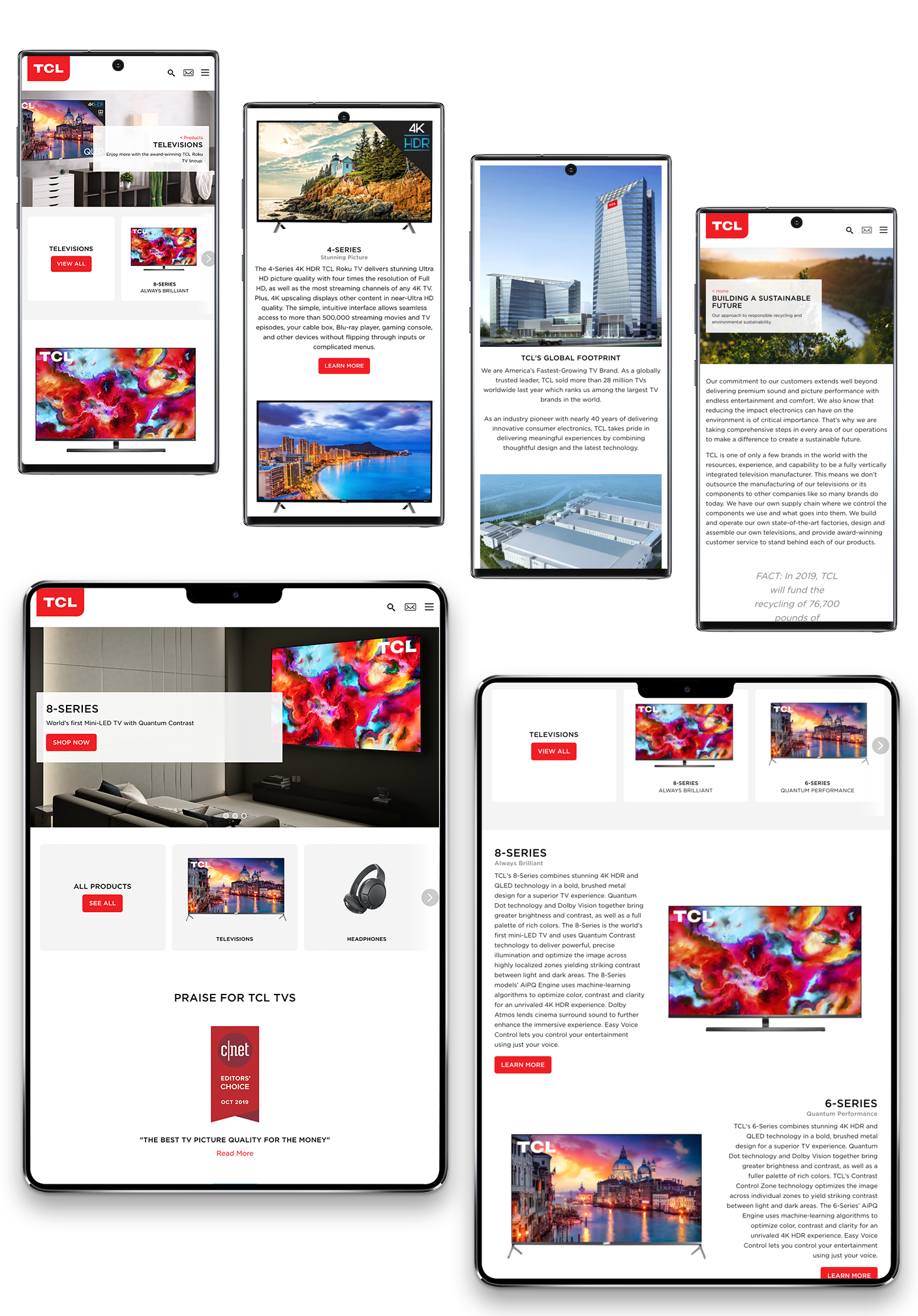 Additional Results Achieved
60%
Improvement Direct Landing Customer
The experience working with Appnovation has been fantastic. We always want to ensure we get plenty of value from any vendor that we work with, and in that regard Appnovation really excels. With our latest project, we received top-quality work, enjoyed working with a really responsive team, and when we threw curve balls or suggested unique functionality, they quickly went to work to make it a reality.
David Lux
Head of Digital Marketing, TCL North America