19 June, 2018
Appnovation, today announced that Senior Vice President of Talent & Culture, Warren H. Wong, has been appointed, for a second term, to the Board of Directors at the Dr. Sun Yat-Sen Classical Chinese Garden, with this to be his first as Board Secretary.
appointment follows an earlier nomination, and subsequent appointment for Wong, for his 5th term on the Greater Vancouver Food Bank Society Board, and further highlight's Appnovation's unerring commitment to the local community, and the socially aware initiatives pursued through the company's corporate citizenship program.
The Dr. Sun Yat-Sen Garden is the first Chinese, or "scholars" garden built outside of China, and is located in Chinatown in Vancouver, British Columbia, Canada. The garden was built in 1985-1986 and opened on April 24, 1986 with the help of experts from the Landscape Architecture Company of Suzhou, China.
The garden is named in honour of Dr. SunYat-Sen, a nationalist leader widely considered to be the "father of modern China."
The vision of the Garden is "cultural understanding through cultural experience." With the mandate of "building intercultural understanding through learning, celebrating and connecting Chinese culture with other cultural communities."
"I am looking forward to another term with the Garden, with a focus on restoration, long term lease, and increased connection with the local Chinatown community" said Wong.
"As a Vancouverite born and raised, my Chinese Canadian family has always enjoyed and maintained active ties with Vancouver's Chinatown, and I am honored to be able to help, promote, and preserve the Garden, while making a positive connection to Vancouver and its global visitors."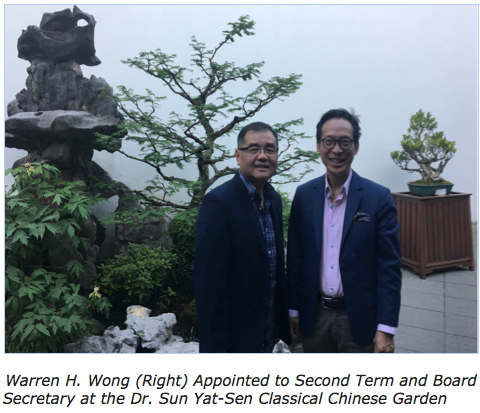 Appnovation recently affirmed its commitment to supporting local initiatives with its third-time participation in this past fall's TechPong, a charity ping-pong tournament raising funds for youth education and women in STEM (Science, Technology, Engineering and Math). In addition, Appnovators spent time supporting the Greater Vancouver Food Bank Society, by volunteering to help sort donations, and by hosting an office craft fair fundraiser. This May, the Talent & Culture team also partook in a cleanup to keep our local community shoreline free from waste.
About Appnovation
Appnovation also continues to support WE Charity, is the organization's global partner for corporate citizenship initiatives. WE's primary objective is to empower developing communities with sustainable solutions. Past initiatives include global fundraising for clean water solutions in Ecuador, as well as regular volunteering at WE's annual WE Day events such, as the one that occurred in Vancouver this past fall.
Appnovation is a global Digital Solutions and Managed Services provider delivering strategy, application development and enterprise integration on leading open technologies.
Appnovation's in-house experts build high-performing, secure digital experiences, while providing a full range of creative capabilities, coupled with 24/7 support and maintenance.
Open Digital Delivered. Visit appnovation.com.