Salesforce Marketing Cloud is a digital marketing strategy enabler, helping companies get to know their customers through personalized communication and engagement. It's a suite of tools that work together to help you build, personalize, and automate customer experiences across every marketing channel. 
 
Whether your customer is a business or a consumer, you can use this single platform to handle all your marketing needs. Yet, because it's so modular and powerful, it can be a challenge to determine if Salesforce Marketing Cloud is right for your business. Let's take a closer look at how you can use it to optimize your marketing and enhance your customer experiences. 
 
What Can You Do with Salesforce Marketing Cloud?
This suite of products is made up of studios and builders from four categories of business processes: 
Messaging and Automation
Data and Advertising
Social Media
Analytics
It starts with the data that helps you get to know your customers and connects that data across multiple sources, which helps all the builders and studios create a data-driven unified view of your customers. Drive growth by surfacing new insights in the Analytics Builder and develop email and SMS campaigns in the Email and Mobile Studio, respectively. 
Next, the Journey Builder helps create end-to-end customer journeys that you can share with all internal stakeholders. Everyone works from the same customer playbook and can react dynamically to changes made to the journey since it updates in real-time across the network. 
Salesforce's built-in AI engine, Einstein Discovery, leverages data to listen, interpret, and respond to customer intent automatically. It creates and delivers omnichannel personalized communications, helping busy marketers stay on top of their marketing without the extra work.
 
Companies Using Salesforce Marketing Cloud
There are a variety of global companies using Salesforce Marketing Cloud, including brands from a wide range of industries that include, but not limited to, retail, financial services, education, non-profit, healthcare, travel and entertainment. Here are a few. 
Align Technology, makers of the popular Invisalign® orthodontic aligner system, implemented Salesforce Marketing Cloud to help them develop a more strategic approach to their customers. With it, they're better able to track what customers are saying and doing across various touchpoints and nurture relationships with prospects. 
ABB, a global engineering technology company, uses Salesforce Marketing Cloud to streamline and optimize their customer communication. They've now unified the 26,000 employees in their marketing and sales organizations to collaborate more efficiently, identify customer opportunities faster, and standardize processes and tools. 
Eurostar, the European transportation company, has unified its customer profiles across business units, which has helped the marketing department create a more tailored customer experience. They use Salesforce Marketing Cloud to create bespoke email marketing campaigns for 25,000 customers, instead of sending out the same offer to everyone. The Social Studio helps them engage their customers across social media, helping them follow conversations and join in as well, something they struggled to do previously.
Kimberly-Clark, a global personal care corporation, uses the Social Studio to talk to consumers, identify influencers, and build a community online. It also helps them surface product issues that are identified on social media and aggregate them into a central report that's available to all stakeholders so they can solve them quickly. 
 
Checklist: Is Salesforce Marketing Cloud Right For Your Business?
Here are a few things to consider if you're thinking about using Salesforce Marketing Cloud in your business.
Do you want to connect your data sources to create a unified customer profile?
Do you struggle to create customer-centric experiences across your organization?
Are you looking for more advanced marketing reporting that will help you deliver a data-driven experience for your employees?
Do you want to create personalized omnichannel communications that build relationships with existing customers?
Do you struggle to engage with future customers on social media and keep up with the thousands of messages they send your brand every day?
Are you already a Salesforce customer? (Not that it matters, you can use Salesforce Marketing Cloud by itself.) 
 
If you answered yes to any of these, then you're ready for Salesforce Marketing Cloud. There are several options for businesses, depending on your size and requirements, so contact us today and let's talk.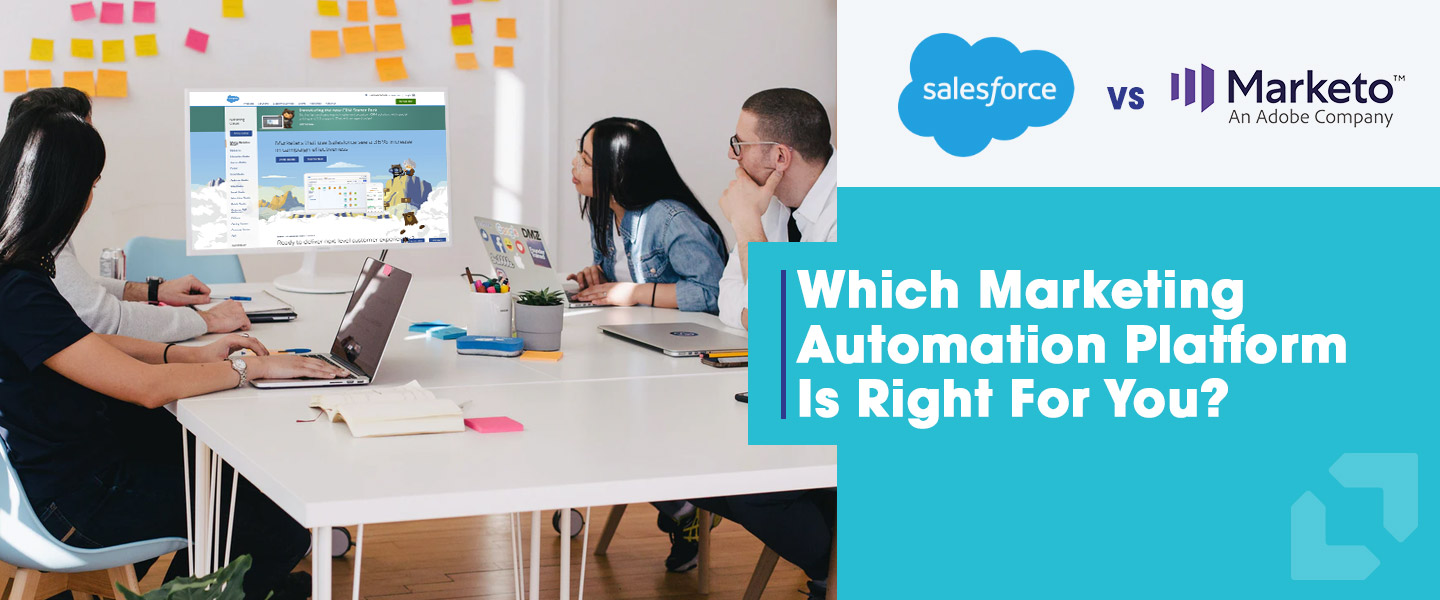 Which Marketing Automation Platform Is Right For You? Salesforce Marketing Cloud and Marketo Compared.