In today's cross-platform world, teams have a real opportunity to operationalize at scale – and create unprecedented impact. To do so, however, they need a repeatable and consistent way to get more out of their data – and maximize agility.
 
Joining her co-panelists and data experts at CMA Measurement panel: Storytelling to Actual Humans in a Cross-Platform World, our Senior Director of Data Science & Analytics, Ashley Fitzgerald – guided by the below questions – put forward what it takes to run data-driven storytelling campaigns that drive business impact.
Here are three critical elements that organizations should consider while building their data strategy.
 
Q1: Who cares about data today, and why is democratization critical?
 
The power of data hinges on its ability to help answer pertinent business questions. If it isn't accessible to the people who are asking the questions–either because they lack the background to decipher it or because the data they need isn't readily available – it's impossible to make truly informed business – or marketing – decisions.
That's why a growing number of organizations are taking steps to democratize their data – making it more accessible, actionable, and available to all departments. They're bridging the gap between data and technology and strategy and execution – by investing in things like data lakes and user-friendly dashboards that make it easier for everyone across the organization to monitor performance, extract insights, and act on them. When every department is on the same page, with the information they need at their fingertips (in a language they understand), it becomes easier to identify the business needs –and the best way to deliver actual customer value. 
For instance, when functions like finance, sales, and customer services can leverage democratized data to drive intelligent and scalable operations, they can more effectively collaborate with the content creators to articulate the goal of a specific campaign – and aid in determining the appropriate media mix, allocation, and targeting needed to achieve the desired outcome.
 
Q2: What metrics matter when you think about measuring content and ROI?
 
Democratizing your data gives you better visibility into the overarching purpose of a marketing campaign. Still, to evaluate its success against business goals, you must focus on the metrics that matter. That means looking beyond the traditional metrics – those that have always been measured because they're the measurements everyone understands – and monitoring for metrics that more aptly measure success against business goals.
To find the metrics that really add value, it's important to launch every campaign with a simple question: "What business goal are we trying to achieve?" Consider what results you'd ideally want to see – and what metrics will best help you measure the desired impact.
After asking those questions, you may determine that, while things like gross rating point (GRP) or blind impressions can still offer valuable insights into the success of a campaign, they may need to be layered in with other metrics to truly understand the full business impact. For instance, customer surveys can help marketing teams quantify brand KPIs like purchase attributions, brand lifts, or incremental sales lifts and help teams understand how impacts on brand perceptions drive sales or whether a campaign is achieving its intended business goals.
This may take some getting used to – particularly when reporting the progress of a campaign to senior leadership. In this scenario, marketing teams would be well-served to explain delivery metrics' shortcomings and instead reframe the campaign to reflect total business impact.
 
Q3: How can organizations adapt to thrive in a cookieless world?
 
As the age of cookies comes to an end, marketing teams will have to explore – and embrace – new ways of targeting and engaging consumers. One increasingly popular way to do this is to rely on first-party data.
This data is owned by your organization – and collected directly from your consumers with their consent. It can be acquired from email campaigns, loyalty programs, customer surveys and typically offers customers some value in return for their information.
There are different ways to build up this type of first-party database. You can mine information from customer interactions on your app or website – or layer customer surveys behind advertisements or in your newsletters.
The best part is that, while a large database is obviously ideal, a little first-party data can go a long way. When paired with a strong data stack, you can still blow the data out, find scale, activate against it, and measure favorable results. This, in turn, allows you to develop a closer relationship with your customers, identify ways to offer them more value, and ultimately enhance your marketing and advertising performance over the long haul. 
 
Advance along the data maturity curve
 
The key to customer-centric marketing campaigns starts by prioritizing the above elements – but it doesn't end there. Like many things in business, to achieve actionable business intelligence – and effectively monetize data – you'll constantly have to place one foot in front of the other and commit to progressing on your data maturity journey.
This journey consists of many steps. First, you must focus on building a framework that speaks to business metrics and ROI–and slowly integrate data dictionaries, APIs, and regular technology reviews to enhance your data collection processes. Eventually, they'll allow you to forge a stronger connection between marketing and sales, generate greater visibility into the effectiveness of particular channels, and maximize your data investment.
This latter point is important. Without visibility into the actions that drive dollars, your organization runs the risk of flying blind. Once you're able to see which marketing activities contribute to revenue, ROI and diminishing returns become clear. This can have a massive impact on your overall business – and drastically improve morale within internal teams.
 
This mature data future could be closer than you think, as we've seen with a few of our customers. At Appnovation, we specialize in building high-impact solutions designed to meet your organization's unique needs. If you'd like to learn more about how we can help you build more data-driven customer-centric operations, get in touch.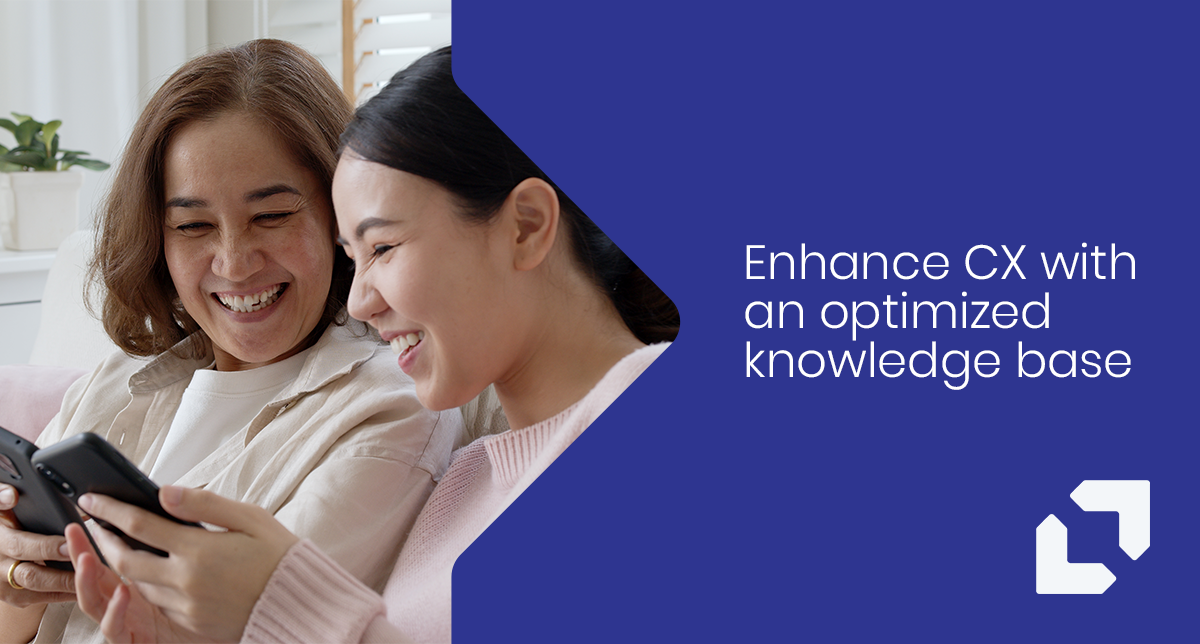 Enhance CX with an optimized knowledge base