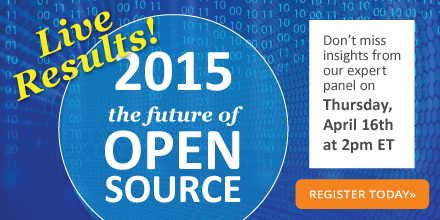 Appnovation today announced it was a Platinum Level Collaborator for the ninth annual Future of Open Source Survey, which investigates open source software (OSS) trends on a yearly basis. Appnovation supported the annual study by promoting the live survey and helping to drive a large number of survey respondents. Black Duck Software, the leading OSS Logistics solutions provider enabling the secure management of open source code, and North Bridge, a seed-to-growth venture capital firm, today revealed the results that reflect corporate open source use and participation has reached an all-time high.
"The Future of Open Source survey results demonstrate that open source technologies continue to play an increasingly important part in organizations and are now considered just as reliable, if not more so than their proprietary counterparts," said Appnovation Technologies CEO Arnold Leung. "It's information like this that further supports Appnovation's continued expansion of its portfolio of open source and open technology-based services and solutions." 
Don't miss today's live panel discussion of this year's Future of Open Source Survey results. Register for the webinar today at 2pm EST for real-world insights from the following open source industry experts:
Jeffrey Hammond, Principal Analyst at Forrester Research (@jhammond)
Paul Santinelli, Partner at North Bridge (@paulsantinelli)
Jane Silber, CEO of Canonical (@silbs)
Bill Weinberg, Senior Director of Open Source Strategy at Black Duck Software (@LinuxPundit)
For more survey data, visit: http://www.slideshare.net/blackducksoftware/2015-future-of-open-source-survey-results. Follow @futureofOSS and join the #FutureOSS conversations on Twitter.