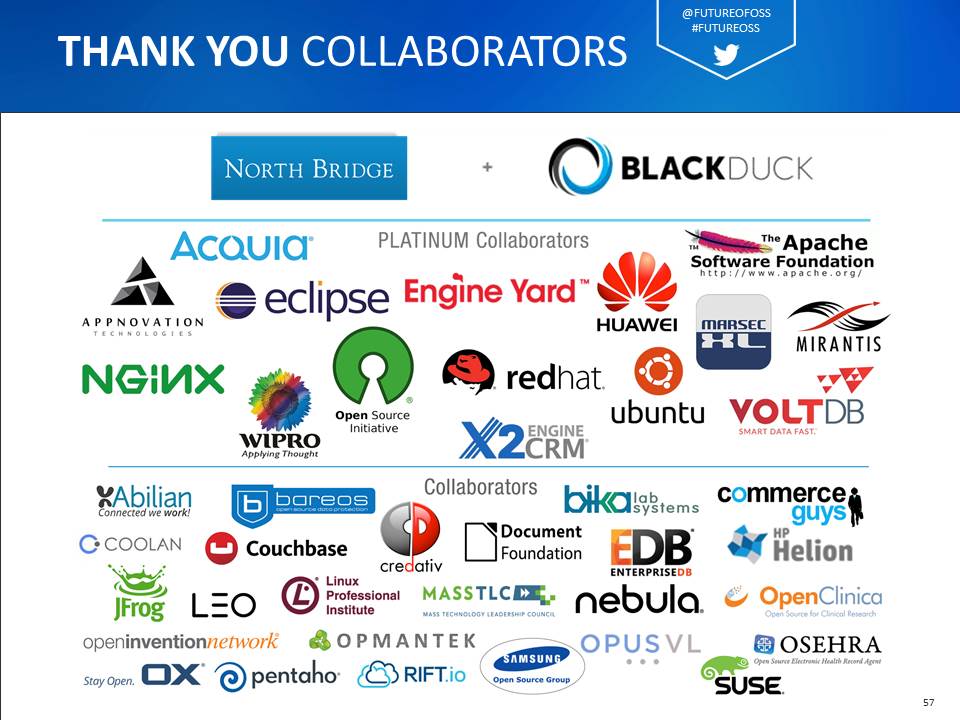 Passionate about Open Source?
North Bridge and Black Duck, in collaboration with Forrester Research, are pleased to introduce the 10th Annual Future of Open Source Survey, one of the industry's longest-running and broadest studies.
Open source software has emerged as the driving force of technology innovation, from cloud and big data to social media and mobile. The Future of Open Source Survey, sponsored by Black Duck and North Bridge Venture Partners, is an annual assessment of open source industry trends that drives broad industry discussion around key issues for new and established software-related organizations and the open source community. 
Again this year, Appnovation is an active collaborator as an open source industry leader and part of the open source community, encouraging broad participation in the on-line survey and assuring that the results are as relevant and informative as possible.
"The 2015 Future of Open Source survey results demonstrated that open source technologies continue to play an increasingly important part in organizations and are now considered just as reliable, if not more so than their proprietary counterparts," said Appnovation Technologies CEO Arnold Leung. "It's information like this that further supports Appnovation's continued expansion of its portfolio of open source and open technology-based services and solutions." 
The goal for 2016 is to exceed last year's record number of 1,300 survey participants, and Appnovation is excited to help drive participation in an extremely important open source initiative. 
The survey closes April 4, 2016.