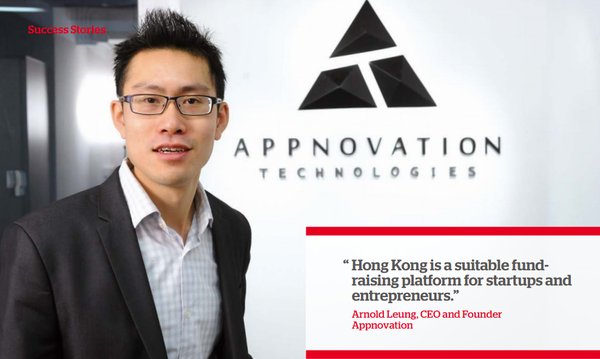 Appnovation has been featured by Invest Hong Kong as a success story with the expansion of the global IT services firm into Hong Kong.
Established in July 2000, InvestHK's vision is to strengthen Hong Kong's status as the leading international business location in Asia. Their mission is to attract and retain foreign direct investment which is of strategic importance to the economic development of Hong Kong. They work closely with overseas and Mainland entrepreneurs, SMEs and multinationals that wish to set up an office – or expand their existing business – in Hong Kong.
"We see Hong Kong as a major financial centre in the Asia-Pacific region. It has a sound legal system and framework, a simple-and-low tax regime and a stable economic system. Having a presence here enables us to enter the Asia-Pacific market, including Mainland China, Taiwan, Japan and southeast Asia," said Arnold Leung, CEO and Founder, Appnovation.

"It also enables us to meet our customers on the Mainland, especially in Shanghai and Beijing, more conveniently. Hong Kong is also a suitable fund-raising platform for startups and entrepreneurs." 
With offices in North America, Europe and now Hong Kong, Appnovation's expanding team delivers projects around the world for clients such as Samsung, Intel and Time Inc., and is uniquely positioned and qualified to provide companies and organizations looking to either enter the Chinese market for the first time or upgrade their current presence in the market.
Appnovation also partners with Aliyun to provide system integration and implementation for customers wishing to expand their reach into the China market utilizing Aliyun's cloud platform. Appnovation also provides deployment, consulting, and delivery services around creating and optimizing web presence and online marketing efforts utilizing the Aliyun Cloud in China. 
Read the full article here.