Business Challenge
In the UK, councils deal with county wide issues, and need a county-accessible online portal. Whether it's street lighting or local tax issues, 24 hour digital access to everyday issues is now another important  cog in the council machine. For Leicestershire County Council, the deliverables were clear: Deliver a design and user experience that is reflective of the county image, navigationally intuitive, with fast page loading times, flexible content management capabilities, and strict access control integration. Our response….a digital solution addressing those needs.
 
Our Approach & Customer Outcome
Leicestershire County Council wanted to radically change its online capabilities:  time to maximize their websites benefits, no time for delay. Following extensive research and testing with Fluent Interaction, our digital solution was innovative, offering a user centered design, on a remotely hosted and managed Drupal CMS, designed to create a bespoke,  flexible, lightweight, task driven experience.
What did we do? Provided an intuitive integrated interface, allowing streamlined content  management, including multiple levels of access control and capabilities. The new site? Easy to use, intuitive to navigate, integrating  a powerful search interface for end users, connected with Apache Solr, all while improving the speed and relevancy of search results. So in total, the design was upgraded to provide a better user experience, search engine functionality was enhanced, flexibility was realized for content management and, on site technical training was provided.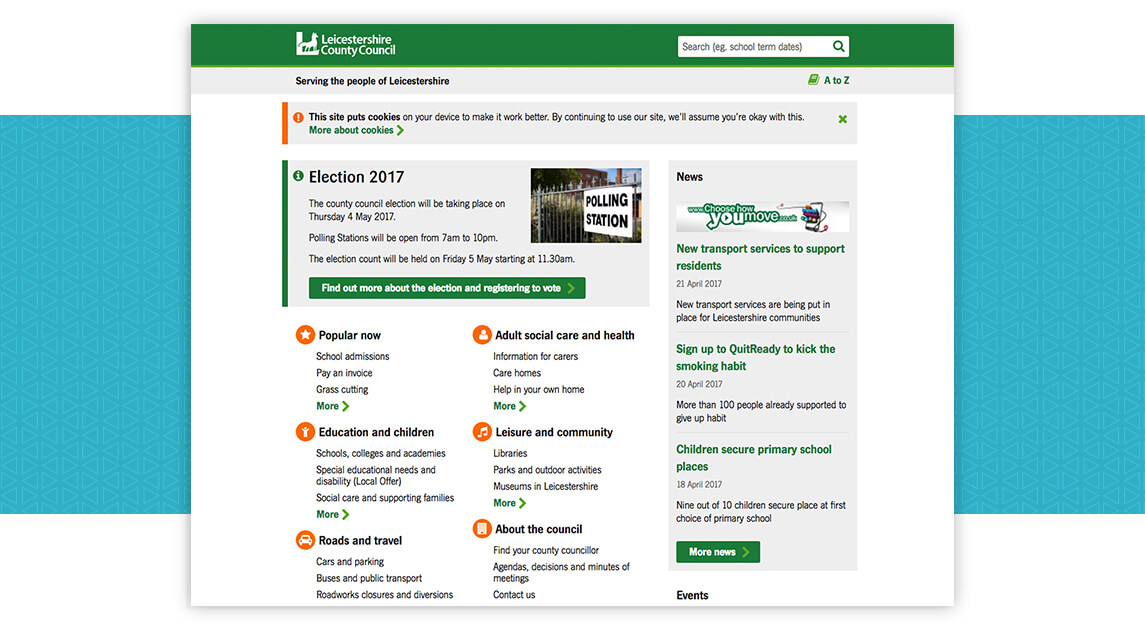 Using digital to help tens of thousands to quit smoking.
Streamlining thousands of users and hundreds of projects provides corporate clarity.
Helping digitally train tomorrow's doctors today and improving healthcare in the developing world.