Business Challenge
Why do stories matter? Because brands like YETI are more than a product, it's an experience that transcends the mundane, inspires, and creates connections.
YETI is an Austin, Texas-based manufacturer of outdoor lifestyle products such as ice chests, vacuum-insulated stainless-steel drinkware, soft coolers, and related accessories.
Key to the YETI experience is their ability to tell a good brand story that resonates: the YETI Coolers Stories site. It houses well crafted stories from their Ambassadors who redefine what it means to live a wild life. With their explosive growth, YETI needed to quickly scale their ecommerce site.
Our Approach
As part of a larger move to Demandware, Appnovation was tasked with rebuilding the Stories site, using Drupal 8 - separate from the Demandware platform but integrating key e-commerce components into the experience to mesh content and commerce. The project itself required clear and open communication streams to manage the several parties: the new Demandware team, the previous Stories partner, the YETI business owners and the IT team.
Ultimately, Appnovation's research, design and development team helped YETI see why, instead of requiring improvements, the site would be better served by a new architecture, and created from scratch.
Customer Outcome
With the newly designed YETI Stories site, YETI is able to expand their brand presence and reach, sharing compelling video and ambassador experiences to continue to build and develop their community of fans who redefine what it means to live a wild life, creating an emotional connection to their brand. 
70+
YETI brand ambassadors, from hunting whitetail to competitive roping, they redefine what it means to live a wild life.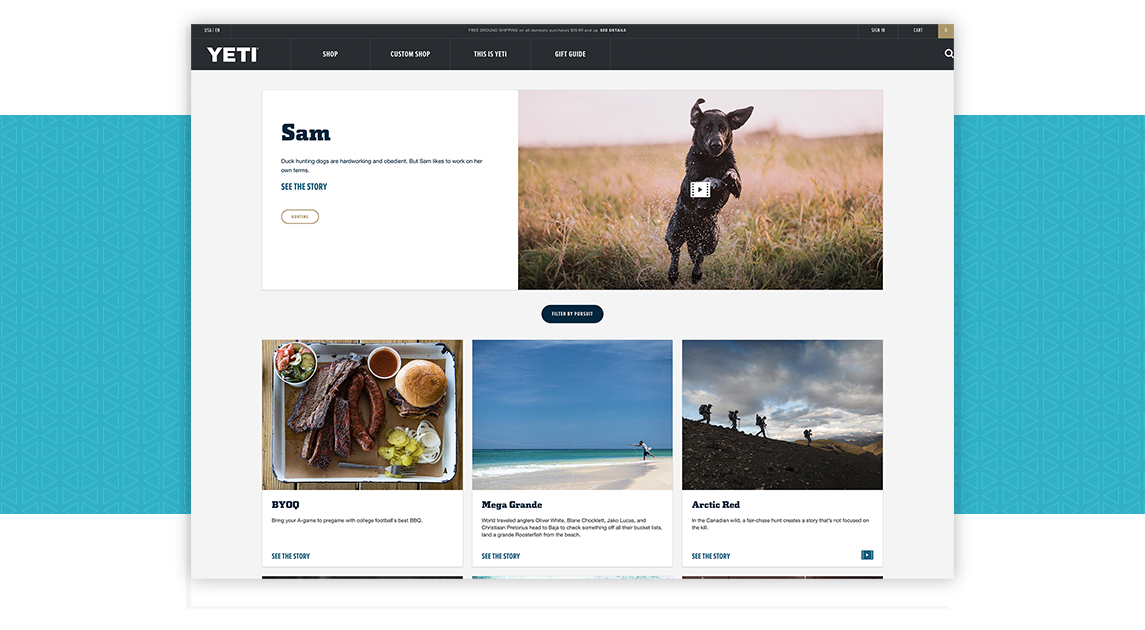 Retiring point to point legacy integrations in favor of multi-point to better connect to its customers for the #1 CRM platform in world.
How the 9/11 Memorial translated a day no one will forget in to a digital experience to remember.
Supporting a non-profit to ensure healthcare coverage is extended to thousands.