The difference between the retailers that will lead the market and those that will always be playing catch up is a future-ready, customer-centric tech mix that's adaptable and purpose-built to change. 


 
Ingrained empathy and customer-first approaches are more important than ever when building the technology that powers your digital experiences. You can design the ingredients in your tech mix to create loyalty-building experiences, not hinder them.
One of my key takeaways from the impacts of the COVID-19 pandemic is that we need to be ready for anything. Not the nebulous "5-year digital transformation" that was always right around the corner for some companies but never actually happening. 
I mean genuinely prepared, with short-, mid-, and long-term tech strategies that are resilient and adaptable. Up to the task of handling the disruption that we know is on the way, sure, but also capable of pivoting for the changes we can't predict. 
 
Tech integration is the foundation for dynamic scale
During the pandemic, many retail brands quickly realized how important it is to have their enterprise as integrated as possible to support the most hyper-local consumer demands. 
Curbside pickup is an excellent example of an old-world tech strategy that wasn't prepared to make an innovative pivot like this. 
Letting a person shop online for a particular item and then allowing them, within days or even hours, to pick it up physically at a specific geographic location is technologically complex. It requires an entirely different and ultimately more sophisticated level of supply chain and inventory management. 
To go full throttle, vendors need to meet demand and scale readily for increased online interaction around events they can't necessarily control or predict. If your infrastructure can't scale to meet this demand and your end-to-end tech processes aren't connected, you can't accommodate growth. Simple as that. 
 
Business priorities first, technology second
An optimized tech mix should support your competitive advantages. It needs to be primed to protect and adapt in order to exceed your customers' expectations. 
Don't start with platform selection first. That's like buying a car and then realizing your next trip is across an ocean. You need to know where you're going before you decide how you'll get there. 
First, define your business value based on solid consumer research, competitive analysis, market trends, and more. 
Once you've established a clear goal, you can audit your current capabilities to find the most cost-effective tech mix planning. Some of the features you're after might be already available to you within your existing tech stack with relatively low lift. Others might necessitate on-boarding entirely new platforms. Compare your existing tools and technologies and map out what you can do right now and what you want to do in the future. 
 
Decoupling technology accelerates resiliency
Technology is only as effective as the intelligence that (hopefully) went into choosing it. A lot of folks learned this the hard way during the pandemic. They were forced to try to adapt support structures in a very reactive way to figure out what they could do within restrictions they'd unknowingly placed on themselves years before. 
Any smart strategy for planning your tech systems integration should look at wisely decoupling as many of your systems as possible. Along the way, you'll raise resiliency and give your business the power to dynamically restructure your tech capabilities in tandem with your business model. 
When change inevitably comes, you'll be ready.
 
Your ultimate tech mix goals shouldn't be just tech
Your technology isn't what's most critical. Neither is your data model. A laser-focused commitment to the ideal end-user experience has to drive everything you do.
Things change dynamically, and so must your tech mix strategy. You need to embed this mindset into building your roadmap and influencing how everyone in your technology organization thinks about what they do and how they ultimately serve your customers. 
Your business needs to understand how to take advantage of what technology offers to meet the market and surpass business goals. That's where transformation occurs and is the fastest path to getting to agility and resilience ASAP.  
 
At Appnovation, we've partnered with dozens of leading retail and e-comm brands. Get in touch with our technology planning experts and learn how we can do the same for you.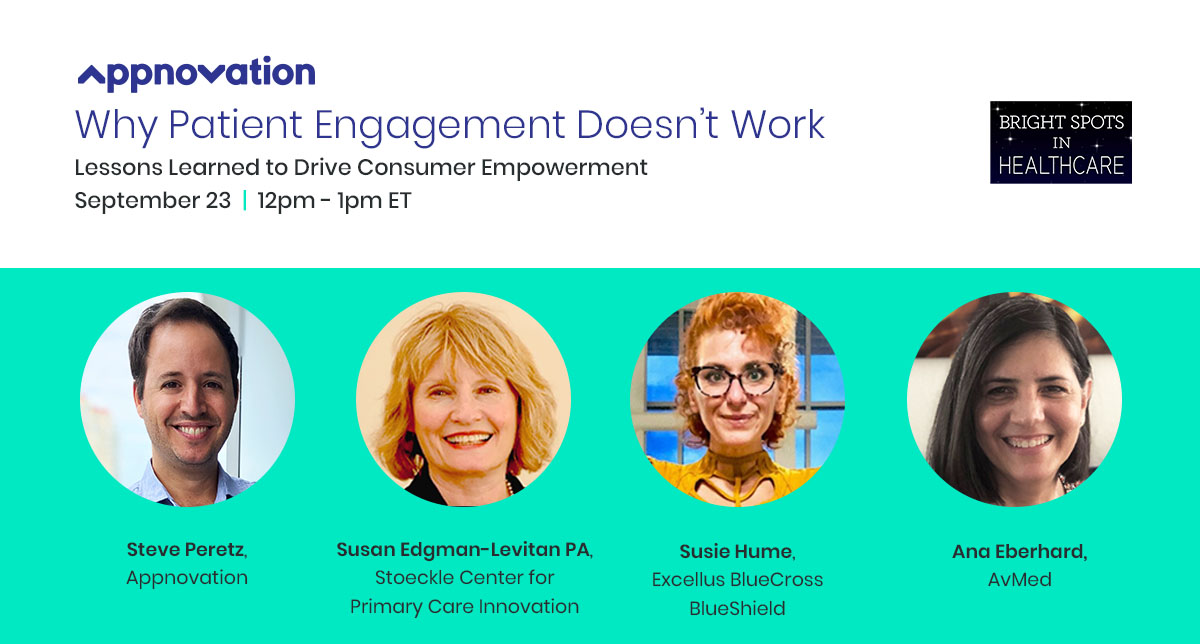 Webinar: Why Patient Engagement Doesn't Work - Lessons Learned to Drive Consumer Empowerment