As organizations strive to accommodate the diverse working preferences of their employees, technology will play a larger role in creating a cohesive and well-rounded culture.
Now that employees have had a taste of both in-office and home-office set-ups, it's clear the pre-2020 one-size-fits-all approach to work will no longer, well, work. While some employees, suffering from Zoom fatigue, are eager to reconnect with their colleagues in person, another cohort is quite content to remain at home.
The hybrid work environment is a natural solution to this diverse response. Not only does it meet these two employee groups in the middle, but it has the added benefit of accommodating yet another subset of employees who prefer a mix of in-office and at-home interactions.
Ideally, this new workplace will facilitate productivity and efficiency while simultaneously fostering employee passion, engagement, and performance. While this may sound like a tall order, the technology exists to successfully execute it—you just have to find the right solutions to meet your workplace's unique needs and objectives (and perhaps exercise a little ingenuity).
To make this task a little easier, here are three digital trends our leaders believe you should consider when planning your hybrid workplace in 2022 and beyond.
 
Trend 1:  A greater demand on technology to facilitate an inclusive hybrid work culture.
Employee productivity influences organizational success. To maintain that productivity over the long haul, you need a strong organizational culture—which involves creating opportunities for peers and coworkers to interact outside of typical work activities.
This is something many organizations overlooked as they rushed to create virtual work environments in 2020. As we move forward, it's time to consider this other piece of the puzzle.
"Almost two years ago, organizations shifted quickly to cloud-based digital tools to enable teams to work from home as seamlessly as possible. As we move to a hybrid work environment where teams may be in the office one day and not the next, organizations must ensure they have the right technology to facilitate a consistent company culture, no matter how employees are working," says Scott Wassmer, GM Americas. "Companies who can drive this cultural shift will have a competitive advantage."
To create a consistent culture on- and offline, take a closer look at how, where and why teams are coming together. Listening to employee feedback consistently and mapping patterns are essential to achieve this, and it can't be done without data. This is where employee engagement technology comes into play. By tracking every aspect that impacts employee productivity, it sheds light on what technologies are needed to enable the best work possible.
 
Trend 2: VR will become more common in supporting the employee experience.
There was a time when virtual meetings were novel and, dare we say it, interesting—but that time has long since passed. Today, few employees are willing to sit on a Zoom call when an email would do—and when a virtual meeting is necessary, the endless array of slideshows can be draining.
"Companies need to find new ways of creating a consistent employee experience across teams and regions," says Jenny Pigott, CPO. "For example, new employees become fatigued with having to digest masses of information from text and videos, but Virtual Reality (VR) can help solve that problem by providing interactive and memorable experiences."
Uncovering ways to engage employees who are working from their home office will unquestionably require creativity—and some trial and error. To find what resonates—or what employees would like to see more or less of—refine your employee feedback loops. 
This simple exercise will allow you to tune into their challenges and more accurately identify the right technological solutions to address them. For instance, you may find that VR has many useful applications—from providing more consistent training experiences across work environments, departments, and geographic regions, to making happy hours more fun.
Trend 3: With hybrid work comes the need for hybrid experiences.
A hybrid workplace should aim to be as inclusive as possible—which means identifying creative ways to blend the office and virtual work environments. 
"In 2022, there will be a blended approach to the employee experience," says Pigott. "For example, companies may choose to onboard new employees by sending them postcards that are connected to apps like Artivive. These postcards can be scanned to reveal augmented reality images or videos. Alternatively, even sending out coffee to those before a long online meeting breaks things up and prevents fatigue with online activities."
Of course, digital inclusivity doesn't end in the office—future-facing companies must also identify new ways to engage their customers. And that's precisely what we'll be exploring in the next installments of our Trends 2022 series.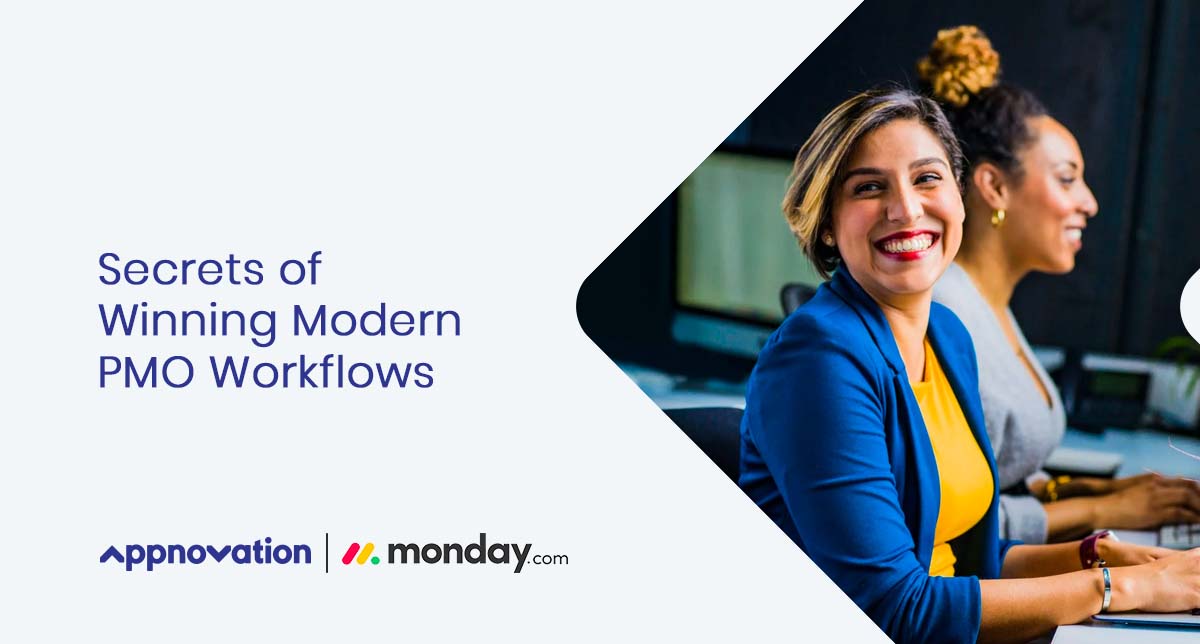 Appnovation X monday.com: Secrets of Winning Modern PMO Workflows