This series explores the journey of becoming a business that harnesses the power of quality data to make informed business decisions.
 
Following on from Part 1, which helps brands determine their starting point when transforming their data, this second article provides: 
    •    An approach for advancing your data maturity
    •    Considerations for ensuring a smooth transition 
Even though 42% of organizations surveyed by Insider Intelligence want to establish a data-driven business culture, a separate study by the same group found that most companies don't have a clear and effective strategy to advance their data maturity. Companies that downplay the importance of data's contribution to their business do themselves a disservice. As McKinsey has reported for years, organizations that embrace a data-driven approach surpass their competitors in growth, revenue, and customer acquisition.
Wherever you currently sit in your data journey, it's virtually a guarantee that there's further you can go to unlock greater value for your business while delivering more engaging and personalized experiences for your customers.
 
How mature is your data?
Data maturity spans a spectrum. Maybe you don't have any existing data. Maybe you do, but your organization isn't using it as effectively as it could. Progressing your data strategy requires having a firm grasp on where you're starting from. Most companies fall into one of the following data maturity categories:
    •    Ad-hoc - Data is being used as and when it's available, but the approach is piecemeal and fragmented.
    •    Siloed - Data exists and is possibly being collected consistently, but it's difficult to access as it's stored in multiple databases that are sequestered or not centrally connected.
    •    Embedded - Data functions as a service, gathered and visible in a centralized platform. While the data may not be fully cleaned or consolidated, it is recognized as a core aspect of business decision making.
    •    Data-guided - Data serves as an enabler and a conduit of business strategy. The data has a specified purpose and drives decisions across the organization, including in relation to technology and process.
At the data-guided level, data is like water; it flows clear and quenches the thirst for insight with actionable findings. Data-guided organizations use all the information at their disposal, whether it's measuring marketing campaigns, establishing KPIs, setting product pricing, investing in shelf placement, or evaluating changes across a range of channels.
Appnovation is working with a large financial services company that serves banks and credit unions. Currently, those financial institutions have only a limited view of their customers' behavior via data points. We're building a shared service that combines online data with offline and other financial data so they'll have a 360-degree view of their customers. This broadened perspective will help the banks better understand their customers' financial behaviors, enabling them to optimize their channels and improve the customer experience.
 
Take your data to the next level
In our first article in this series, we discussed the importance of establishing your data's purpose. This discovery process can be expedited through our fast assessment session, where organizations identify their key objectives and KPIs. 
The intended goal for the data will figure into where a company sits on the data maturity spectrum. For instance, are you creating a brand new asset, such as a website? If so, you may be starting from square one, creating the measurement, implementation, collection and storage strategies for the required data. Or do you want to offer more personalized experiences on your existing website? In which case, you'll likely be starting further along in the framework.
We use a Data Maturity Roadmap to help organizations progress along their data transformation. The Roadmap covers the entire journey from raw data to enriched data. It allows organizations at any stage to evolve their data infrastructure and capabilities, from measurement strategy to advanced computing. The various steps of the Roadmap examine how data is being used through different lenses and timelines:
 

What data evolution looks like
To illustrate how the Data Maturity Roadmap functions, let's explore a popular area of focus: connecting website engagement to future sales predictions. Or, to put it another way, what content will move a customer from consideration towards an actual transaction? 
Each phase along the Roadmap refines and advances the value that the data is able to deliver. Once the data points for customers' behavior on the website are connected to sales metrics, the brand can advance into the latter part of the map and utilize predictive modeling and personalization, as well as machine learning, which is a key aspect of the last phase. 
In the advanced phases, it's possible to create a model that shows which content engagements have a statistically significant impact on whether a customer will transact within a set period of time.
The data can then be used to better understand content gaps and predict purchase behavior. It might make sense to add additional touch points within the customer journey, so if a customer makes a certain action, the system will automatically respond. For example, maybe it would send an email to the customer or alert a field rep to make personal contact. The data helps guide decisions about how to enhance the customer journey so it's seamless and, ideally, leads to a purchase.
Factors to consider
There is certainly plenty to think about when advancing your data maturity, but here are a few pivotal factors to consider that will help ensure a smooth transition.
Clean Data
An essential element of becoming a data-guided organization is having clean data. Clean data allows for ease of use, consistency and accuracy. It makes the data more trustworthy and the insights gleaned from it more meaningful. But it's not unusual for organizations to face challenges. 
The biggest issue is generally due to siloes. Companies may have everything they need, or at least most of it, but the data is being held in multiple different databases - sometimes over a dozen. Thirty-seven percent of data analytics professionals surveyed by Insider Intelligence want to break down silos. They recognize that housing their data in various systems creates impediments to accessing even the most rudimentary metrics.
Once data is consolidated, it usually needs to be defined. Often a lack of data governance has resulted in inconsistent names for data points within the same company. It's also common for companies to have nonstandard ways of calculating metrics. Perhaps everyone is using the same "metric," but they're arriving at the result in totally different ways.
To demonstrate how these scenarios can cause issues, take a digital marketing department that's published an ad on Twitter, Facebook and Instagram, but doesn't have a unified naming convention across the platforms. Without that consistency, it's difficult to compare where the ad performed best. It's crucial that metrics are defined the same way so the data can be properly layered.
Change Management
At first glance, it may seem counterintuitive to include a change management component in your data transformation project. But while data is presented as numbers, it is really about, for, and used by people. Don't overlook the human element.
People carry a lot of sensitivity around data, and they tend to be protective about sharing their department's data, even within their own organization. It's important to assess how open your teams are to sharing their data. Consider the following:
    •    Potential risks associated with change
    •    Change readiness within the culture
    •    Areas of resistance to change
    •    Level of executive support
    •    Current state versus future state
    •    Change champions
    •    Training requirements
    •    Scope of proposed change and timelines
Don't lose sight of the fact that you're likely going to end up with a dashboard or digital product that you want people to actually use. Be sure to show them the benefits. Also be sure that any PII (Personally Identifiable Information) is anonymized. This will help people feel more comfortable about sharing data. A well-crafted strategic plan promotes engagement and adoption throughout the entire data evolution.
Data Blindspot
Many companies' top data priority this year is hiring "data translators," but interpreting data is only part of the puzzle. Data can only tell you what is happening. It takes research to understand the why. Assuming data can explain everything is what we refer to as the "data blindspot."
When tied to sales metrics or survey results, data becomes truly interesting. For example, if someone completes a survey on your website, you can learn what type of content is actually improving their perception of the brand. But to have that level of insight, you need some qualitative information. People often think research has to be a lengthy undertaking, but that's not the case anymore. It's possible to turn a survey around within twenty-four hours.
Data and research work best in tandem to complete the story. Together, they can have a substantial impact on business objectives. Especially if you discover a piece of content or a website feature meant to drive conversion… doesn't. 
The same health insurance company we worked with found they had very high rates of people canceling their policies within thirty days of signing. This was alarming to the company, as they had award-winning customer service. The data revealed an issue, but couldn't explain what it was. After some research, the company discovered the problem was that customers were struggling to get through to the service representatives. Once they did, they would give the experience high ratings, but after days of calling without a response, many people were opting to leave. It was a blind spot for the brand.
While data can certainly illuminate what's happening in your business or with your customers, it can't always tell you why something's happening, or what to do about it. Data just sets the stage, research puts on the show.

Advancing your data maturity requires a steady process of refining, defining and utilizing your data with intentionality and purpose. While it doesn't happen overnight, becoming a data-guided organization stands to enhance your business in ways that can make you unstoppable. 
Next up, keep an eye out for our guide on how customer data platforms (CDPs) can inform business decisions. Then, in the final article of this series, we'll explore advanced methods for maximizing your data's value by using monetization to generate revenue. 
Download the series guide:

In this guide we cover the essentials of CDPs, including the difference between the two main uses of CDPs, the level of data cleanliness needed for each CDP use case, and the approach for using CDPs to collect first-party data.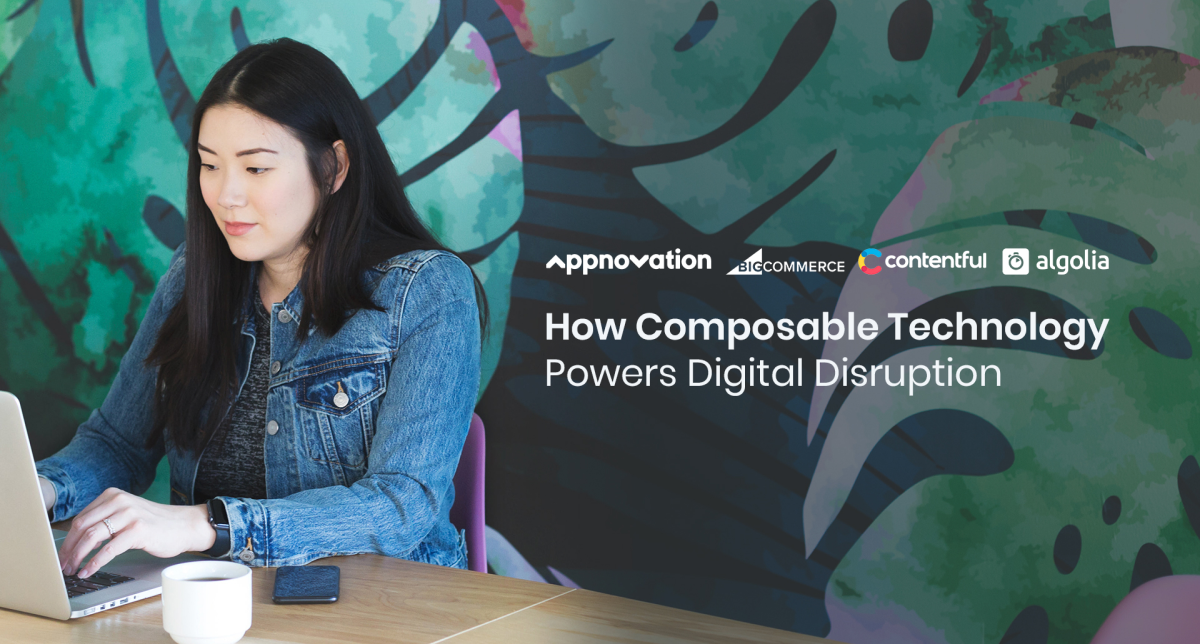 How Composable Technology Powers Digital Disruption