Appno Co-op: Work, Learn, and Play!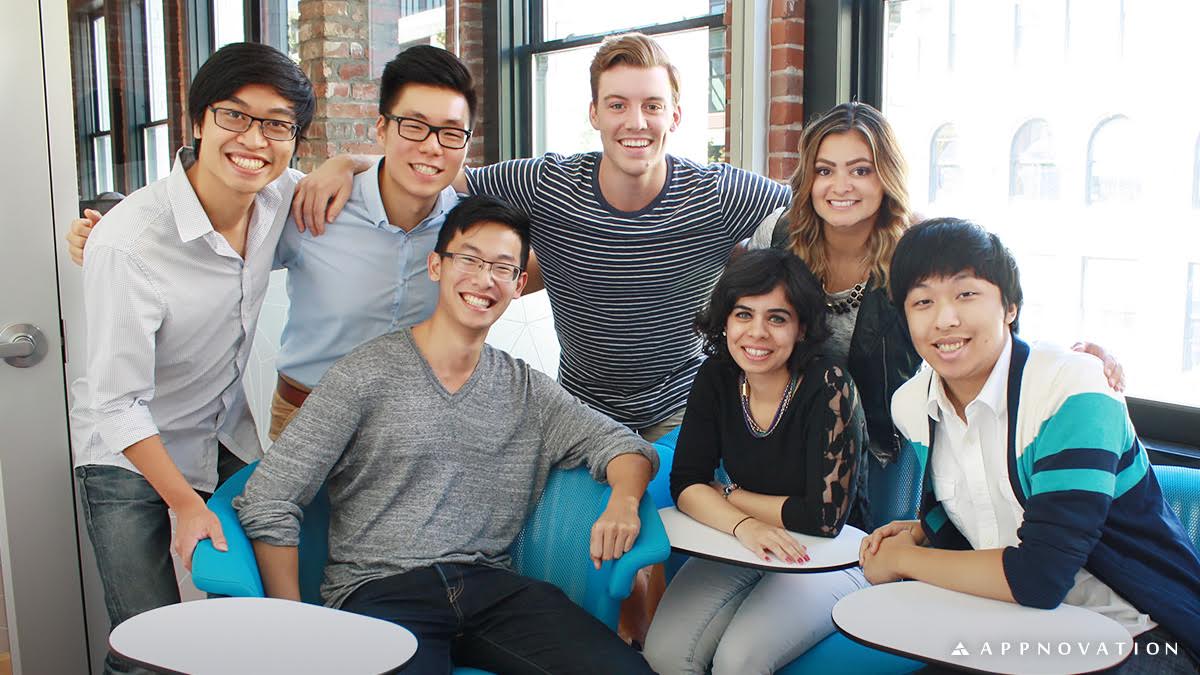 It's an exciting time to be an Appnovation Co-op student! Our company is rapidly evolving and expanding; we launched our first ever Portico competition and internship program with SFU, our Corporate Citizenship page went live and so much more! For the past few months, we've had a solid group of energetic students in our Vancouver headquarters, touching on many areas of our company. Although co-op lengths may differ, there's one thing that doesn't: exciting work and great people.
We take pride in providing rewarding experiences where students have an opportunity to learn, grow and leave an impact on the business. Students are mentored from our leadership team, provided ongoing support to master their passions, own their own work and leave knowing they made a valuable contribution. Your level of experience will never dictate your success here – if you have the foundational skills of your role, the drive to learn and the passion for personal and professional improvement, you will have an impeccable experience with Appnovation!
Edwin Lai, Open Source Developer Co-op
Program: UBC Computer Engineering
Edwin's enrolment in the Computer Engineering program at UBC has resulted in a deep and lasting appreciation for coffee, although he had been programming in PHP as a hobby long before picking up the caffeine addiction! Prior to joining Appnovation, Edwin worked for Health Canada in Ottawa. When he's not coding, Edwin can often be found running, sailing, or on his motorcycle.
Lauren Chan, Marketing Summer Intern
Program: UBC Sauder School of Business Program
Joining Appnovation for his summer internship program, Lauren has polished his marketing skills from his previous sales/customer service positions by leveraging this experience. On campus, Lauren has been highly involved with UBC HKSA as the PR Director in establishing sponsorship opportunities with local businesses. Aside from work and academics, he is an avid bubble tea drinker and loves breaking ankles in recreational basketball.
Isaac Yeung, Project Coordinator Co-op
Program: SFU Business Psychology Joint Major
Isaac comes from a start-up driven background with experiences from Canadian Tire's R&D Innovations lab and from his own start-up projects. With an average velocity of one book per 1-2 weeks, Isaac is a dedicated learner of new knowledge and skills. Coming from a Psychology and Business background, Isaac thoroughly enjoys studying finance, geopolitics and Chinese/global economics in his spare time.
Douglas Canning, Pre-Sales Coordinator
Program: UBCO Bachelor of Management
Douglas Canning joins us from Kelowna as the first Pre-Sales Coordinator at Appnovation. He brings a wide variety of experience, previously working at a technology start-up in the Okanagan, a Venture Capital firm in Sunnyvale, and a mobile storage company in Kelowna. After his term, Douglas will be returning to finish his fourth year at UBCO, where he continues to be highly involved in both the University and the Kelowna community. Outside of work, Douglas considers himself a 'born-again Vancouverite', enjoying biking, swimming, hiking, yoga and meditation.
Aakriti Arora, Quality Assurance Engineering Co-op
Program: SFU Computer Engineering
Aakriti completed an eight month co-op working as QA at TIO Networks Corp. and another eight months as a QA contractor. In addition to technical skills, she has developed an interest in volunteering for women in engineering, dance performances at SFU, and likes to develop mobile apps, bake and travel in her free time.
Chelsea Assimes, Talent Acquisition Coordinator
Program: BCIT Diploma of HR Management and Bachelor of Business Administration
Chelsea is a BCIT alumni, having completed her Diploma of HR Management in 2014 with honours and nearing completion of her BBA. She was highly involved at BCIT where she was elected BCIT's HR Association Board of Executives as VP of Marketing, Rep for BCIT Rec Services, and honoured at the BCIT School of Business 2014 convocation as Valedictorian. She is a lover all of things tech, which brought her to Appnovation. Her favourite things in a nutshell including hanging out with friends, sushi, pugs, cycling, travelling, photography, social media, cheesecake and leg days!
Andy Wu, Quality Assurance Engineer Co-op
Program: UBC Cognitive Systems Program
Andy previously worked for Invoke Media as a QA Co-op, where he was able to learn commonly used tools and methodologies in the field of software testing. He has also worked for Global Relay as a Security Analyst Co-op, with responsibilities such as analyzing software for vulnerabilities and creating formal reports for potential security concerns. During his free time, Andy enjoys playing video games and ultimate frisbee. He is also a big fan of any forms of entertainment that's horror related (novels, movies, videos games, etc.).