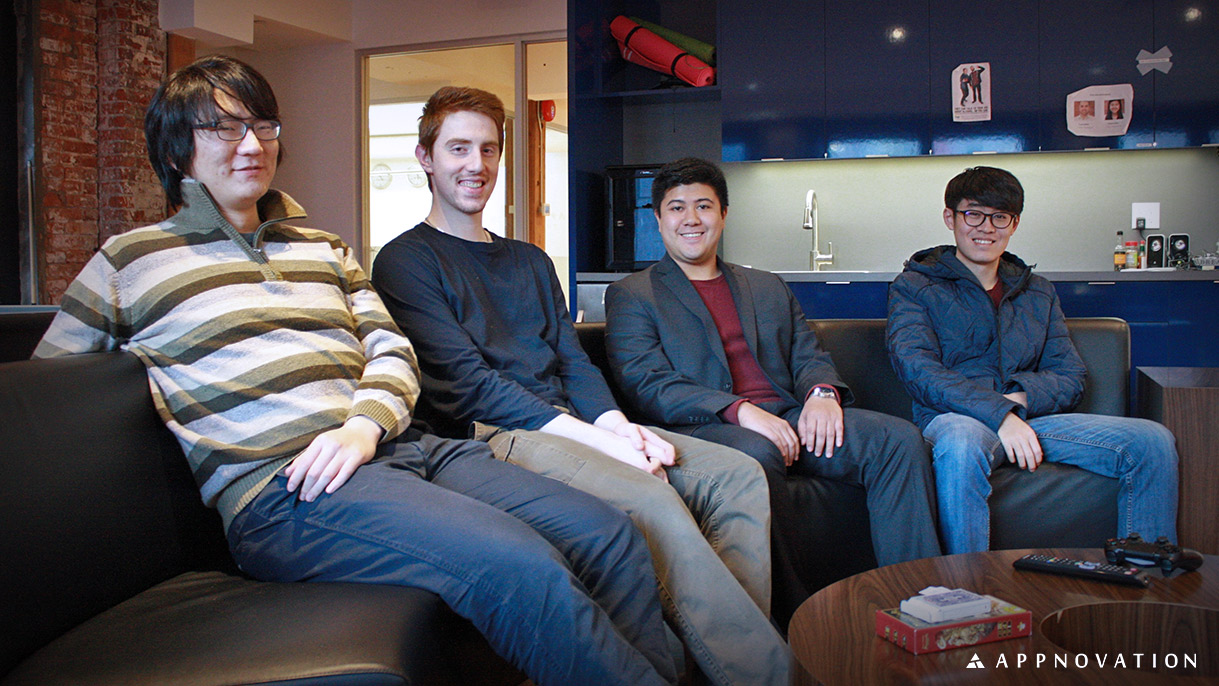 Here you have it: The latest roster of stellar co-ops to frequent our fantastic headquarters in beautiful British Columbia! Did you know that participating in a co-op or internship is a great way to get the career specific experience many employers are looking for when hiring, as well as to network with many influential mentors in industry? Well, it sure is!
Here at Appnovation, we're always looking for the best and brightest to join our growing team of IT professional services extraordinaires! If you're passionate about exciting new open technologies, interested in the tech life, a lover of rewarding and challenging work… and maybe enjoy free lunches, yoga, culture clubs, the best games room in all of Vancouver (seriously!), then Appnovation might be right up your alley for a future co-op placement or employer! For the low-down on the dudes above, read on!


Youfei Sun, Open Source Coordinator Co-op
Program: SFU Computing Science
Before joining Appnovation, Youfei worked in New Zealand for a company called Basetwo where he was doing some fancy front-end animations. At school, he really enjoys programming but hates theoretical problems. A fun fact about Youfei is that he's nearly broken his leg on Grouse Mountain while snowboarding…but that didn't stop him as today, he enjoys snowboarding and has frequented the slopes many times since!


Darren Sturdy, IT Support Co-op
Program: Mechatronics with Computing Minor at SFU
Darren joined Appnovation with about 9 months of experience working at a non-profit called, "Computer for Schools," and 1+ year at a Managed Service provider called, "Leading Edge Computing." His hobbies include working on computer hardware, setting up networks, watching movies and TV shows, gaming, working on his car, and inventing. Before attending SFU, Darren completed CIST with the IST option at BCIT. A goal he has been working on for about 10+ years now is to build an electric car which will cost from $25k to 40k that he'd like to use for his 4th year project for Mechatronics.


Josh de Guzman, Project Coordinator
Program: BCIT School of Business
Josh joined Appnovation right after completing his Bachelor's of Business Administration from BCIT School of Business where he focused on Business Management. He is an active member of the Vancouver Board of Trade in the Company of Young Professionals and currently sits on the Leaders of Tomorrow Advisory Committee as head of the On-Campus Leadership Subcommittee. In his spare time, Josh offers mentorship to students in the BCIT Business Management program. He was born and raised in Vancouver, Canada and is passionate for tech, gaming, computers, squash, golf, sushi, badminton, and hiking.


Danny Zou, Quality Assurance Co-op
Program: UBC Engineering
Danny attends The University of British Columbia where he is majoring in Computer Science. He has worked at UBC Information Technology Department as a QA Co-op for 8 months. In his spare time, he enjoys playing table tennis; he's actually been playing since he was 8! Danny's a huge hockey fan. His favourite hockey player is Joe Thornton of the San Jose Sharks.