On October 5, 2017, I will be spending one night on the street for Dans la rue's "Une nuit dans la rue" fundraiser along with two of my coworkers: Minesh Perera and Bianca David. Through this event, we will follow the journey of a youth who has been helped by Dans la rue.
The goal of this event is to raise funds and awareness about homelessness in Montreal. You can donate to our campaign here. All funds raised will support Dans la rue's extensive programs and services they currently offer.
As someone that has just emigrated to Canada it is important to support my local community, and especially an organization like Dans la rue. During the short time I have been helping Dans la rue, it is really easy to see how their good work positively impacts the people in our community.
For the past year, the Montreal office has been volunteering our time and donating resources to Dans la rue. Currently, we are creating a volunteer web portal with Drupal 8 for their volunteer team to streamline the application process. This portal will help them save time when receiving and processing applications. We have also volunteered preparing the hot dogs for their weekly hot dog outreach initiative a few times.
Here we are preparing this past week!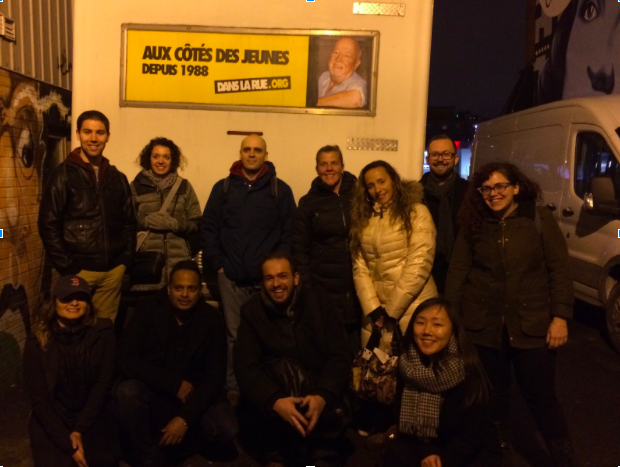 \
Dans la rue helps homeless and at-risk youth in Montreal. In Canada, an estimated 20% of shelter users (35,000) are young people. Homelessness subjects youth to many obstacles and exposes them to instability and an overwhelming number of competing stresses. We love that Dans la rue offers a huge variety of opportunities and services for youth in Montreal including emergency housing, long-term housing, hot meals, medical assistance and more. They even have a music room and creative room where youth can go to unwind and receive arts therapy.
We are very proud that our employees volunteer their spare time in support of our local communities.  Each of our offices have at least one favourite charity, and Dans La Rue is ours. We can't wait to work more with Dans la rue.
#WeDevelopChange in our local communities. If you would like to support our team, please donate to Dans la rue today.