FOR IMMEDIATE RELEASE
Appnovation Launches Corporate Citizenship Initiative with PeaceGeeks Partnership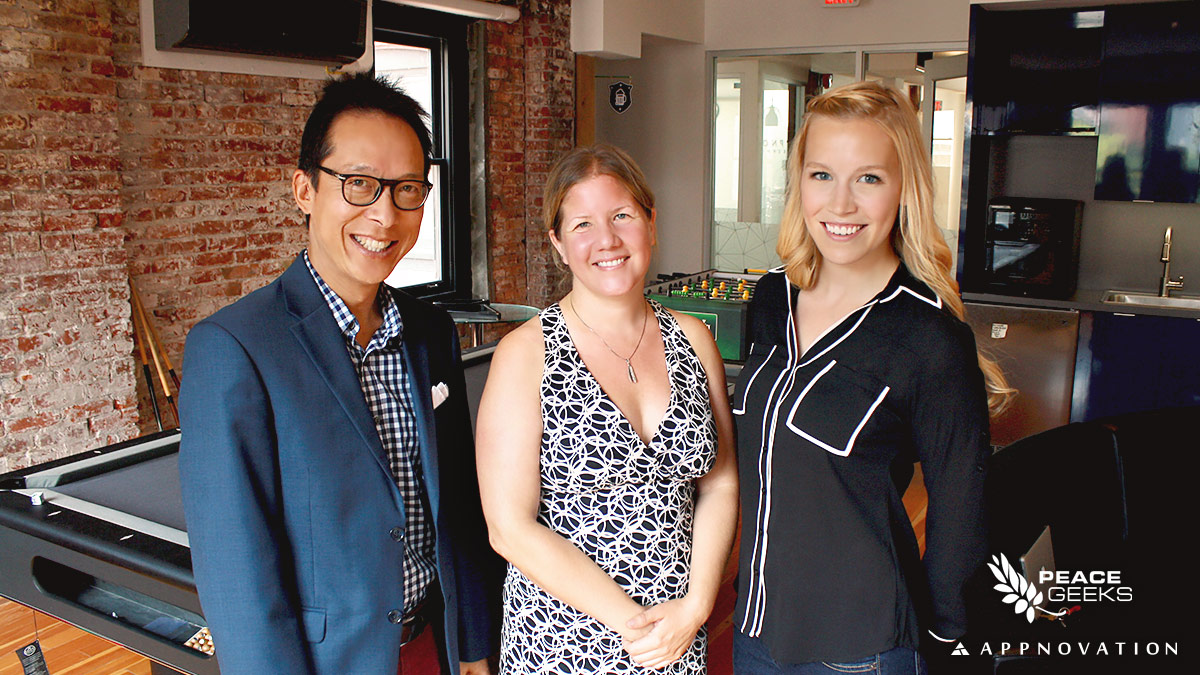 VANCOUVER, BC (July 30, 2015) – Appnovation Technologies, the global IT services firm that delivers innovative and creative open technology solutions, this week launched its global Corporate Citizenship initiative with its first partnership with PeaceGeeks, a non-profit organization that builds the technological, communications and management capacities of grassroots organizations working on the promotion of peace, accountability and human rights. The goal of this initiative is to use open technologies to educate, empower, and engage developing communities to create sustainable economic and social change.
Appnovation has partnered with PeaceGeeks to re-design and deploy an open technology platform, called the Amani Project, which helps non-profit organizations to build robust websites, upload content, and share messages with a global audience to create an online presence.
"We are excited about our partnership with PeaceGeeks and the collaboration between both skilled teams as we learn and contribute to the development of a socially impactful and technologically innovative project," said Warren Wong, Vice President of Talent and Culture. "We look forward to future projects with PeaceGeeks to deliver socially conscious peace-building technologies."
Appnovation has contributed valuable design, theming, and development hours to the implementation of the Amani Project. This effort will result in the creation of three new themes to choose from, allowing for greater customization and innovation for users.
"Technology is playing an increasingly important role in peace and human rights issues worldwide, and we strongly believe that the private sector has a vital role to play in advancing the application of tech for good. By reaching out to PeaceGeeks to offer their expertise, time, and talent, Appnovation is leading the way by helping to empower civil society leaders around the world to address challenging issues facing their communities," said Renee Black, PeaceGeeks Executive Director.
Appnovation continues to look for partners interested in using technology to create positive change in a variety of fields, such as health and education, by making use of foundation, government, and private funding.
About Appnovation
Appnovation Technologies is a global IT services firm that delivers innovative and creative open technology solutions. Appnovation is recognized as being a global leader in development using only proven open source software platforms, including Drupal, MuleSoft, Alfresco, HTML5, MongoDB and Hadoop. Appnovation is known for creating high performing, feature-packed web and mobile experiences as well as possessing the capabilities to deliver some of the most robust and complex enterprise-level content management, integration, Big Data and business intelligence solutions on the market. Appnovation has won over 20 awards for its technology, innovation and business success. You can learn more and visit Appnovation at appnovation.com
About PeaceGeeks
PeaceGeeks is a Canadian non-profit organization that collaborates with grassroots human rights organizations to advance peace and human rights. Since 2011, we have worked with over 24 grassroots partners operating in developing and conflict-affected areas of the Global South to improve their proficiency with Information Communications Technology and raise global awareness of their work. Through these partnerships, we have assisted them in empowering communities in Kenya, South Sudan, Uganda, Sierra Leone, Liberia, Burundi, Egypt, the Philippines, Nepal, Indonesia, and Palestine to address issues that include gender-based violence, agrarian conflict, and environmental sustainability. More recently, we have partnered with the Digital Humanitarians Network and the United Nations High Commission for Refugees to assist Syrian refugees living in Jordan to access humanitarian aid through the development of Services Advisor.
Media Contact:
Vanessa Burley, Marketing Communications Specialist
Appnovation Technologies
1 506 799 1017 ext 112