Building customer-centric digital experiences are more important now than ever. 
We talk a lot about digital disruption and how to transform our businesses to prepare for it. Sometimes that transformation is part of an actual strategy. Sometimes it's just a buzzword. In 2020, the disruption came to us whether we were ready for it or not. Many of us, we're learning now, were not. 
Typically, businesses plan for disruption to shape consumer tastes and trends over time. We can take months or years to monitor, plan and adjust. In just a few weeks, the COVID-19 pandemic has completely shifted how people around the world are living. It's dramatically affected you, your loved ones, your teams and your customers. 
Industries that were ripe for change, but possibly had their heads in the sand, have now had the full force of that potential disruption accelerated onto them. Travel, tourism, food service, automotive and the financial sector are just a few that will look very different when this crisis is over. Regardless of your industry, companies who invest in digital-first approaches particularly benefit when inevitable disruptions happen. We can all become better prepared to serve customers in this new world through the strength of our experience design and the digital strategies that support it. 
Manage the short-term while preparing for the long
We don't know how long this current moment will last, or what the world will look like on the other side. What we do know is that digitally-savvy companies will be in a much better position to adapt to the short-term while, at the same time, preparing to thrive long-term. The regular quarters, campaigns and cycles we plan against have morphed into "getting through this" and "getting ready for whatever happens after this." The now and the future. Both are indeterminate in how long they'll be and when they'll arrive. In that extreme ambiguity, our agile capabilities become even more crucial. 
As we begin to plan for what a return to a type of normalcy could look like, you want to be able to make moves when needed. Pivot planning, agile digital planning, contingencies and simplified production processes will help make sure you've got the flexibility already built into your system to support rapid changes. 
Be in tune with today
In the earlier stages of the outbreak, there was skepticism around its true impact paired with a well-intentioned optimism that we'd be back to work and school in a few weeks. 
"It's apparent now that the health risks are very real and, despite our initial desire, there won't be a quick return to what our lives were like even a month ago. Financial stress, concerns for families and protective behaviours are rising," says Scott Wassmer, General Manager Americas at Appnovation. "The psychological impacts of stress and isolation are going to become even more important facets of our lives as we continue to isolate for the coming months. This is the reality of your customers, and this is the new mindset companies need to adapt to provide meaningful value today."
The impacts to measure from the current situation aren't only external. At the same time, internal organizational weaknesses have become much more apparent. How well businesses are set up to forecast and adapt to the unpredictable forces of COVID-19, from supply chains to workforce management.
Speaking of our workforce, a barometer for digital preparedness that we've already seen is how deftly a company was ready to enable remote work in the past few weeks. Those that weren't set up to embrace flexible work environments suffered the worst productivity loss. This is a key indicator of the type of digital infrastructure they likely have in place to also pivot to the new needs of their customers. 
Future-proof for tomorrow
The ability to move quickly with intention is at the heart of every agile strategy, yet at the same time needs to be tempered with an awareness that you're not charging ahead quickly just for the sake of it. Make sure you don't sacrifice meaningful, long-term strategy by falling into a trap of overcompensating with hasty thinking. Playbooks don't have to be thrown entirely away, but they do need to be re-examined to pull out what still works and figure out what needs to be reworked or dropped entirely.  
There will be solid, strategic thinking you're already using that can be tweaked to make sense for the moment. Finding a balance between what you can re-purpose and what needs to be added, net new, is how you'll set up for the future.
Build for the needs your customers have right now
A seamless digital experience is a benchmark during regular times, but now it's table stakes. A focus on creating a meaningful, value-filled journey that puts the customer first — not the needs of an organization — is particularly important during times of crisis. Your customer and user experiences need to adapt to the reality that most people, whether by personal choice or government-mandated isolation, increasingly rely on contact-free, fully digital paths to interact with and buy from brands. 
Physical distancing and other public health recommendations are accelerating the need for a whole range of technologies. In the near future, government responses could become even stricter and potentially mandate and enforce stay-at-home isolation more directly. If this happens, the need for digital technology supporting e-commerce would grow even more powerful. Even if that doesn't happen regarding COVID-19 this year, we know another crisis or natural disaster will happen again at some point. Digital preparedness is how you'll set up your business to pivot in and earn loyalty by showing your consumers you're ready to handle anything.  
Companies that offer contactless engagement and clear, frictionless digital user journeys are better positioned to sustain their businesses while consumers can't or won't leave their homes. Contactless payments and delivery, voice tech, AI and robotic assistance, cashless payments, streamlined online shopping, adapted shipping and delivery – these types of digital features are must-haves in the newly heightened landscape of online sales and service. Not to mention the right tech stack and suite of managed services to keep it all running smoothly despite high demand. 
At the same time, we can't forget to focus on the experiences we create on human needs. This pandemic has brought communities together. People are being kinder and more conversational with one another. They're being more human. Ironically, the need for personal interaction is similarly shifting from the physical to the digital to maintain that connection during these times. The sharp rise in overall consumption of media and content – internet, streaming video, social media, podcasts, Houseparty! – are all opportunities to re-think where your customers are spending their time and how you could be meaningfully meeting them there. 
It's not whether you should market or not, it's how you do it 
For most organizations, marketing is critical to not just building a business but to maintaining one. Turning it off won't just harm you now, it will seriously affect the health of your brand once we emerge from this sensitive time. It makes sense, and is a sign of strong self-awareness, if you're questioning the role of your marketing and sales at this time. But individuals and economies need businesses. It's ok to promote and run your business, even during a crisis. Perhaps even more so during a crisis.
However, knowing what you need to be doing right now (instead of what you want to) and how you add unique value are crucial for your success during COVID-19 and any other disruption to the business landscape.
"Most organizations might feel the need to back off entirely from their marketing strategies. What's important now, more than ever is to find creative ways to be helpful. Consider how your brand can take services or products and reposition them for the greater good. Genuinely approaching the landscape with a human perspective will naturally help you, but most importantly, help others." – Tim Welsch, VP of Global Marketing at Appnovation.
Now, more than ever, you need to fully understand two core elements to your marketing strategy and user experience design:
Are you adding value?
Are you doing it with empathy?
Value
There's no question that we're living through something most of us have not experienced before. Anxiety is extreme, and while the terms "unprecedented" and "uncertainty" are certainly true, they've been over-used to a point where, in just a few short weeks, they've lost relevancy. "The real question is not what uncertainty means for your business, but what it means for your audience," notes Yvette Yanne, General Manager APAC at Appnovation. "After that, ask what you, specifically, are doing or are able to do to address it. Is it something that uniquely adds value to your customers' lives? The playbooks that we were running months (even weeks) ago need to be re-examined weekly in order for it to be relevant and meaningful."
Do our well thought out user journeys and customer experiences need to change because our customers' needs have changed? Absolutely. But if viewed through the lens of what value you, and nobody else, can offer there's probably a lot of solid, strategic thinking that can still be used… if said in the right way. 
Empathy
Even the most sophisticated and advanced digital experiences won't succeed unless they meet the distinct mood of this moment. Context and tone are key. Yes, you want to be helpful, real and confident, but that only solves for how you're talking. First, you need to figure out why. Understanding what our customers really need and stripping down our marketing to give it to them is essential. We can assist, reassure and add transparency with value-add content and community management that, even during this extraordinarily difficult time, can deliver that positive customer experience we're all after. Done in the right way, it's an experience that will be remembered – and rewarded with loyalty – when this is all over. 
The digital capabilities you build today are also for tomorrow
Different industries will be affected by this crisis in their own ways. What is singular for all of them is that, whether now or down the line, the ways they adapt their user design and digital experience to meet their customers' needs today will help prepare them for their evolved needs in the future. 
Listening and research
On a good day, we need to keep our ears to the ground and know what our users are saying, doing and experiencing. On a bad day, in circumstances we've never dealt with before, the importance of data-driven listening becomes paramount. This isn't the right time to make anecdotal assumptions. Real-time consumer research, behavioural analysis, sentiment monitoring and social listening give us real insights into our customers' quickly developing needs and attitudes.
Data and analysis
Preparedness begins with data, and your data is only as good as your analysis of it. Digital companies with a dedicated data and analytics practice will deal with this uncertainty better and have a north star they're already following. Silos and outdated internal processes make this difficult. Companies with an integrated digital strategy, with data at the heart of it, will be better prepared.
Meaningfully analyzing online conversations will help create the kind of empathetic messaging that's necessary. At the end of this, you'll not only know your customers better but have a stronger sense of their shifting mindsets as we work our way into what the post-COVID future looks like for us all. 
The new normal is waiting for the new normal
We're going to be hearing a lot about the "new normal." It's natural that we're anxious to get there to regain a sense of stability that we can plan and measure for. But the plain truth is, nobody knows what that new normal will be or when it will come.
For now, moving at speed to meet an immediate and unforeseen need can come together more quickly than you might think. When the British Columbia Ministry of Health recently saw a critical need to track more than 100,000 essential healthcare workers to prevent the spread of COVID-19 between more than 1,200 facilities, their flexibility and commitment helped us work with them to have a new purpose-built digital solution live in just six days.
It's becoming more apparent that we're likely going to look at many aspects of our world as pre- and post-pandemic. Preparing for that means keeping in tune with our customers to know what this actually means for them in the long run. Whether the shifts in how they spend, engage and interact are permanent or not can't be known yet. 
What we do know is that the companies that can authentically use their digital platforms to serve their audiences will come out on top. Building our digital capabilities to consistently guide, inform and observe our customers' behaviours is the key to preparing for whatever the world becomes as we continue forward together.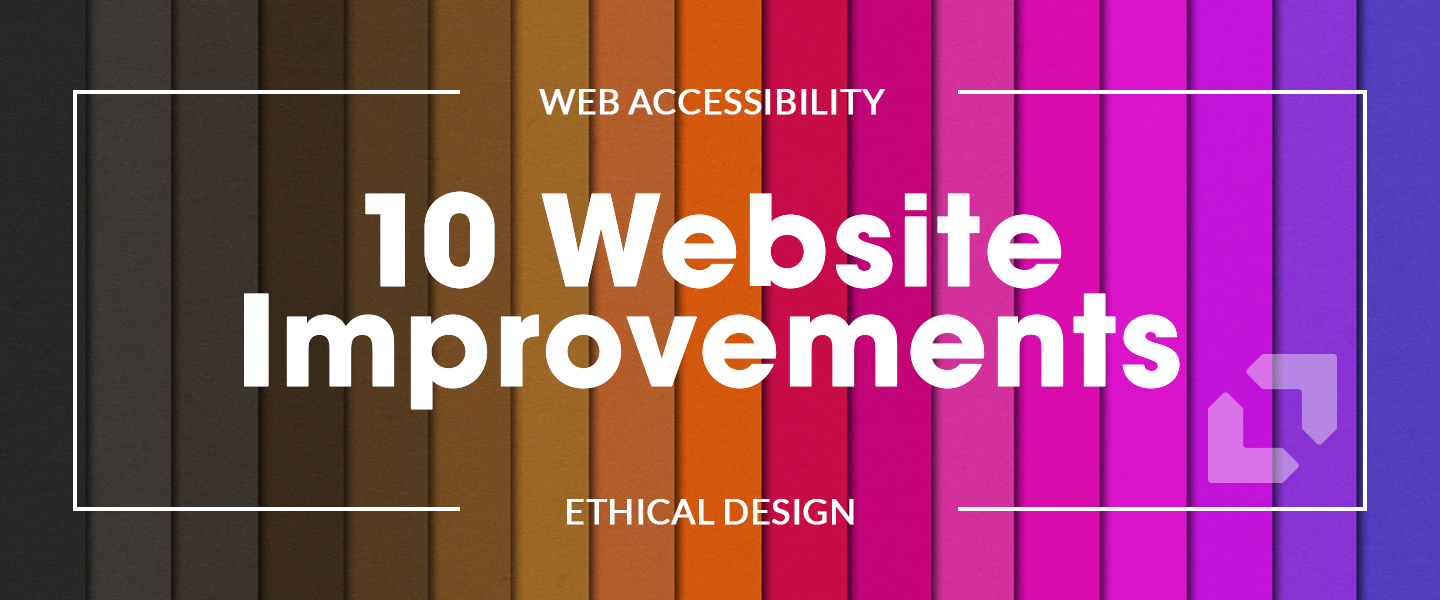 Accessibility and Ethical Design: 10 Website Improvements to Make First