How to strategically create a user experience that will build your business for all your customers...
Your UX is key to an ethically designed website. Here are 5 key approaches to make sure your customer experience is working well to do the right things for all of your users, regardless of their abilities, at the right times. 
 
First things first
Above all else, part of a true ethical design mindset includes doing what is best for your users. As society as a whole has broadened its thinking on inclusion and the factors that drive it, web accessibility has expanded to encompass core principles of ethical design thinking. In this context, ethical design best practices mean creating websites with the intent to do good. It's not enough to create an improvement just for the sake of it but to proactively believe it's necessary and a moral obligation. You have users that want to engage with your website and ensuring that your site addresses their accessibility needs should be seen as a worthwhile responsibility and opportunity to include and engage them. 
"Accessibility isn't about improving our services – it's about doing what is right. Creating exceptional experiences isn't about making something for some people, it's about making something for all people. Doing what's right is never wrong," says Dylan Gerard, Appnovation's Creative Director.
 
Start with strategy
Accessibility works best when it's integrated throughout the complete web development process, from ideation to execution. Adding accessibility action later on or without planning can easily lead to delayed launches and additional costs. Adrian Alleyne, Appnovation's VP of Delivery states, "With our wide range of expertise, we see our role as being a trusted advisor. When it comes to accessibility we give our clients a variety of options and explain what it will take, what the impacts will be, and what the potential risks will be down the road. We want to make sure there are no surprises – now or in the future." 
The key is knowing that each accessibility approach is highly dependent on each client's unique needs and what they offer. There are certain areas where it can be difficult to have full control. For example, if a client wants to pull existing YouTube content into a site, it's much more difficult to influence the quality of the closed captions. The goal is to assess the full scope of client needs, advise them on what would need to be done to ensure the level of WCAG or other conformance standards they want to hit, and then map out clearly what that looks like for them.
Alleyne continues, "We look at global regulations. Regardless of a client's size or geography, we know what regulations translate into individual site requirements for them specifically. The value becomes clear when clients don't have to spend their own time on accessibility. We've built it out as a service offering because we know this is a space where our collective experience enables us to be that subject matter expert for them."
A flexible approach is key. While some clients might just be starting a proactive approach to accessibility and need more guidance on why, others may come with a solid knowledge of exactly which WCAG accessibility levels they want to reach and are looking for specific directions on how to execute. Working with a user experience agency that's deeply familiar with accessibility guidelines and is ready to meet them across all of their own internal practice areas will mean they're prepped and ready to go as soon as your business is. 
"When providing strategic consulting services to clients, we always incorporate accessibility design into our planning process and delivery. Our method of planning best-in-class customer experiences includes identifying needs from a customer-centric approach. It's critical for our clients that we do business with a compliance, accessibility and ethical design approach to ensure the best experience for their customers," states Lindsay Stanford, Director, Strategy
 
Use the (task)force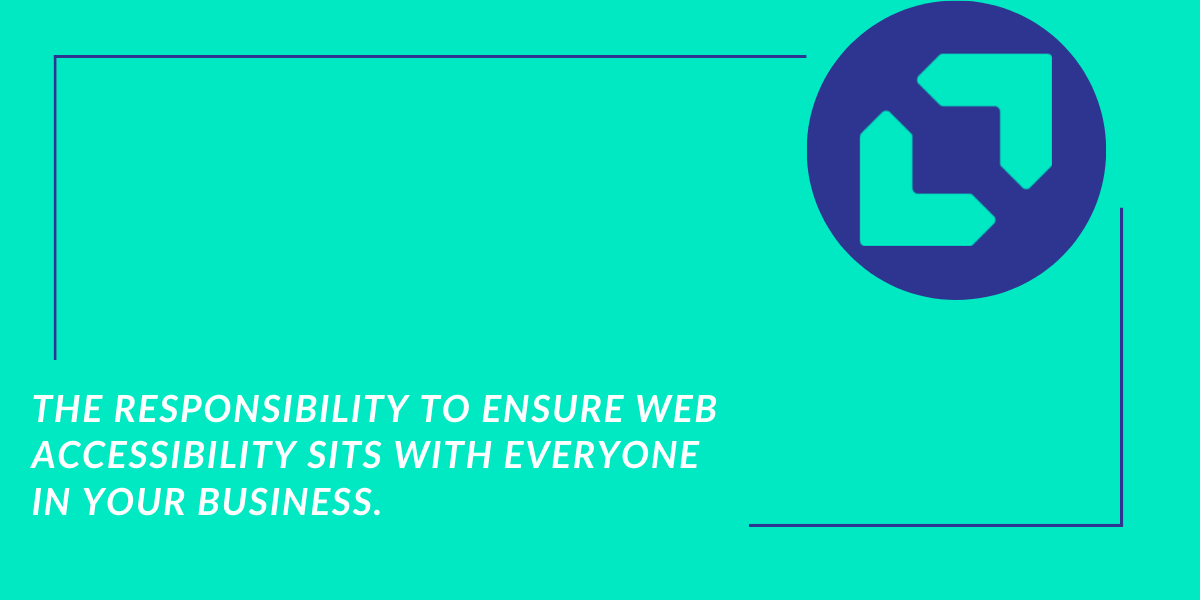 Too often, the lazy approach is to leave it in the hands of front end developers. Without meaningful context, fed and supported with attention from the key areas across your company, you won't be able to create a truly effective web accessibility approach. Particularly from an ethical design lens, teams need to be in agreement on why web accessibility matters to each of you as human beings. You need a detailed approach to change management to make sure an ethical design and accessibility mindset becomes second nature to everyone that touches your user journey and web experience.
Create a web accessibility task force, with representation from all stakeholder teams, including business analysis, user experience, front- and back-end development, QA testing, and content strategy. This group's collaboration and direction will be critical to keep the conversation ongoing and identify the different perspectives to consider as you turn initiatives into tangible actions. 
 
Plan for a journey, not a destination
A comprehensive accessibility approach takes into account the rapidly evolving nature of concerns and plans to meet them head-on. It's not enough to just make sure you're compliant on launch day. An experienced managed services engagement can make sure you're still taking care of business well into the future. Every update, security patch, upkeep action and hosting change, while necessary for site optimization, can also trigger changes to your accessibility actions that you might not be aware of. Without being properly monitored, you could fall out of compliance and not even know it. 
On top of making sure that your tech is working properly, monitoring uptime and guarding against cyber-attacks, part of a solid managed services partnership is also making sure that all of your content updates and new site features fit in with your WCAG level conformance. 
"We want to be our clients' partner in the long run. We don't see the management of websites as a relationship that ends on launch day, but an on-going opportunity to continue to build and evolve that experience in the future. When it comes to accessibility specifically, this means taking the right steps upfront to make sure that you remain compliant as your website naturally grows and evolves," says Alleyne.
A key facet not only to maintaining compliance, but to ensuring the meaningful ongoing accessibility of your site, is continual and regular user testing. Frequently used as part of quality assurance and regular pre-launch activities for any website, regular accessibility user testing is vital to give you an additional, and incredibly qualified opinion on the success of your accessibility efforts. Most importantly of all, ongoing user testing can help make sure that the core focus of your accessibility approach – users with disabilities – continues to have the high-quality experience you intended them to have from day one. 
 
Use accessibility to naturally future-proof your business
"We tell our clients to build things with an attitude that embraces the future. Accessibility has typically had a graded approach over time, but we recommend design that will last and last, across new legislation and for all people," urges Gerard.
In the ever-changing world wide web, you want your customers to always have an optimal experience navigating across multiple channels and digital touch-points. There are a lot of factors that influence how different users will experience those interactions. For users with disabilities, those unique interactions become even more personal and varied. The considerations around the congruence of technology and accessibility are on-going and evolve at the same speed as the tech itself. New capabilities have the potential to greatly enhance accessibility while at the same time raising new concerns that need to be addressed.
AI and personalization can drastically improve CX, but unethical data collection and privacy concerns that surround those activities have a negative impact. There's a variety of new technology being used by many, such as the rapid rise of voice, that helps with accessibility for many types of users who might not have otherwise been able to engage.
A final word from Adrian, "As technology, user needs and regulatory requirements rapidly evolve, the key is providing clients with a multifaceted strategy that encompasses what they need to know today as well as what we think they'll want to know tomorrow. If they know about a potential pitfall now, they'll be closer to fixing it than if they didn't know about it at all. Information and awareness are what evolves them from not just being compliant today, but future-ready for the long-term."
We all want to be better prepared for the future.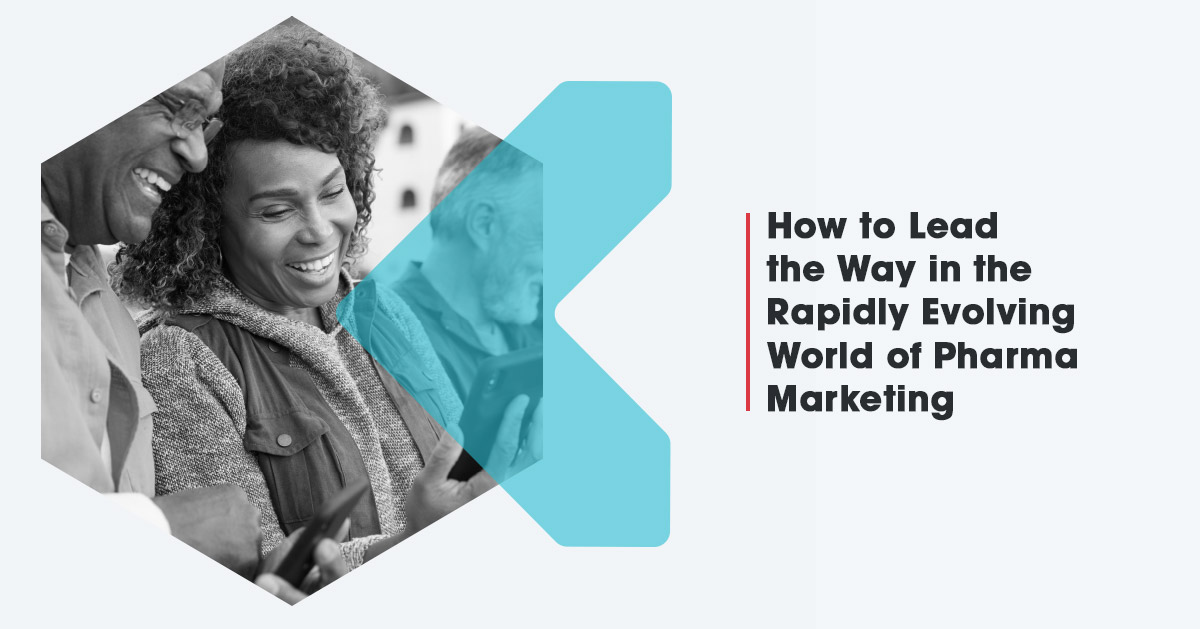 How to Lead the Way in the Rapidly Evolving World of Pharma Marketing