Meet Steve Peretz, our New York-based Director, Health Experience & Product Strategy
We sat down (virtually) with Steve and found out more about his love for tennis, digital innovation in healthcare and experimenting with new cuisines! 

What would you like to achieve in your career?
To make healthcare more attainable, especially in the US, through digital innovation and policy update to allow for mass adoption of the tools and resources that can motivate patients to manage their health better.

I want to be part of the digital innovation wave that is happening right now, where we're proving that websites, apps, and games can truly improve health outcomes and generate business ROI – let's go!
Where have you worked before and what valuable learnings did you acquire?
I worked for an experience design company called Beyond, where I was the third hire in the NY office. I had a brilliant boss and management team who empowered me to build out the company's health innovation practice. I learned how a company with a dedicated team could tackle some of the biggest challenges in health by having a great attitude, collaboration, and the courage to recognize internal and client shortcomings. By addressing potential and current issues head-on, we quickly learned how to adjust and create significantly better work.

I also had the opportunity to set company culture like an advanced summer Friday policy where we built trust in the internal teams to manage their workload for the week and increase Monday - Thursday efficiency to allow for an early exit on Fridays. (cough cough, Appnovation is already an amazing place to work and should consider Summer Friday's too, cough cough :)).
What does being an Appnovator mean to you?
It is a surprising blend of being a thoughtful and respectful collaborator (very chatty team) while also being an ambitious innovator who constantly looks to challenge himself on how we can bring more value to our projects and end consumers.
What advice would you give to someone new to Appnovation or interested in working at Appnovation?
First of all, welcome! You lucked out and found a home. Take your shoes off and stay a while.

We don't have overly documented processes, so raise your hand any time you have a question, and pretty much anyone here would be happy to help you.

We're on the rise, so you're timing is great, and we really look forward to your ideas so you can help us continue our growth in the right way!

Also, this place likes cats, cake, and cottages more than most. (I think the last one is a Canadian thing). 
My biggest accomplishment in life is:
Representing my country and winning a gold medal in Tennis at the Maccabi Games in Israel. My dad is Israeli, and he gave me a hug, cried, and told me he could die a happy man. I have two brothers - knowing I matter the most to him because I swung a tennis racquet particularly well that day felt like a wonderful accomplishment.
What do you do outside of work? i.e. hobbies, special interests, etc.
Attempt golf and cooking - debatable, which skill is less developed. Love stand up comedy and travel to try out new cuisines. 
If you came over to my house for dinner, I'd make you:
Moroccan chicken with couscous or a Chilean Seabass with a miso glaze and baby bok choy. If you don't like either or have dietary restrictions, I'm out of options - Uber Eats or Seamless?
The bravest thing I've done is:
I was forced to repel off a mountain, hanging from an abandoned war-time plane to get down to floor level. It was not my choice, but apparently, it was the only way to get to our destination.
My dream vacation is to:
Travel through Asia for 3-5 months and eat lots of street food. What's our policy on working from the Hong Kong office temporarily? :)
If I was a cartoon character, I would be:
Gohan from Dragon Ball Z, specifically during the Cell Saga. He was in his prime, unstoppable, fought for a good cause. I'm sure everyone knows and respects the great Dragon Ball series. Also, this answer doesn't have to be public, right?
I feel happiest when:
On vacation in a foreign country with mellow friends, the weather is between 76 and 85 degrees with a slight breeze.
What's your personal definition of success?
Always staying solution-oriented, even in the toughest adversity.
What does "being successful" mean to you?
Being close to family and making a positive impact on the world around us.
What are you looking forward to learning and/or doing next in your career?
Continuing to learn more about and master the art of successfully bringing ambitious digital health solutions into the market. How can we speed up the process? How can we improve patient, doctor, healthcare organization, and provider adoption of the solutions? How can we improve the connection of data to meaningful outcomes? NOW.
 
Want to learn about joining our team? Follow Appnovation on LinkedIn or visit our Careers page to apply to one of our open positions (yes, we're hiring!).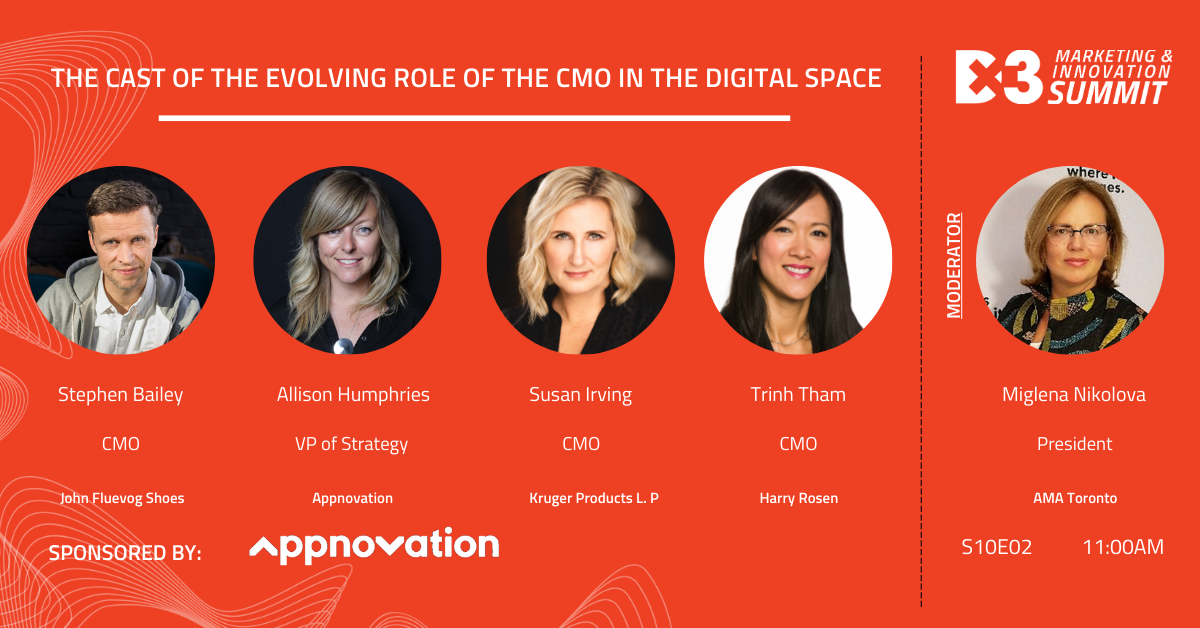 DX3 Panel: The Evolving Role of CMOs in the Digital Space