It's not just a website… it's a Dream Theater
Challenge
To spur a return to tourism, Visit California needed a bold digital experience that matched the exhilaration of their ground-breaking "Am I Dreaming?" Super Bowl Campaign.
Solution
Visit California's DREAM Theater: an immersive concept that showcases the varied scenery and destinations of the Golden State, from the beaches to the mountains and everything in-between.
Result
Users have been inspired to dream big as they plan their once-in-a-lifetime vacation to California. The impact of the DREAM Theater includes:
More than 2X increase in organic traffic 

200% increase in engagement
In need of similar solutions?
>>
Challenge
Visit California is a nonprofit organization with a mission to develop and maintain marketing programs that inspire travel to California. Their job is to get people excited to visit the Golden State and support its many accommodations, attractions, rental cars, restaurants, retailers and transportation businesses. 
The pandemic had a severe impact on California's tourism industry. To spur recovery and appeal to consumers looking to book their next dream vacation, Visit California created their "Am I Dreaming" campaign, which launched on Super Bowl Sunday with a whimsical, celebrity-studded TV ad.
To help direct travelers to partner websites, Visit California needed an all-new immersive digital experience that complemented the exhilarating vibe of the television campaign.
Full Width Template
Solution
We partnered with Visit California to develop the new concept, providing art direction and experience design. The outcome is much more than a website, it's a digital experience we call The DREAM Theater.
Upon arriving, users are greeted with an idyllic vista of California, enticing them to explore a sideways-scrolling journey of the state's iconic attractions and thrilling adventures across the five key pillars of California tourism: Beaches, Culinary, Family Attractions, Outdoors, and Arts and Culture. 
Thoughtful design elements contribute to the innovative and dynamic storytelling experience. Interactive navigation in the form of horizontal "scrollytelling" matches the ethereal essence of the campaign. As users scroll, the stunning visuals awaken, holding their attention and intriguing them to continue to the end. The intentional use of white space improves usability and navigation while allowing users' to fill the space with their own imaginations.
Subtle but constant motion design gives an illusion of depth, lending the images a visceral feel. Rotoscope animation provides a lifelike quality to the intuitive and authentic UX. The overall focus on human-centered design reduces cognitive load and creates meaningful, natural interactions for users.
Full Width Template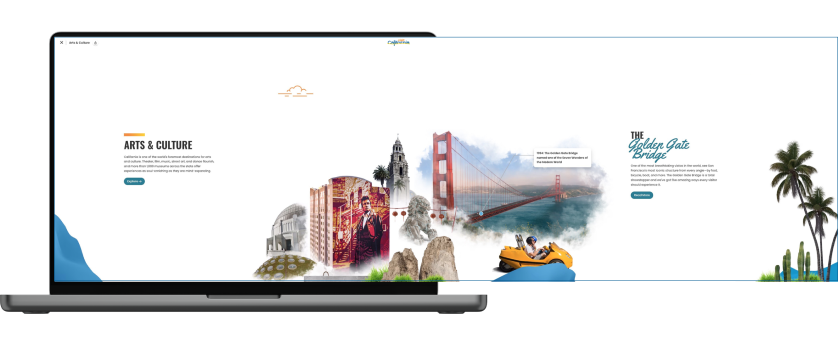 Result
The DREAM Theater is a seamless extension of the Visit California website. While planning their unforgettable holiday, users can easily explore Visit California's other award-winning content, such as travel videos, free travel guides, Visit California's newsletter, the California Now podcast and information on California Welcome Centers.
On Super Bowl Sunday, organic traffic to VisitCalifornia.com more than doubled, with the "Am I Dreaming" video earning over 58,000 views. Engagement also increased over 200% from the same period last year. With The DREAM Theater, Visit California is building trust and delivering an outstanding digital experience for customers as they prepare to hit the road once again.
In need of similar solutions?
>>
Creative & Experience Design
Technology & Platform Development