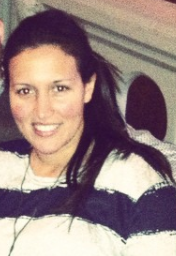 Who are you? What's your story?
My name is Victoria Marcos, I'm from Venezuela and moved to England 8 years ago. I'm married and have a beautiful dog called Bonnie. I've been working in Appnovation for 3.5 years as Project Manager. I have a degree in Computer Engineering and a Master in Computer Science. I used to work as Business Analyst, and then eventually changed to project management. 
What's your role at Appnovation?
Senior Project Manager. I work with different teams to discover, conceptualise and build different products for a large range of clients from different industries. I'm also Scrum Master certified so I drive the team through our Agile sprint methodology. On any given day, I'll either be in strategic meetings, attending scrums or reviewing the burn-down chart to see how things are going. 
What's the greatest lesson you've learned in your professional career (or even personal life) that you would like to share with others?
Fail early and learn from your mistakes. This is applicable to my projects and personal life. 
What do you do outside of work?
I walk my dog, enjoy cooking and traveling to the Caribbean (when I can). 
Where do you hope to take your career at this point/what's next for you in your professional career?
I would like to become a Principal/Director one day. 
*BONUS* What are some fun/random facts about you that many may not know?
I'm OCD with cleaning. 
I love watching The Great British bake Off, even when I can't bake anything.