Working with the team at Appnovation was a very collaborative, flexible process, delivering impressive results to help drive TCL's success in the consumer electronics industry.
Chris Larson
Senior Vice President, North America, TCL
We will plan, execute, and manage a human-centric social media strategy in line with your brand voice and values.
Through an audit and competitive analysis, we'll determine where your gaps are and how you can stand out. Our goal is to increase your reach, drive leads, and turn your customers into advocates through consistent, relevant content.

After working with you to craft a strategy you love, we'll set up a calendar to schedule posts and be as involved as you wish in the management of your profiles.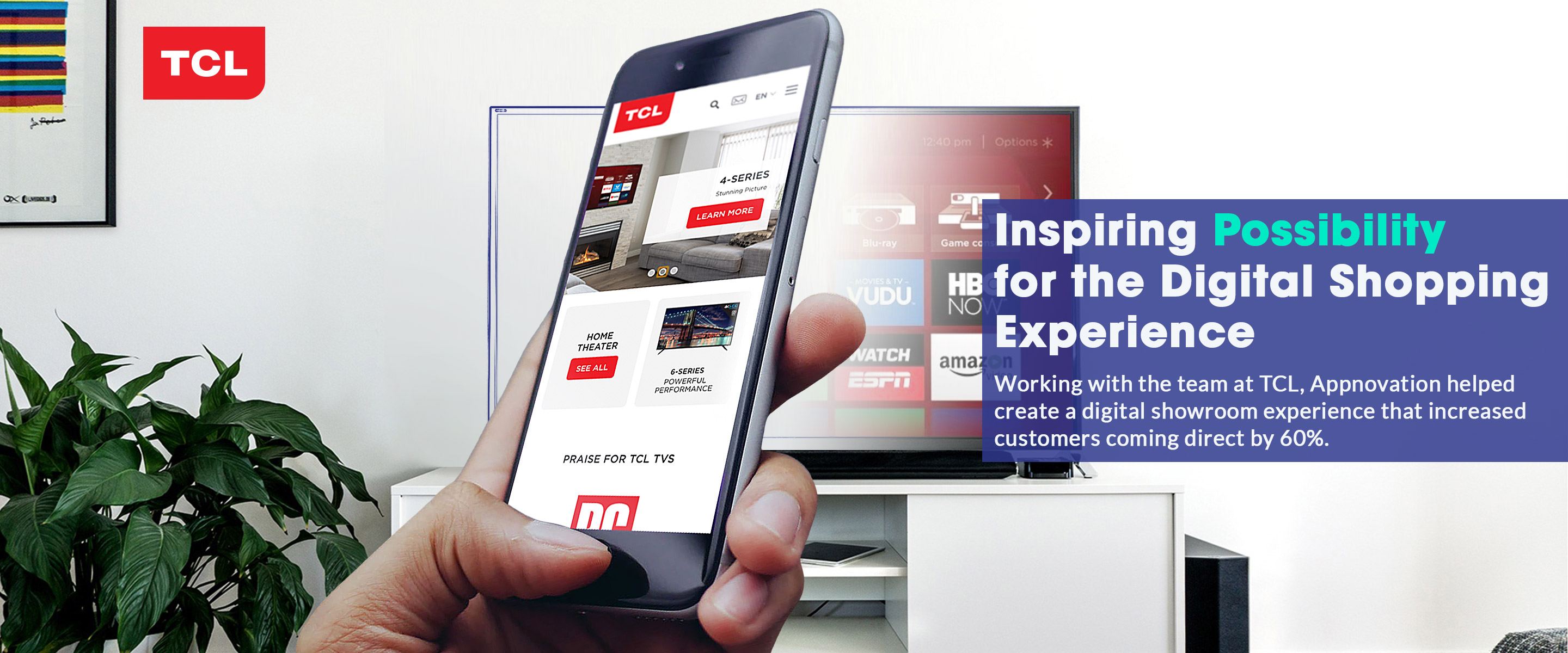 Experience Led & Outcome Focused
We help brands understand the role digital can play in realizing strategic opportunities and solving real world business problems, always keeping the focus on customer experience and results generated.
Proven, Rapid & Trusted Delivery
We use agile methodology and always keep you in the loop. Streamlined delivery and cost effective engagements designed to match your goals, timeline, and budget.
Experienced Marketing & Communications Experts
Appnovation's marketing experts will work with your company to transform your digital capabilities and build digital strategy services that are simpler, clearer, and faster to use.
Transparent, Collaborative & Communicative
Complete project visibility and multiple open lines of communication from day one. We're available when you need us and continually updating you on your project's status.
Customer Satisfaction is the Priority
Our clients are happy, thanks to dedicated account and project managers, consistent delivery teams, and open communication lines. We know because we ask.
Why Brands Choose Us For Marketing & Communications Services
Here are just some of the ways that we stand out as a company when it comes to expertise in social media strategy and management.
Agile content strategy design and development methodology
Award-winning digital experience and solutions
Collaborative, client-focused approach on engagements
Cross-functional team of experts based in North & South America, Europe & Asia
Expertly executed research and content targeting strategy to deliver fast results
Front-end experts, business analysts, UX/UI specialists and creative designers in-house
Personalization of content and customer journey mapping expertise
Rigorous quality assurance (QA) testing before "Go-Live" events
SEO & SEM capabilities to improve traffic and conversions on publicly facing digital properties
Streamlining document management to boost business efficiency.
Showcasing their brand, transforming sales, putting customers first.
Digitally streamlining how a non-profit gets it's volunteer help.
Get in touch with our marketing & communications experts today. Let's get started!
Appnovation is a global, full-service digital consultancy. We deliver people-inspired business solutions to our clients.

Embracing the powerful combination of technology and agility, our award-winning team delivers marketing and communications strategies that inspire possibility.

Get in touch and let's find out how we can transform your industry, together.