How your approach to analytics and insights can adapt to the current realities of COVID-19
 
As companies around the globe navigate their way through the COVID-19 crisis, digital preparedness is a key strategy as organizations ready themselves for whatever the next weeks and months will bring. Data enables us to find quick solutions for complex problems. When the B.C. government recently needed an immediate digital solution to help prevent the spread of COVID-19 between healthcare facilities, we used the power of data and real-time analytics to build them a single-site staffing platform in just six days. 
Whether it's shoring up existing approaches to extreme change or looking for the right insights to enable a pandemic pivot, now is the time to go back to basics and make sure your data, research and business intelligence fundamentals are there to support how your organization chooses to adapt. "Data is the map that will guide us through uncertainty. By beginning with a thorough analysis across its functions, from supply chain to delivery, a business can be prepared for whatever is happening now and what's to come," said Scott Wassmer, General Manager of the Americas at Appnovation.
"We have a chance to break through the routine and be forward-thinking with our approach to analytics and the behavioural insights, audience research and deep understanding of our users that it provides. At this moment, we're looking to truly understand how our customers are feeling and reacting. The right business intelligence platform gives the context we need to know what's happening now so we can plan for the future."
Industry-leading data and analytics are the backbone for building customer-centric experiences designed for what your audience truly wants. Right now, the need for proper analytics is increased. The right data-driven processes will give businesses the agility they need to cope better for the short-term, keep flexible to address the unknown length of the crisis and prep for recovery in the future. 
Kevin Coombs, Director of Data Science and Analytics at Appnovation states, "Despite the current upheaval, there's a huge opportunity for companies to innovate and use their data and analytics in a brand new way. The standard ways we usually differentiate our businesses are far less predictable during COVID-19. Deep diving into our existing data can give us insights ready to be used to bring back some of that stability. For example, predictive analysis can identify behavioural shifts and geographic trends based on where different locations are along the stages of their own business recovery. By looking at how and why certain countries are recovering, we can proactively expose opportunities to accelerate a return to business-as-almost-usual that might take weeks or months to uncover."
 
Understand how your business is really being affected 
It would be an understatement to say that business performance will be materially impacted across a wide range of verticals. We are still at the beginning of wrapping our collective heads around what is current, nevertheless how it will shape the future. There simply isn't enough information to be able to predict yet who will weather the storm most successfully. 
That said, it doesn't automatically mean the influence on every company will be negative. This goes beyond some of the desperately needed pivots we've seen, like restaurants moving to delivery and take-out, alcohol manufacturers to hand sanitizer, and clothing retailers switching production to cloth masks. 
Depending on the industry, some brands are seeing significant growth for their regular product lines fueled by certain consumer behaviours during COVID-19. Sure, that won't be the case for everyone, but that's why flexibility in your approach is key. 
It might not feel like it, but this is the perfect time to scale. That might be down instead of up, but you don't want to miss out on the opportunities of the moment because you're not able to customize your program. A hallmark of any data strategy is a built-in ability to scale it as your business (hopefully) grows. Depending on the individual facets of your approach, there are some aspects of it that should ramp up while others might realistically need to slow down for the time being. A highly-customized program that gives you control over each service area will help you gather the data you need to truly see how your business is being impacted, both now and down the road. 
 
Utilizing data to adapt for now and prep for later. Keep an eye on where your consumers are now.
Yes, everyone is shopping online. You, and your competition, both know that. What you don't know – and what social listening, media evaluation and sales tracking insights can provide you – is where your key audiences are moving to and how their activities shift as the pandemic progresses and the world transitions into the new normal. Your data will also prepare you for the difference in behaviour shifts you'll need to take into consideration across markets in different countries, provinces/states and cities. 
Digital touchpoints are crucial to user experience while brick-and-mortar options remain extremely limited. Consumer needs are rapidly moving between products and services as industries adapt and products that were panic-bought weeks ago (we're looking at you, toilet paper) become available while others face potential risk. 
This is the perfect time to grow your CRM database with uniquely helpful, empathetic and understanding messaging and strategies. Customized offers and promotions, delivered with enhanced user design customized for the realities of our current and future COVID-19 world, will help your business tap into opportunities for growth.
 
Make it personal
Even on a good day, authenticity and a natural understanding of how your target audience is feeling, behaving and making decisions is key to building a user experience they'll love. Many of your customers aren't having good days. That means that really understanding how they're operating through COVID-19 is critical. 
"Through leveraging quantitative and qualitative data, brands can personalize their customer experiences. During this crisis, that type of personalization is more important than ever. Even the most well-intended outreach will fail if it doesn't take into consideration this new environment and shifting consumer attitudes. A level of empathy and understanding is a must-have to create meaningful customer experiences at the moment. Knowing your customer inside and out, so that you can craft those messages, begins with your consumer data," states Coombs. 
 
Quality over quantity
When we're stressed, it can feel tempting to want to track anything and everything. With a heavier reliance on data, the integrity and precision of how you're analyzing and interpreting it is paramount. You can't glean any useful insights from random piles of information. The proper models to capture and interpret, based on your digital strategy, will lead you to the goldmine of information that you're really after. 
"As we adjust to the sudden mass shift to work from home, well structured data strategies are paying dividends for companies. Your data, and the ability to make decisions from it, is only as good as the processes, rules and procedures you have in place to gather and ensure its quality. Companies should be reviewing those data models and roadmaps now and ensure they're using best practices, industry standards and the latest techniques, as well as making them scalable and flexible to accommodate their future needs," said Coombs. 
Every data and analytics program, at its core, should be planned and delivered to enable businesses to make better, more timely and very accurate decisions. Both to take advantage of the good and guard against the bad now is the time to enhance the power of your own data. By finessing your own business' approach, you'll be better prepared to manage through the immediate complexities of COVID-19 while, more importantly, also setting yourself up to harness the power of your newly strengthened approach for when recovery eventually begins.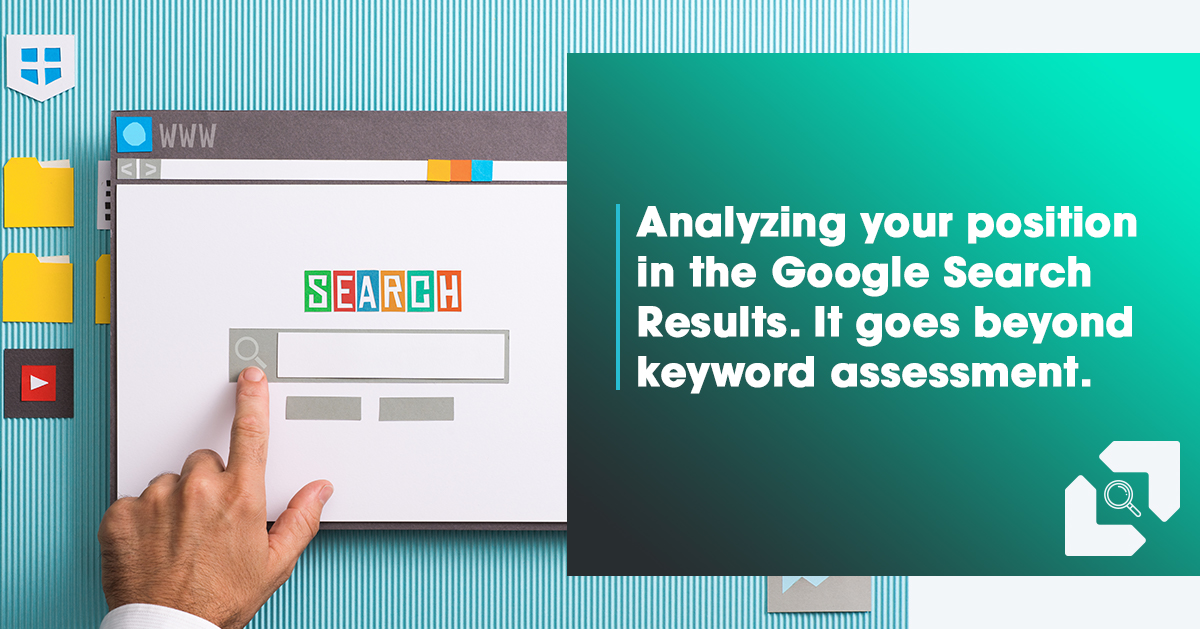 Analyzing your position in the Google Search Results. It goes beyond keyword assessment.