Despite the overwhelming scheduling challenges, Appnovation completed amazing work: the quality of the code, the thoroughness of the testing, the high velocity in turnaround was incredible to watch.
Timothy Moore
Web Service Manager, Office of the CIO, Bay Area Rapid Transit (BART)
Looking to migrate or upgrade to the latest version of Confluence and accelerate your organization's collaboration efforts? Appnovation can help! Projects delivered quickly, securely and on budget by certified Confluence & Atlassian experts.
Appnovation helps organizations get on the latest version of Confluence. Whether migrating from another platform or upgrading from an older version, Appnovation's certified Confluence professionals are extremely adept at assisting enterprise-level entities with realizing all the newest version of Confluence has to offer from both a technical and business perspective. Important - Atlassian server license support end of life is on February 2, 2024. If you haven't started evaluating your options and planning your migration to Cloud or Data Centre, today is the day to start. Talk to our experts and explore what is the right move for your business needs.
Appnovation is an Atlassian Gold Solutions partner and certified software reseller. We have a team of certified and experienced Atlassian professionals on staff who can, and have, helped organizations with wide range of services related to Confluence and other Atlassian Products including strategy, implementations, integrations, development, migrations, upgrades, support and maintenance.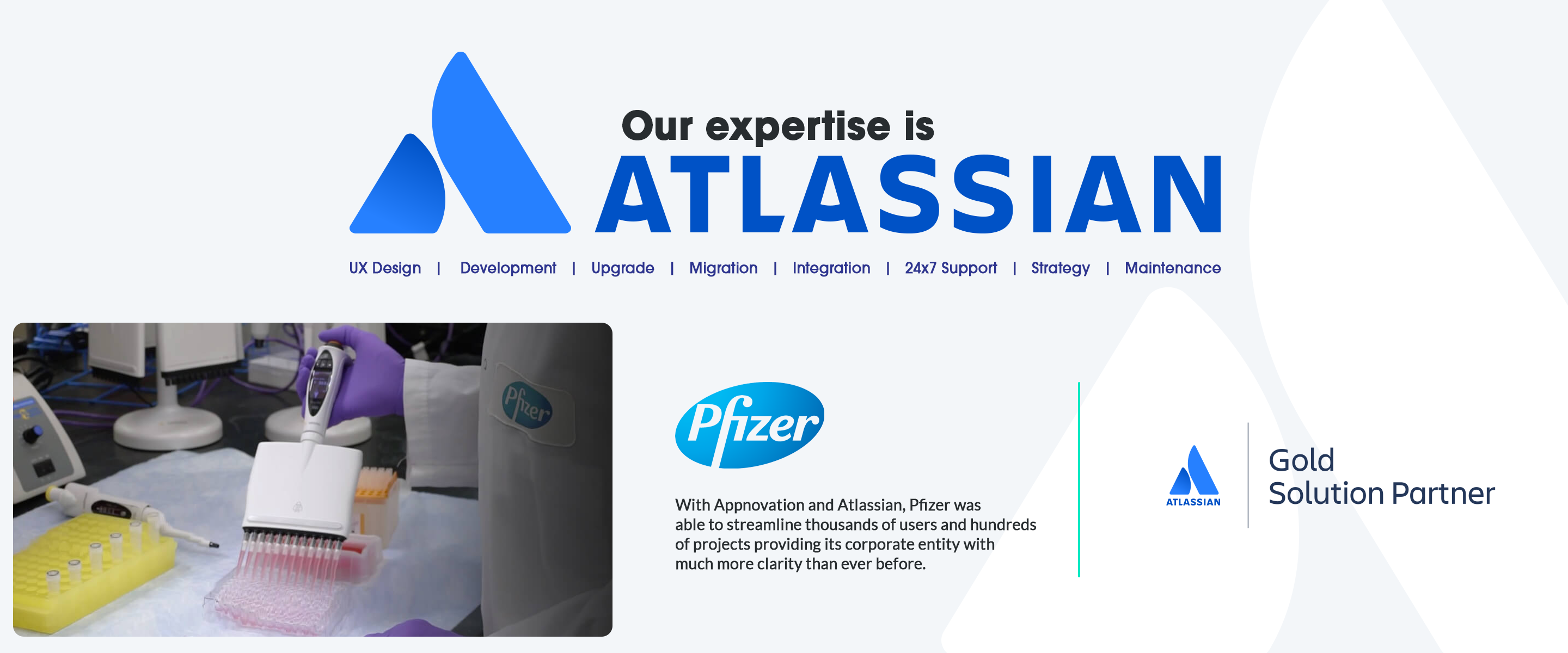 Experience Led & Outcome Focused
We help brands understand the role digital and Confluence can play in realizing strategic opportunities and solving real world business problems, always keeping the focus on the customer's experience and the results generated.
Proven & Trusted Delivery Methods
Using agile methodology on our client projects and always keeping you, the customer, in the loop every step of the way, Appnovation's Confluence migration or upgrade delivery will fit both your timeline and budget.
Confluence Migration & Upgrade Experts
Appnovation has a team of certified Confluence professionals on its staff who have a plethora of migration and upgrade experience. We are also an Atlassian Gold Solutions Partner and certified Atlassian software products reseller.
Transparent, Collaborative, Communicative
Complete project visibility and multiple open lines of communication from day one. We are available when you need us and continually updating you on your project's status.
Customer Satisfaction is the Priority
Complete project visibility from day one, working with you, and for you. Using a variety of mediums such as email, phone, chat, and project management tools for clear, constant communication.
Why Appnovation for Confluence Migrations and Upgrades
Here are just some of the ways that we stand out as a company when it comes to what our experience is with Confluence and creating a more agile enterprise.
Ability to promote and develop Agile & Collaborative principles
Atlassian Gold Solutions Partner
Agile & collaborative methodology employed for developing solutions
Authorized Confluence & Atlassian software products reseller
Available 24x7 Confluence support & maintenance by certified experts
Competitive rates for certified Confluence and Atlassian experts
Cross-functional team of 300+ experts based in the Americas, Europe & Asia
Plethora of Confluence integration delivery options available
Proven track record of successful Confluence migration project delivery
Strategic minded, digitally savvy, certified Confluence developers on staff
Thorough quality assurance (QA) testing before "Go Live" events
Preparing the EU's executive institution for digital collaboration success.
Enabling 3,700 clinics to work better, and more efficiently, together.
Integrating a scaled agile framework to transform digital banking development.
Get in touch and get started today. We're ready!
Shopping quotes for a Confluence migration or upgrade project? Looking to take advantage of the most competitive rates on the market for Confluence developers and experts? Appnovation is an Atlassian Gold Solutions partner, certified software reseller, that has certified Confluence and Atlassian experts on staff. When it comes to your Confluence, collaboration and digital needs, Appnovation can help. Fill out the form, send us an email or call us directly at one of our many office locations across the globe and let's get started today!