Working with Appnovation inspired confidence and brought efficiency to our JIRA migration project. Their team was very knowledgeable and helpful, worked quickly and effectively while clearly communicating, and completed a painless migration early and under budget.
Will Kaufman
Sr. Digital Producer & Jira Administrator, Convertiv
Appnovation offers a full suite of strategy, development and support services for Jira Software, Jira Service Management (formerly Service Desk) and Jira Core. We are an authorized reseller of Jira products, as well as the entire Atlassian tool set, too.
Appnovation is an Atlassian Gold Solutions partner and authorized software reseller. We have a team of certified and experienced Jira professionals on staff who can, and have, helped enterprise level entities with wide range of services related to Jira products (Software, Service Management & Core) including strategy, implementations, integrations, customization, migrations, support and maintenance. Important - Atlassian server license support end of life is on February 2, 2024. If you haven't started evaluating your options and planning your migration to Cloud or Data Centre, today is the day to start. Talk to our experts and explore what is the right move for your business needs.
With multi-channel digital experiences increasingly in demand and more businesses looking to adopt the agile approach, Appnovation's Jira experts can deliver tailor-made solutions meant to help organizations plan, track and support these efforts with agility. Whether you're looking to improve project/issue tracking, make strides in your IT service desk/customer service performance, and/or advance how the business is managed, then there are no better products than Jira, and no better services provider than Appnovation to help.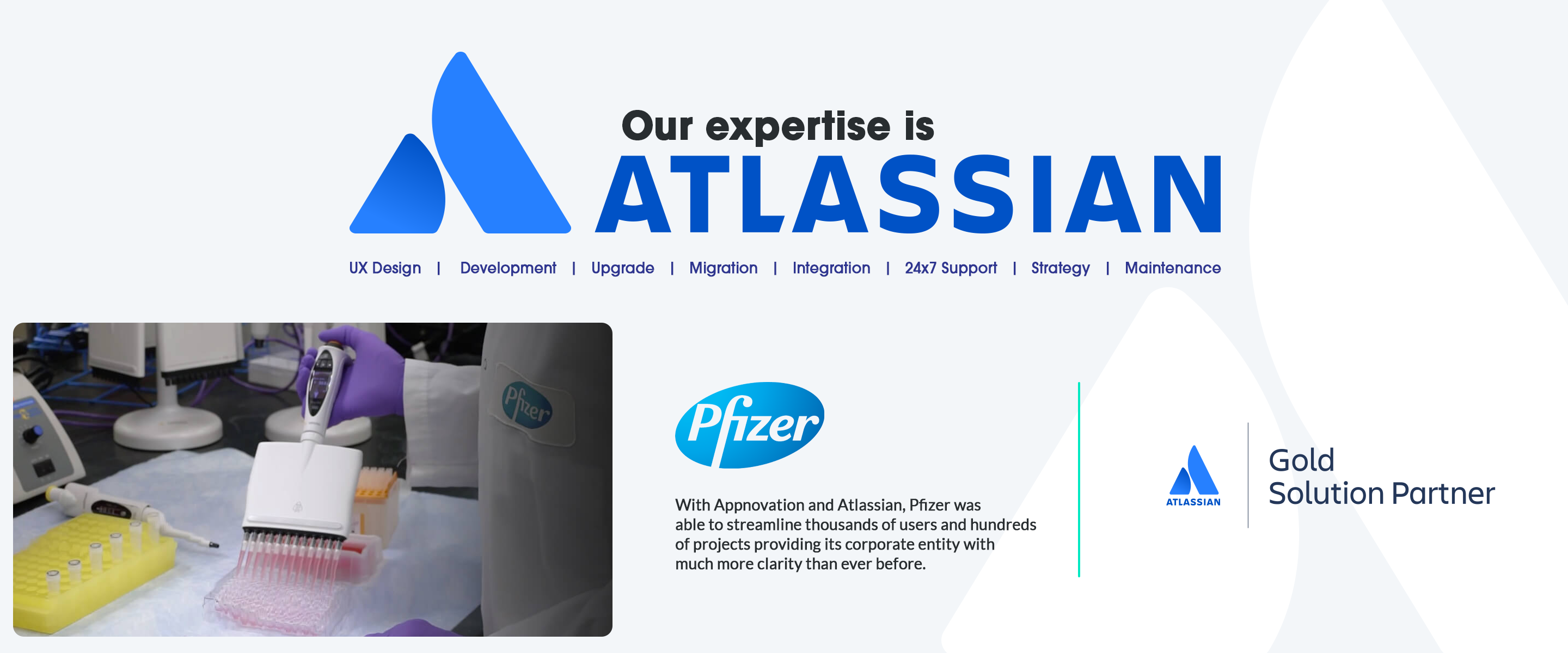 Experience Led & Outcome Focused
We help brands understand the role digital and Jira can play in realizing strategic opportunities and solving real world business problems, always keeping the focus on the customer's experience and the results generated.
Proven, Rapid & Trusted Delivery
Using agile methodology on our client projects and always keeping you, the customer, in the loop every step of the way, Appnovation's Jira project delivery will fit both your timeline and budget.
Jira Software Reseller & Services Provider
Appnovation is an Atlassian Gold Solutions Partner, software reseller with certified and experienced developers on staff. Whatever the need when it comes to Atlassian & Jira products, we have you covered.
Transparent, Collaborative, Communicative
Complete project visibility and multiple open lines of communication from day one. We are available when you need us and continually updating you on your project's status.
Customer Satisfaction is the Priority
Our clients are happy, thanks to dedicated account and project managers, consistent delivery teams and open communication lines. We survey our customers, the results of which go directly to our CEO.
Why Brands Choose Us For Jira Assistance
Here are just some of the ways that we stand out as a company when it comes to what our experience is with Jira and creating a more agile enterprise.
Ability to promote and develop Lean and Agile principles, saving time and money
Atlassian Gold Solutions Partner
Agile methodology employed for coding and developing solutions
Available 24x7 Jira support & maintenance by certified experts
Authorized and authorized Jira & Atlassian software products resell
Competitive rates for certified Jira and Atlassian experts
Cross-functional team of 300+ experts based in the Americas, Europe & Asia
Plethora of Jira integration delivery options available
Proven track record of successful Jira project delivery
Strategic minded, digitally savvy, certified Jira developers on staff
Thorough quality assurance (QA) testing before "Go Live" events
Enabling 3,700 clinics to work better, and more efficiently, together.
Integrating a scaled agile framework to transform digital banking development.
Making real-time a reality for 17,000 employees and prompting a better customer experience because of it.
Get in touch and get started today. We're ready!
Shopping quotes for Jira software licenses, professional help with any of the Jira products or both? Appnovation is an Atlassian Gold Solutions partner, certified software reseller, that has certified Jira and Atlassian experts on staff. When it comes to your Jira, agile and digital needs, Appnovation can help. Fill out the form, send us an email or call us directly at one of our many office locations across the globe and let's get started today!