The experience working with Appnovation has been fantastic. We always want to ensure we get plenty of value from any vendor that we work with, and in that regard Appnovation really excels. With our latest project, we received top-quality work, enjoyed working with a really responsive team, and when we threw curve balls or suggested unique functionality, they quickly went to work to make it a reality.
David Lux
Head of Digital Marketing, TCL North America
Inspiring possibility by applying innovation to creativity, we design consistent, yet personal, digital experiences. Our digital solutions are always intuitive, engaging and keep the focus on the customer.
Our design thinking experts put the end-user at the heart of all design considerations, offering a range of design services from UX research to interaction design, along with full usability audits. Our approach is rooted in collaborative and iterative design. We tackle every project with a participatory mindset and open communication. 
We believe that creativity and visual design is as important as smart information architecture. Integrated design thinking services create smooth and coherent user experiences that add value to each and every customer interaction. 
View Related User Experience and Design Services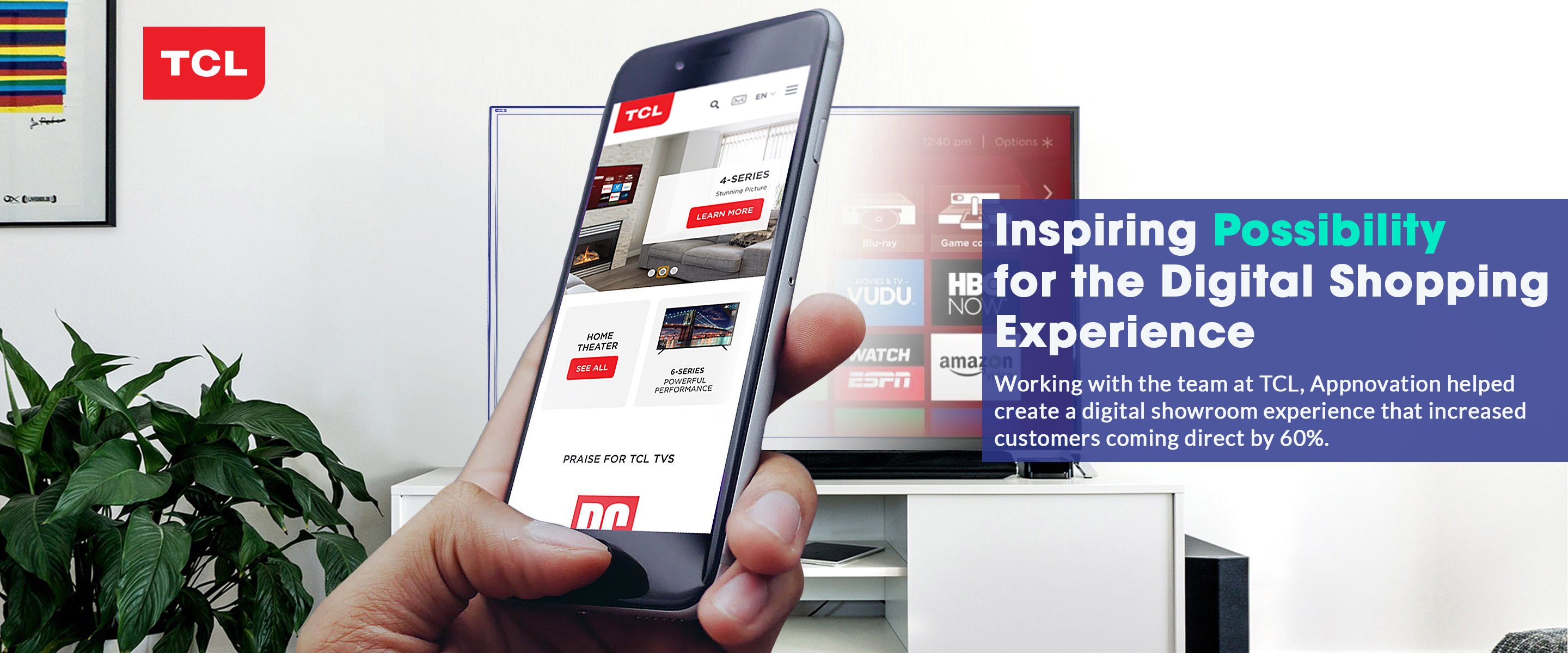 Experience-Led & Outcome-Focused
Shopping for design thinking services? Looking for help learning the process? Talk to us! Our design thinking experts are known for creating unique, engaging digital experiences and assisting organizations with transformative change.
Proven, Rapid & Trusted Delivery
Using agile, process-driven design methodology, we always keeping you in the loop. With streamlined delivery and cost-effective engagement practices, we can match your goals, timeline and budget.
Experienced Design Thinking Experts
Our design thinking experts have extensive experience. We have used this process to deliver workshops and create custom digital solutions for some of the world's biggest brands.
Transparent, Collaborative, Communicative
We deliver complete project visibility and open lines of communication from day one, working with you and for you. Using Atlassian and the latest collaborative software, we are always in touch.
Customer Satisfaction is the Priority
Our clients are happy, thanks to our dedicated account and project managers, consistent design thinking service delivery teams and open communication. We know this because we ask.
Why Customers Choose Us For Design Thinking Services
Here are just some of the ways that we stand out as a company when it comes to our design thinking services.
Ability to integrate design with strategy and digital
Agile and process-driven design and development methodology
Award-winning design and digital solutions
Cross-functional team of professionals based in the Americas, Europe & Asia
In-depth user research, usability testing & analytics reviews to fully understand your customer
Proven track record of successful design and development project delivery
Rigorous testing and validation of ideas throughout the design and development process
In-house, front-end experts: Strategy, Business Analysts, UX/UI Specialists & Designers
Fundamental change to how organizations go about addressing challenges
Workshops and training available for enterprise-level clients
Collaborativbe, transparent and communicative approach with clients
Opening up new streams of revenue by making pre-made meals digitally available to purchase by millions of its customers.
Retiring point to point legacy integrations in favor of multi-point to better connect to its customers for the #1 CRM platform in world.
Creating a multimedia, headline-worthy design experience improved customer sat.
Get in touch and get started today. We're ready!
Have you been thinking about design thinking services or are you looking to improve your customer experience? Appnovation's design thinking experts can help you understand your users' behaviours, their requirements, and their overall motivations. We're ready to tackle your next project to help your brand create process-driven, innovative solutions for your customers. 
Complete the form, email us at contact@appnovation.com or contact us directly by phone at one of our many global office locations to talk about your next or an upcoming project.