Appnovation's approach to communication is very much that of a bespoke concierge service; concerned as much with the old school care that facilitates relationships as it is with the paperwork that enables it. A perfect marriage of flexibility and comprehensive documentation creates a very rarely enjoyed truly consultative and accommodating approach to what is a truly mutually transparent relationship.
Chris Poel
IT Director, BMI Research
Our expert DevOps engineers can unify your software development and software operations seamlessly, efficiently, and cost effectively.
If you are looking to improve your software quality, automate processes, adapt company culture, and accelerate software releases, our DevOps consulting services can deliver. Appnovation's DevOps services combine cultural philosophies, practices, and tools that are designed to increase your organization's ability to deliver applications and services more rapidly, and more effortlessly.
Our experts can help you improve your products and services at a more accelerated speed, ensuring your organization can enjoy a well developed and supported infrastructure management process. Ultimately, it is all about getting you to be more competitive, as well as effective in your industry marketplace, which our DevOps consulting packages are designed to deliver.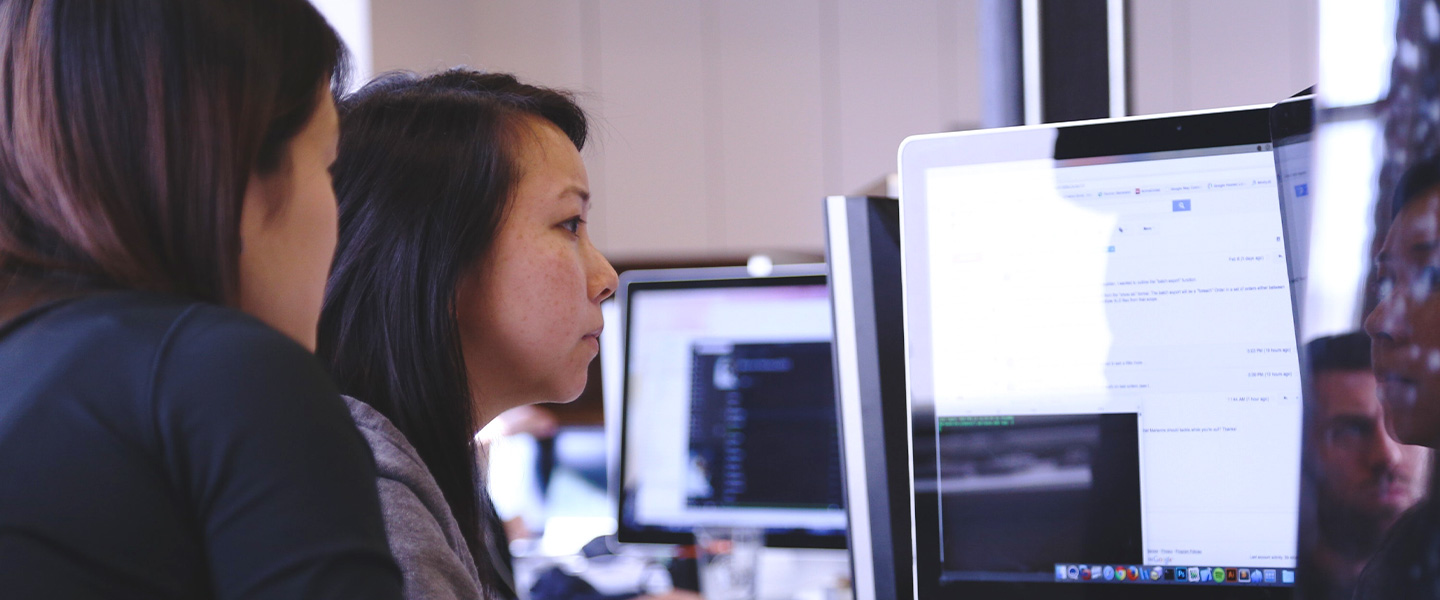 DevOps Consulting
As software and the digital landscape continue to transform the online world, and all the industries with a digital presence, Appnovation continues to lead and innovate, and our DevOps consulting practice is no exception to this.
Explore More
As software and the digital landscape continue to transform the online world, and all the industries with a digital presence, Appnovation continues to lead and innovate, and our DevOps consulting practice is no exception to this. Along with our DevOps design and engineering teams, our consultants can transform your business processes and models.
With software now representing a critical component of a business, rather than a supporting element, it has become ever more important to ensure that companies can interact with customers through their software,delivering all their online services for multiple consumer devices.
From communications, to logistics, to global operations, when we collaborate with our clients, and take time to understand their DevOps requirements, we can transform things from the ground up, in terms of both software and process.
Appnovation believes that DevOps should be the focus on removing hurdles between operations and development, with a view to optimizing productivity and efficiency across your organization. Our goal is to ensure that you deliver the best possible services to your customers, as well as creating integrated teams across your company.
Whatever the size of your company, or your industry, your success could well depend, in part, on a well organized DevOps model, and team members who consider the entire development and infrastructure lifecycle as part of their responsibilities.
We always adhere to DevOps best practices, which include:
Continuous Integration
Continuous Delivery
Microservices
Infrastructure as Code
Monitoring and Logging
Communication and Collaboration
DevOps Design, Engineering & Implementation
The primary goal of DevOps, from design, to engineering to implementation, is to deliver higher quality software to end users, and to do so at an accelerated pace.
Explore More
The primary goal of DevOps, from design, to engineering to implementation, is to deliver higher quality software to end users, and to do so at an accelerated pace. As our DevOps experts are aware, it is all about driving topline benefits for our clients, delivering improved customer experiences and, the ultimate goal, increased revenue opportunity.
From driving greater IT team productivity to a scaled back costing for operations, our focus remains on strengthening not only these elements, but also your customer engagement through applications and services.
As a company that believes in offering and creating digital transformations, DevOPs implementation is one of the pivotal tools with which we can help you meet customer requirements, while concurrently growing and streamlining your business from top to bottom.
One of the many benefits of Appnovation's DevOps services is a real, measurable decrease in development and operational costs, saving both time and money in the long and short term.
Alongside this, the business benefits include:
Shorter Development Cycle
Increased Release Velocity
Improved Defect Detection
Reduced Deployment Failures and Rollbacks
Reduced Time to Recover upon Failure
Increased Communication and Collaboration,
Improved ability to Research and Innovate
Performance Oriented Culture
DevOps Strategic Business Benefits
As with any project, clients want to know what the benefit are, be it time, money, streamline processes, employee engagement, or customer user experience improvements.
Explore More
As with any project, clients want to know what the benefit are, be it time, money, streamline processes, employee engagement, or customer user experience improvements.
Appnovation is used to delivering all these, and many more, and with our DevOps consultants, we can guide you towards enjoying benefits including:
Corporate Culture Solution
Strengthening your corporate culture is one of the main barometers of DevOps success.
Building a culture of shared responsibility, transparency, ongoing feedback, and ultimately, a high performing team is one of the core principles of Appnovation's DevOps service.
Increasing Customer Satisfaction/User Experiences
Reduced to a simple aim, primary goal of DevOps is smooth and faster delivery of high quality software and services faster to your end users. The foundation is to be agile and stay ahead of competition by adapting to changing customer demands across any digital property or brand position.
Delivering Digital Transformations
Digital transformations are changing the way companies operate, and how things work both internally, and externally. Our DevOps services are designed to be innovate in approach, in technologies such as IoT, Mobile and Cloud, which we use to deliver digital transformations, ultimately driven by the desire to help you improve employee productivity, quality, customer satisfaction and experience.
Enabling & Aligning Business and IT
Our expert DevOps engineers focus on applying Agile principles to your business operations, allowing them to deliver more streamlined practices, while maintaining quality and efficiency. DevOps, if done well, and done the Appnovation way, can help transform your IT ecosystem and processes to deliver more agility, while directly and positively impacting business outcomes and competitiveness. Our DevOps consultants can offer a flexible and dynamic approach to system development and deployment.
Enterprise Agility Solutions
Business agility is the core reason to adopt DevOps. It allows businesses to accelerate go-to market services, enable new features to be rolled out frequently, quick iteration of the software and see an overall productivity and business efficiency.
Innovation, Ideas, Results
At Appnovation, we are a company that lives and breathes innovation. It's even part of our name, and part of the company DNA. We can help you innovate and grow, ensuring that you don't get outrun by your industry competitors. The business impact of our innovation and ideas based approach is the result of our own DevOps application across the organization. We want to share this, and get you to where you need to be.
Improved Processes and Productivity Levels
Streamlining processes and optimizing existing SDLC practices are two more of the benefits that Appnovation can help deliver, along with a tangible improvement of productivity throughout your company. DevOps done the Appnovation way, can empower each of your team members, give them real accountability and ownership, ultimately leading to greater motivation and results.
Improved Business Competitiveness
Appnovation's DevOps experts can ensure faster software delivery with continuous feedback, helping your business stay competitive, agile, and with a constantly upward curve in productivity.
Our DevOps consulting services can provide constant monitoring and support, real-time analytics, and your understanding of the need for a digital transformation, which can all lead to actionable insights and improvements for your business' bottom line.
Improved ROI
When done well, DevOps can help your business use critical, important data to make money. Helping clients gain value from data is part of what we do, with expert application of analytics, automation and the proven Appnvovation agile approach. DevOps utilities can help you save both time and money, making it a cost-effective service, leading to valuable business opportunities.
Previous
Next
Experience Led & Outcome Focused
We help brands understand the role digital can play in realizing strategic opportunities and solving real world business problems, always keeping the focus on the customer's experience and the results generated.
Proven, Rapid & Trusted Delivery
Using agile methodology, always keeping you in the loop. Streamlined delivery, cost effective engagements, designed to match your goals, your timeline and your budget.
Expert DevOps Consulting Services
As a proven DevOps company, Appnovation's expert DevOps consulting and development services provide extensive expertise in creating robust, secure, high-performing and professional DevOPs design, consultations, and implementations.
Transparent, Collaborative, Communicative
Complete project visibility and multiple open lines of communication from day one. We are available when you need us and continually updating you on your project's status.
Customer Satisfaction is the Priority
Dedicated account manager, project manager and consistent delivery team provided. We survey all of our clients, the results of which go directly to our CEO.
Why Clients Choose Appnovation for DevOps Consulting
Here are just some of the ways that we stand out as a company when it comes to what our experience is with DevOps.
Agile development methodology utilized for delivery
Cross-functional team of 300+ experts based in the Americas, Europe & Asia
Competitive rates for experienced DevOps talent
Front-end expertise on staff including Business Analysts, UX/UI Specialists & Creative Designers
Improved release velocity and defect detection
Increased ability and bandwidth to research and innovate
Proven track record of successful project delivery
Reduced deployment failures, rollbacks and time to recover upon failure
Shorter development cycles translating to lower costs for clients
How BMI made monitoring 200 global markets so much easier.
Focused, real-time freight tracking makes for far better customer delivery experience.
How connecting 100,000+ students to school services better prepared them for life after graduation.
Get in touch and get started today. We're ready!
If your enterprise is looking for expert DevOps consultants look no further than Appnovation. Our expertise and proven track record of delivering high quality DevOps strategy, design, implementations and execution should tell you why so many companies chose Appnovation. Our development operations experts have a plethora of experience providing a variety of DevOps solutions to meet and exceed both business and IT needs of clients.    
Complete the form, email us at contact@appnovation.com or contact us directly by phone at one of our many global office locations to talk about your next or an upcoming project. Need more convincing? Just take a look at our client list to see just some of the brand names that Appnovation has helped and now call customers.