We would like to express our sincere appreciation to all the team members at Appnovation whose hard work and dedication made this a successful release!
Bill Jones
Project Manager, Cisco
Appnovation's Magento web developers can deliver strategic, technical, customer and financial results. Because when it comes eCommerce, results are what matter the most.
We recognize that a Magento-based online store is meant to generate revenue and provide a positive, while also efficient, customer experience, so we keep that in mind on every Magento ecommerce engagement. Whether the online store experience is B2C, B2B or both, our website design and development experts, can fill a variety of needs when it comes to Magento.
From providing consulting and strategy to maximize shopping cart value to migrating or upgrading to the latest version of Magento, our certified professionals are ready to help. We also routinely assist with building new Magento ecommerce experiences from scratch, redesigning current online stores to look and work better for customers, integrate Magento-based enterprises with an array of applications and third party applications, and support and maintain store sites so there is little if any chance they go down. When it comes to Magento, we know!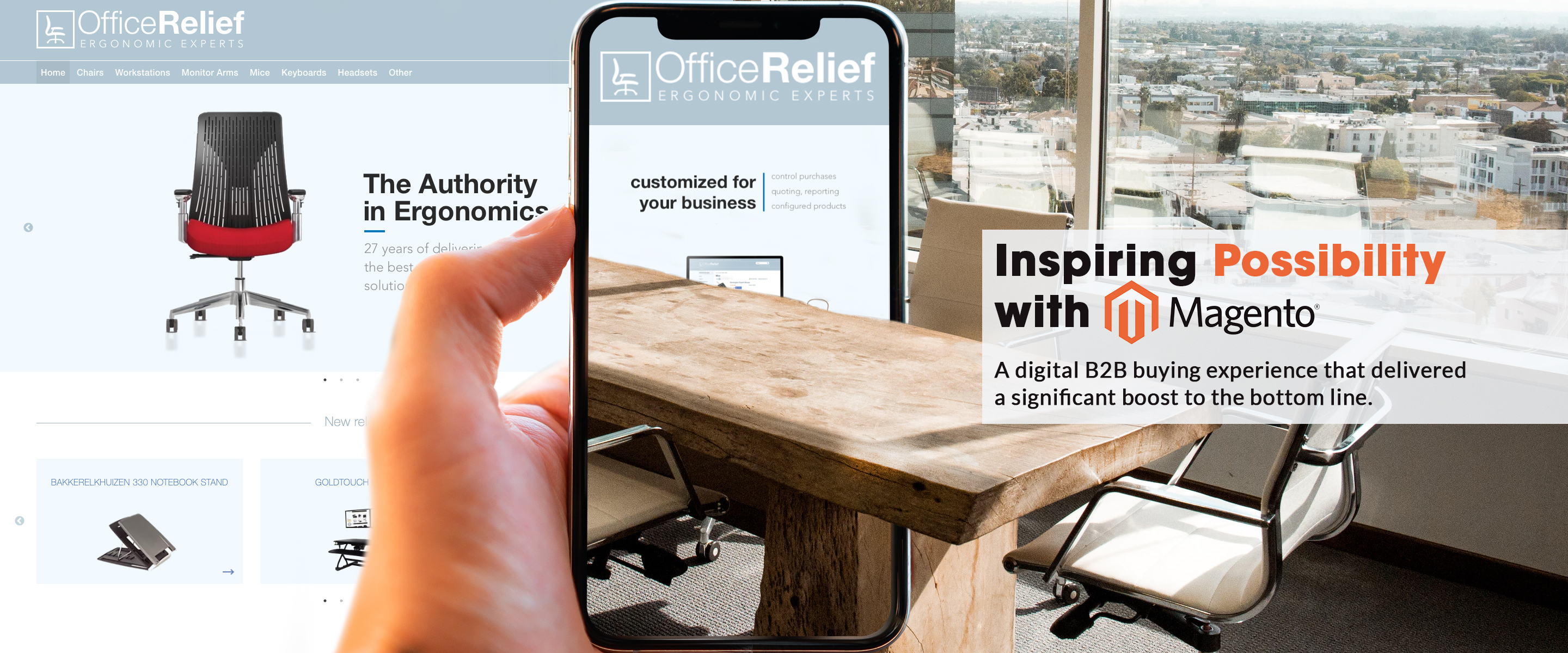 Experience Led & Outcome Focused
We help brands understand the role digital and Magento can play in realizing strategic opportunities and solving real world business problems, always keeping the focus on the customer's experience and the results generated.
Proven, Rapid, Agile & Trusted Delivery Methods
Using agile methodology, always keeping you in the loop. Streamlined delivery, cost effective engagements, designed to match your goals, your timeline and your budget.
Expert Magento Web Developers & Ecomm Consultants
We know Magento AND ecommerce strategy and development. We build great looking professional Magento experiences and can make the generate optimal revenue for the enterprise.
Transparent, Collaborative, Communicative
Complete project visibility and multiple open lines of communication from day one. We are available when you need us and continually updating you on your project's status.
Customer Satisfaction is our Priority
Our clients are happy, thanks to dedicated account and project managers, consistent delivery teams and open communication lines. We know because we ask.
Why Appnovation for Magento web development:
Here are just some of the ways that we stand out as a company when it comes to what our experience is with Magento and creating ecommerce experiences.
Ability to integrate Magento with other systems and apps
Agile Magento Commerce project delivery methodology
Collaborative, transparent and communicative approach with clients
Competitive rates for Magento development and integration talent
Ecommerce & Magento strategy and consulting professionals
In-house, front-end experts: Business Analysts, UX/UI Specialists & Designers
Magento Commerce edition development and consulting partner
Offering 24/7 Magento support and maintenance packages
Results driven enterprise Magento solutions delivery
Rigorous quality assurance (QA) testing before "Go-Live" events
Shorter development times translating to lower costs for client
Showcasing their brand, transforming sales, putting customers first.
Bolstering B2B brand's ecommerce experience delivers more revenue.
Making the CCFM buying experience digitally accessible to millions.
Get in touch and get started today. We're ready!
Looking for Magento web developers? Need an expert Magento web design company for an engagement? We can most definitely help! Whether you need assistance on an existing effort or end to end project execution, Appnovation can provide the expertise to meet your Magento, ecommerce and digital needs. We've delivered thousands of projects, have a client list second to none and what our customers say about working with us speaks volumes. So if you are  shopping (or even just thinking about) a Magento project, get a free quote or let's just talk, either way contact us today to get started.