Appnovation focused on working very collaboratively with Kobo to create a joint team. The team used Agile Scrum methodologies with one week sprints including planning meetings, product demos, daily scrums and retrospectives. This ensured that Kobo had complete visibility into the project and could make important decisions based on all the information from the team. The Team was actively involved and empowered to come up with solutions and take a consultative approach with the client. Sprint planning was used to track and re-prioritize project goals to ensure we would hit key dates with Microsoft deliverables. Our team responded well to the Agile Scrum methodology. Everyone was in the scrum meetings at the same time each day and accountable to each other no matter where they were located in the globe. The team also created a joint Skype chat where you could pose questions to the global team or create quick break-out call with a few members to quickly resolve issues.
Laura Skosnik
Product Owner, Kobo
Appnovation can create high performing, feature-packed Backbone.js-based mobile experiences that are both scalable and secure able to deliver functionality and results for business, IT and user needs.
We offer a proven, highly flexible engagement model that starts with a comprehensive evaluation of your business and IT requirements to ensure that ultimately, the right solution can be delivered both quickly and cost-effectively to meet your goals and deadlines.
Whether you need to hire a Backbone.js developer to augment your current team, contract subject matter experts to help with a certain aspect of your Backbone.js mobile project such as business analysis, custom UX/UI design, code development, project management and/or quality assurance or looking for a complete end-to-end or Backbone.js development solution to be delivered, we can meet your needs.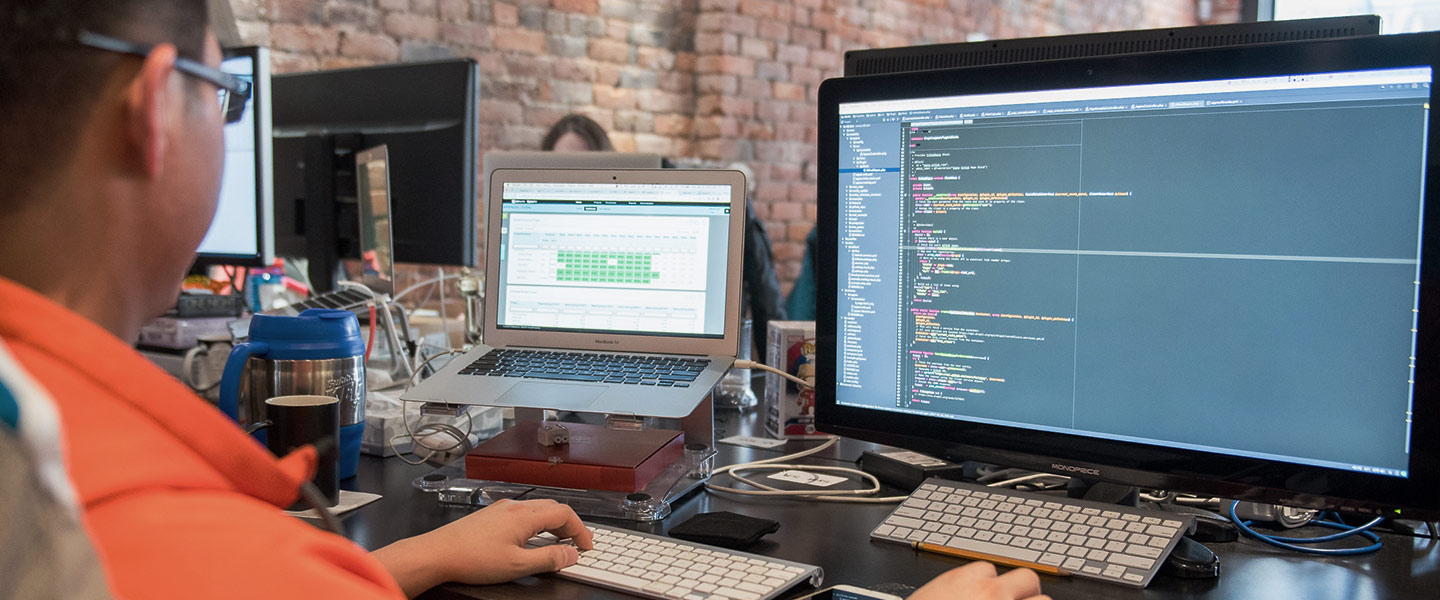 About Backbone.js
Using the Backbone.js simple feature set, easy integration, and large community, Appnovation can create high performance, feature-packed Backbone.js-based mobile experiences.
Explore More
Backbone's small footprint and easy extensibility made it the right choice for enterprise level customers. Backbone focuses on giving developers helpful methods for querying and manipulating your data rather than re-inventing the JavaScript object model. It's a library, rather than a framework, that plays well with others and scales well, from embedded widgets to large-scale applications. Backbone also works well with other libraries, Appnovation's expert Backbone.js developers are able to embed Backbone widgets in an application written with AngularJS, use it with TypeScript, or just use an individual class (like Models) as a data backer for simpler apps.
Appnovation's Backbone.js experts can easily make your ideas reality. Our extensive development experience and best-practices allow us to build the right solution quickly and easily for your unique business needs.
Previous
Next
Experience Led & Outcome Focused
We help brands understand the role digital can play in realizing strategic opportunities and solving real world business problems, always keeping the focus on the customer's experience and the results generated.
Proven, Rapid, Agile & Trusted Delivery Methods
Using agile methodology, always keeping you in the loop. Streamlined delivery, cost effective engagements, designed to match your goals, your timeline and your budget.
Expert Backbone.js Developers
Appnovation's experienced BackboneJS developers are known for building creative and professional web and mobile solutions. Our experts will get the job done, whatever the project.
Transparent, Collaborative, Communicative
Complete project visibility from day one, working with you, and for you. Using email, phone, chat, Skype, and Google Hangout for clear, constant communication.
Customer Satisfaction, Our Top Priority
Dedicated account manager, project manager and consistent delivery team provided. We survey all of our clients, the results of which go directly to our CEO.
Why Customers Choose Us for Backbone.js Development
Here are just some of the ways that we stand out as a company when it comes to what our experience is with Backbone.js Development.
Agile Backbone.js development and project methodology
Competitive rates for Backbone.js developers and architects
Cross-platform and HTML5-based open technology solutions
Cross-functional team of 300+ experts in global offices
Friendly, open, and collaborative way of working with clients
In-house, front-end specialists including: BAs, UX/UI & Designers
Proven track record of successful HTML5 mobile project delivery
Rigorous quality assurance (QA) testing before "Go-Live"
Thorough quality assurance (QA) testing before "Go Live" events
An internal employee digital experience delivers greater corporate agility.
Centralizing a brand's learning landscape to improve content consumption.
How BMI made monitoring 200 global markets so much easier.
Get in touch and get started today. We're ready!
Starting a Backbone.js mobile app development project? Contact us today and request a quote! As leading mobile app developers, Appnovation provides a full compliment of Backbone.js mobile application development services. So if you and your organization are looking for talented Backbone.js experts, competitve rates for top notch talent and aggressive project quotes for mobile solutions, then look no further than Appnovation.