osCaddie Joint Managed Services - Acquia
Managed Services isn't just an add-on, we become an extension of your business providing enterprise level support and maintenance whenever you need it, 24/7/365.
osCaddie offers an Enterprise grade, white-glove support offering for infrastructure and application level support requests on the Acquia platform. osCaddie Managed Services offers a custom portal with a rapid escalation process and has achieved a 98% customer satisfaction rating.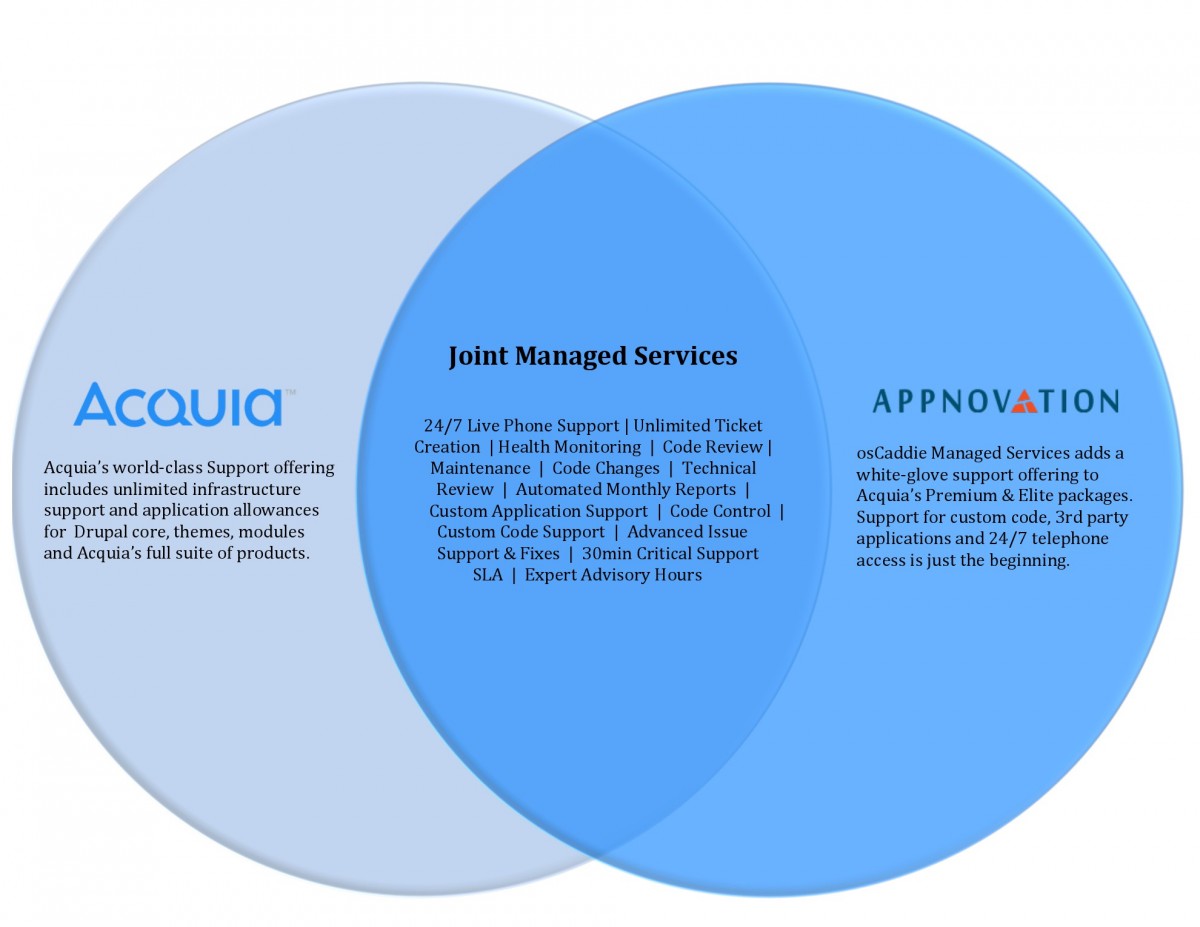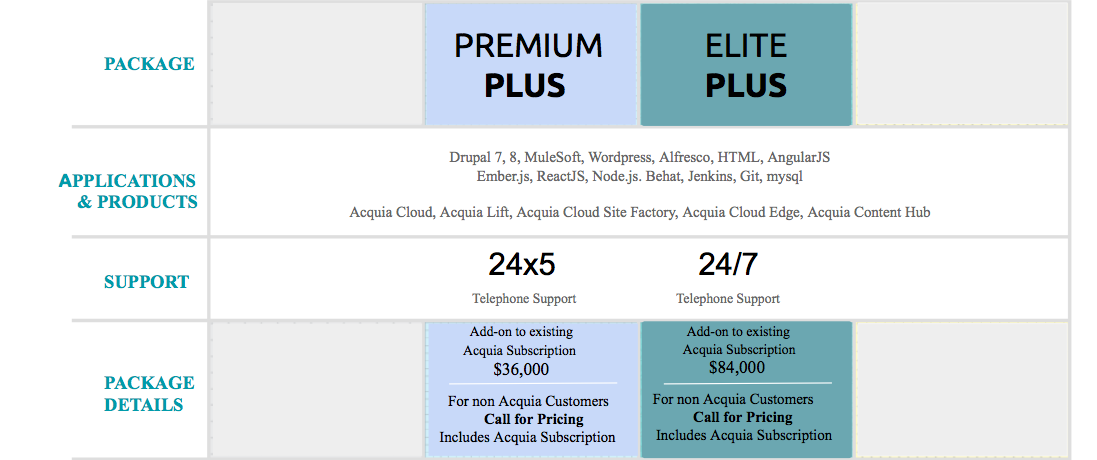 *All non-critical incidents will be responded to between 8am-8pm Eastern Time. All prices are in $USD.
Managed Services Offerings
Application Support - Appnovation provides support via the osCaddie portal. Our customer success team members are available during Appnovation business hours to assist with any issues users may have. The success team has the ability to provide remote deskside support utilizing award-winning remote tools that allow staff to share screens with clients in order to rapidly diagnose and resolve emergent issues.
Maintenance of Environments -
Security Patching - Our Appnovation maintenance team ensures that all systems under management are patched, secured and aligned with current industry best practices for maintaining large scale production systems. 
Vulnerability Scanning - We provide a regular scanning service using best-of-breed tools to identify and isolate possible security vulnerabilities in subscription services.
Application Development Support Business - Drawing from the same resource pool as Appnovation Professional Services, Managed Services is able to provide development services for clients. This may be in the form of bug fixes or, in some cases, a method for assisting clients in the implementation of a continuous improvement/continuous delivery solutions.
Static Source Code Analysis - Appnovation can provide both automated and manual source code analysis to ensure that code is checked for errors (such as CRSF or SQL injection) before it enters a production environment, minimizing the risk of both downtime and possible exposure to potential compromise.
Code Review Analysis - Appnovation can act as a trusted third party to provide code audits and review. Drawing from our global pool of experts, many of whom are heavily involved in contributing to the products themselves, we are able to offer a world-leading review process.
Environment Backup & Restore - Appnovation offers an automated cloud-based backup and restore process to ensure the environments we support are backed up offsite providing complete peace of mind and allowing us to engage our multi-cloud disaster recovery process should it be required.
Disaster Recovery - Appnovation can provide disaster recovery services providing emergency hosting and support in the event that current service providers are unable to meet their obligations. Depending on the specific customer needs, we can commit to having a fully functional service restored with an alternate provider in as little as 30 minutes. 
Architecture Review & Capacity Planning - Ensuring all environments are kept inline with current best practices, this essential section of a Managed Services contract gives us the opportunity to continue the architectural discussion about the solutions and how it fits with the rapidly evolving business environment, both internal and external. 
Service Management Review - Appnovation assigns a dedicated Managed Services Subscription Manager (SM) to act as the overall point of contact for each client's MS account and related contracts. The SM is a resource focused entirely on client overall satisfaction and serves as an escalation point for issues and requests. In addition, the SM takes on the role of coordinating monthly meetings with clients to help oversee the smooth running of their MS account and contracts.
Managed Services Pricing Options
Joint Managed Services Package: Acquia & Appnovation
Additional Add-Ons & Services
Limitations & Service Prerequisites
Remediation not included
Tickets from support staff / IT, not from end users
Repairs related to any issue caused by work performed by anon-Appnovation employee
Minimal Configurations
Site is hosted on Linux
All software and technologies is licensed and maintains a vendor support plan, at the site client's expense
Site uses WordPress, Magento, Drupal, MuleSoft, Alfresco and/or HTML5
OS, CMS, and application software within 2 minor versions of current.
Site is accessible and documentation exists for support
Client is maintaining infrastructure, and has a current site back-up
Does Not Include
Networking or Software (or software upgrades)
External consultants / Skill sets outside of Appnovation
Vendor subscriptions or service agreements
Available disk space and software for back-ups
Technologies We Support & Maintain
Technologies currently supported and maintained include: Drupal, Magento, WordPress, Alfresco, MuleSoft, HTML5, AngularJS, Ember.js, ReactJS & Node.js. Don't see your technology supported on this list? Contact us today.
We are continually adding new technologies to support and maintain for clients and demand from our customers is a big influence on what we take on.
Service / Terms & Descriptions
Application Support - Patching and updating of application (Drupal, MuleSoft, Magento, Alfresco, Hadoop, MongoDB, etc.)
Architecture Review - Report of present architecture configuration and deployment and recommendations for remedial or development work to ensure best practice operational efficiency. 
Automated Systems Monitoring - Proactive system monitoring performed to alert the Managed Services team of any incident.
Emergency Phone Support - 24/7/365 phone support for "Priority 0" (P0) critical incident only.
Expert Hours - Additional resources made available for out of scope assistance. Quick access to Subject Matter Expert (SME). 
Infrastructure Support - 24X7 support for systems and environment via a single online portal for reporting issues.
Managed Services Team - Pool: Could be any individual from the Managed Services Team. MS Subscription Manager: Intermediate level manager similar to Project Manager. Senior MS Subscription Manager: Senior level staff member dedicated to your account. 
Mean Time To Repair (MTTR) - Mean Time To Repair is the average time required to repair a failed component or device.
On Boarding - Analysis and review of the infrastructure of applications the osCaddie service will be supporting. This work will be estimated and billed for before the subscription can begin. Please note that additional work may be required to bring infrastructure and/or applications up to an acceptable state for support.
osCaddie Portal - ITIL compliant Service Desk and information system.
Security Scanning & Review - Regularly scheduled scanning of infrastructure, application or services delivered, for security fixes or bugs.
Virtual Chief Web Officer (VCWO) -Specialized appointed individual in charge of all web activity dedicated to your account.
Partner Related Package Offerings
Enhancing Drupal Experience with Drupal 8
API Led Connectivity with MuleSoft
Create an Application Network with MuleSoft
Agile Development with Jira Software
Unleash your software team's full potential by going agile with JIRA.
Team Collaboration with Confluence
Learn how to plan & collaborate with teams using Confluence.
Social Coding with GitHub
Learn to define your source control governance and workflows with GitHub.
Customer Identity Management with Janrain
Obtain a 360° view of a Customer Identity with Janrain.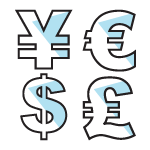 Four Subscription Pricing Options
osCaddie Managed Services offers four different levels of service subscriptions. Corresponding pricing is designed to fit businesses of all sizes when it comes to support and maintenance. Check out the differences and decide what level of service your entity needs.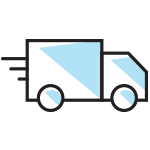 Leveraging our extensive multi-industry expertise, experience across multiple open technologies and exceptional internal talent and resources, we have a long list of customers and distinguished record of service supporting companies and organizations alike.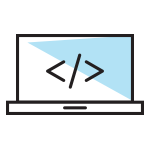 Support & Maintenance Experts
Not only are we the best ones to call when you need help, we also are there to proactively make sure those "help" calls are significantly diminished from ever happening in the first place. We are certified in a ton of technologies and have experience and expertise working with even more across a variety of situations and urgency levels.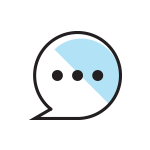 Dedicated Lines of Communication
We give you complete visibility from day one of your Managed Services engagement, provide a single point of contact and offer 24/7/365 access to both our osCaddie support portal AND an emergency support line staffed by a dedicated support team.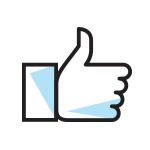 Customer Satisfaction Achieved
We take customer satisfaction seriously, providing you a dedicated account manager and project manager to make sure all aspects of your engagement with us run smoothly. We ask you to tell us how we did at the end of your project, and the results go directly to our CEO.
Why Customers Choose Appnovation's Managed Services
Achieved just over 98% "excellent" (5/5) rating from current support customers
Annual subscription based pricing model for support and maintenance services
Clients can be hosted anywhere, internal or external
Dedicated customer support portal with 24/7/365 access
Emergency support capabilities 24/7/365 with dedicated expert staff
Full suite of support and maintenance services offerings
Multi-disciplinary team of experts certified & experienced in a plethora of techs
Proven track record of successfully providing support and maintenance
Single point of contact for continued operational support and maintenance
Get In Touch & Get Support Today. We Are Ready!
Appnovation's osCaddie Managed Services are ready to handle your business or organization's support and maintenance needs. When it comes to technology environments and the systems and application within, our experts have seen and worked with it all across a variety of situations representing every major industry vertical. Having already achieved extremely high customer service ratings (just over 98% "excellent" (5/5) rating) from current clients, the is no reason not to take the first step and contact us today to see what osCaddie MS can do for your entity.